Friskies Party Mix Tender Crunchy Lobster Mac N' Cheese Cat Treats
By Friskies
---
About This Item
Made with real cheese for a taste your cat will absolutely love.
Friskies is proud to support the Purple Leash Project and their efforts to convert more domestic violence shelters into pet-friendly spaces.
Lobster and mac 'n cheese flavors give a scrumptious punch to every bite.
Crafted with pieces that feature a combination of crunchy and tender textures.
The crunchy texture helps support your pal's dental hygiene as she chews to her heart's content.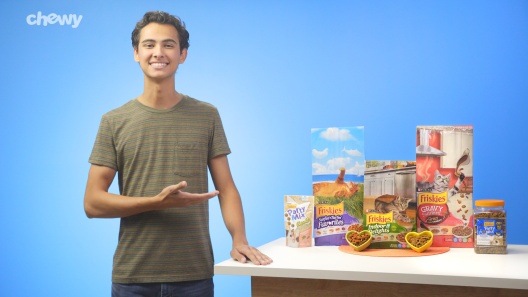 Learn More About Friskies From Our Team of Experts
---
---
Adventures in Flavor
Friskies features over 101 fun and fantastic choices that come in a variety of flavors and textures. Whether it's wet food, dry food, complements or treats, all their foods contain premium ingredients and provide complete and balanced nutrition with each cat-tastic mouthful. From tender pates to crunchy bites, there's a dreamy flavor for every kitty you know!
YUMMY TASTES!
From fish-a-licious flavors to beef-tastic bites, Friskies has the flavors that'll drive your cat wild.
101 VARIETIES AND COUNTING
Put the me-wow in your kitty's bowl every day with the multitudes of exciting textures, aromas and ingredients Friskies has to offer.
MORE PURR-OTEIN PLEASE!
Meaty protein in every recipe helps support your cat's muscles, so she can climb, jump, explore and make mischief.
HELLO HYDRATION!
The higher moisture content in Friskies wet foods helps give your cat the essential hydration she needs for good health.
About Friskies
Every Friskies formula is crafted with cats in mind at every step for a final product that contains the perfect balance of taste and nutrition. As the first brand to introduce dry cat food in the 1950s, Friskies continues to deliver innovative and top-notch products that are guaranteed to entice, excite and enrich every cat for a fulfilling and stimulated lifestyle. Today, Friskies offers a variety of products, from delicious treats to nutritious meals, made to appeal to every cat.
Shop Friskies
---
Questions & Answers
2 Customer Questions
---
Would like to buy a larger bag of Friskies Tender Crunchy Lobster Mac and Cheese. Is it available?
Answer by • Dec 31, 2019
These treats are currently offered in a 2.1-ounce bag, and a 6-ounce bag.
---
if i want to get a case, how many friskies tender crunchy lobster mac and cheese 2.1 oz size in a case?
Answer by • Feb 06, 2020
These treats are sold as a single unit in 2.1-oz bags and 6-oz bags.
---
---
By Callie on May 8, 2022
Chewy always comes through
Our supermarkets in the greater Boston area have been experiencing shortages since the pandemic ramped up. It's taken time to finally get the products our cat loves. The Party Mix is her favorite snack. And Chewy has been so dependable and timely. Most shipments arrive overnight. I love the customer service that informs you when your favorites are back in stock. Once again, thanks Chewy. You never disappoint.
---
By ChibiAndRyosMeowMa on Apr 29, 2022
A cat treat so rockin' that B52 would approve!
Our guys adore this flavor! We add it to the new Friskie's Glazed & Infused cat food because our boys HATED that they replaced the treats with veggies in this version of stuffed n' sauced style food. We call it Dazed & Confused, LOL! Anyhow, Chibi & Ryo said this is a party in your mouth! Four paws up!
---
By ThreeBoys on May 13, 2022
These are a hit!
I bought these treats for my three boys. I gave them some which they promptly gobbled up. I didn't put them away right away and one of my boys decided to try to get back into the bag! He must have REALLY liked them!
---
By AmberOso on Apr 16, 2022
We GLARE At Mom Until We Get Lobster
We KNOW the power of a glaring of cats [Yes, we are aware we need 3+ to officially make a glaring - but we can get away with it with just the 2 of us]. We sit on her desk & STARE her down until we get Lobster Mac N' Cheese. There are other treats around - not good enough. We want the lobster treats.
---
By KaMC on May 8, 2022
New favorite
We got these for our cat's birthday and this is now his new favorite flavor. Friskies Party Mix is basically the only treat besides bonito flakes he will eat so I'm glad they have enough flavors to keep him interested.
---
By Grandma on Feb 19, 2022
Friskies only thing cat will eat.
Seems like a good product since only thing Sneakers (cat) will eat. Problem has been trying to find the Friskies shredded canned food he eats ( mostly seafood). I have wasted money on other name foods since he will starve rather than eat it. The manufacturer of this product has let me down & Chewy since I thought at least they would have been able to obtain the product. I realize there are production & shipping problems these days, but the animals do not understand and forcing changing diet is not good for these animals. They need to get their act together because it is wasting money for consumers with trial & error too!
---
Another great flavor!!
My kitties love Friskies Party Mix. So far they've liked every flavor I've bought them. They like some more than others but that's not unusual for them. Definitely recommend these treats. I would like to see the 20oz and 30oz offered in more flavors.
---
By DenzelKiki on Apr 19, 2022
No other will do
I've been around the block and back regarding snacks and there is no other to compare to my Lobster Mac and cheese. It's the only treat that gets me through my monthly medicine and to roll over. Truly.
---
By Connie on Apr 27, 2022
Tigger & Tinkerbelle Love the Lobster Mac N'Cheese Cat Treats
Their mother (me) also loves mac n' cheese so it makes sense they would love the cat treats. They are brother & sister & 3 yrs. old. Love them - they are my kids!!
---
By Love on Apr 13, 2022
Cats love this
My cats are finicky. Go figure. I only bought 2bags wasn't sure how this would go over with them. They love these treats. Thank you chewy.
---