Frontline Plus Flea & Tick Spot Treatment for Cats, over 1.5 lbs
See 'Details' tab for instructions to redeem.
Autoship
(Save an extra 5%)
Choose Autoship at checkout for regular deliveries.
Why Autoship?
FREE access to chat with licensed vets 7 days a week.
Save 5% on all future Autoship orders.
No fees, no commitments - cancel Autoship anytime.
---
About This Item
Promotes a fast-acting and long-lasting protection from fleas and ticks.
Formulated with two active ingredients to help disrupt the flea life cycle.
Kills adult fleas, flea eggs, flea larvae, chewing lice, and ticks.
Simply apply once a month.
Designed for a waterproof protection after 24 hours.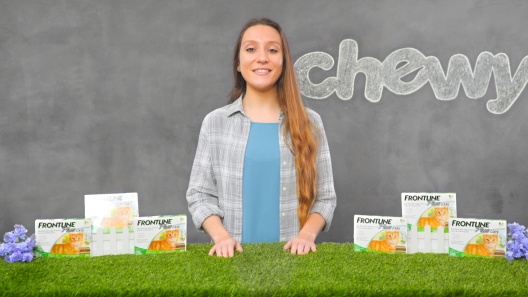 Learn More About Frontline Plus From Our Team of Experts
Important Information
Fleas rise to the top of your pet's coat as they die, so consider it a triumph if you start seeing more fleas at first, after treating your pet. If you're still seeing fleas after application, it may be because your pet has picked up new fleas from the environment, which may include other pets, surfaces and outdoor areas. It may take up to 90 days to break the entire flea life cycle. Additionally, you should also treat sources of new fleas (i.e., carpet, yard, etc.) to ensure complete flea control.
---
---
About FRONTLINE Plus for Cats
#1 Name in Flea and Tick Protection*
FRONTLINE Plus has been trusted by pet parents for over 20 years.** This fast-acting flea and tick protection contains fipronil, which kills adult fleas, as well as (S)-methoprene, which kills flea eggs and larvae. Together, these active ingredients break the flea life cycle, prevent further infestations, and provide continuous protection for a full month.
Protect Your Cat Here, There and Everywhere
Fleas and ticks can be found outdoors and indoors, too! That's why it's important to keep your cat companion protected month after month.
The #1 Name
FRONTLINE is the #1 name in flea and tick protection.*
Long-Lasting Protection
One dose of FRONTLINE Plus for Cats lasts a full 30 days.
Fast-Acting Formula
Once applied to your cat, this powerful formula kills fleas, ticks and chewing lice on contact.
Waterproof
FRONTLINE Plus is waterproof 24 hours after application.
Trusted Protection
FRONTLINE Plus has been trusted by pet parents for over 20 years.**
For Cats Old and Young
FRONTLINE Plus for Cats can be used on cats and kittens as young as 8 weeks and weighing 1.5 lbs. lbs. or more.
Options to Fit Your Needs
Available in 3-, 6-, and 8-dose packs.
Formulation Available for Dogs
You can protect your dogs, too, with FRONTLINE Plus for Dogs!
Pests Can Be a Year-Round Threat
Flea infestations usually begin 6-8 weeks before you ever notice a flea on your cat, and once your home is infested, it can take up to 90 days to eliminate all stages of the flea life cycle. Protecting your cat with FRONTLINE Plus monthly, year-round can help prevent reinfestations.
Protect Year-Round with Autoship
Sign up for Autoship today and save on FRONTLINE Plus. You'll get a discount on every order of FRONTLINE Plus, and you can rest easy knowing that you'll never run out of proven flea and tick protection.
The Mission
Boehringer Ingelheim, the maker of FRONTLINE Plus, is committed to enhancing the well-being of pets and supporting the animal health community through science and innovation. No animal should have to suffer a preventable disease, which is why Boehringer Ingelheim develops products like FRONTLINE Plus.
About FRONTLINE Plus
FRONTLINE Plus is the #1 name in flea and tick protection.* It's formulated with two active ingredients that kill fleas and ticks and prevent new flea infestations from developing. FRONTLINE Plus is waterproof 24 hours after application, lasts for a full 30 days and has formulations available for dogs and cats. With FRONTLINE Plus, you can take your pet everywhere.
Shop Frontline
* Data on file at Boehringer Ingelheim
** Data on file at Boehringer Ingelheim
Compare Similar Items
| | | | | | |
| --- | --- | --- | --- | --- | --- |
| | | | | | |
| Customer Rating | | | | | |
| Price | | | | | |
| Autoship | | | | | |
| Top Ingredients | Active Ingredients : Fipronil 9.8% , (S)-methoprene 11.8%. | Dinotefuran, Fipronil and Pyriproxyfen | Active Ingredient s: Fipronil: 9.70% | Active Ingredients : Fipronil , (S)-methoprene , Pyriproxyfen. | Active Ingredients: Fipronil 9.8%, (S)-Methoprene 11.8%. |
| Lifestage | Kitten, Adult, Senior | Adult, Kitten, Senior | Kitten, Adult | Adult, Kitten, Senior | Adult |
---
Questions & Answers
32 Customer Questions
---
I bought this Frontline plus for my cats and one weighs 22 lbs and my other cat weighs 30 lbs. will this be sufficient to kill all their fleas? Also, I applied the Frontline plus 2 days ago and I am still seeing alot of active adult fleas on their tails and necks. Is this normal? Thank you.
Answer by • Jul 16, 2017
You should only need 1 application, even for larger cats. You should apply the entire contents of the applicator in a single spot directly onto the animal's skin, not to their fur. In a study, Frontline Plus began killing fleas 4 hours after application. Another study showed that within 12 hours, Frontline Plus killed 100% of fleas when applied as directed, however to fully eradicate an infestation, treatment of the environment may also be required.
---
Is there an expiration date on these treatment packs?
Answer by • Aug 29, 2018
This product does not have an expiration date. As long as you keep it at room temperature and sealed in its original packaging, it will remain ready for use.
---
Will this kill ticks that are already on my cat?
Answer by • Apr 18, 2019
Once applied, FRONTLINE Plus kills ticks for at least one month. A once monthly application is recommended where tick control is needed. Kills all life stages of ticks (larva, nymph and adult).
---
How often should I give my kitten to use this product?
Answer by • Oct 14, 2019
One treatment will last 30 days. This treatment should only be used on cats and kittens 8 weeks or older and over 1.5 pounds.
---
---
---
By EeeLee on Aug 28, 2022
Doesn't work anymore
I used Frontline on my dogs every Summer for years, and never once did they have fleas. We now have two adult cats and four kittens that live in our climate-controlled garage. The kittens are rarely outside, while the big cats come and go throughout the day. I bought Frontline Plus when we noticed a few fleas on the kittens, figuring it would knock out the problem. NOPE. We treated all six cats, I vacuum the rug out there regularly, and I treated everything with flea killer. Less than two weeks later, we found live fleas on two of the kittens. I don't know what happened to this stuff, but it no longer works. I'm more than a little irritated since I wasted 60+ dollars and now I have to spend more money to find something that does work.
---
By mamameow on Sep 2, 2022
This really works
None of my indoor cats have ever experienced fleas until the last one I brought in as a rescue. She started a major infestation. I made the mistake of using a less expensive product at first with negligible results. So I had to wait 30 days to use Frontline Plus and watch the cats scratch and suffer in the interim. After application within a few hours there was a miraculous change in the cats' behavior and nothing but more improvement since then. My advice...don't try to cheap-out when it comes to your furry friends health. Use the best
---
By Catluv on Aug 31, 2022
Nope. And, can't give any other flea meds for 30 days after using this
I rescue cats all year long, from Bronx, New York and for years this has been my go-to. No more. The fleas here are resistant to this product. I administered this to my 6 rescue cats on 8/24/2022. It did nothing. Six days later, in my PRISTINE, 2x daily cleaned cat foster room, with a fake wood floor, every surface sanitized, the fleas are still crawling through the cats' fur, perpetually dropping eggs. One week later I ran a flea comb through each cat (with a dish of water with dish soap next to me to dunk and kill the fleas from the comb), and each cat- omg the live, wriggling fleas. I have to give them all Capstar. Thank goodness I have a great foster-quarantine setup in my home which is so easy to clean. But heads up: the fleas in NYC have evolved to be resistant to this. Or maybe New York City has new types of fleas? Be super careful, don't trust this product, do not assume it will work as well as it used to.
---
By Amilya on Sep 3, 2022
Unfortunately, it doesn't work.
We have used this product for a couple of years now. Unfortunately, it just has stopped being effective. My poor cats have had this put on them for the effectiveness equivalent to just dripping some water on them. We have since gone to the vet to be prescribed Revolution Plus. It's a miracle. Please be cautious of Frontline as it may or may not work and is too pricey to be as effective as water.
---
By Frontline on Aug 17, 2022
Didn't work
I don't want to put Frontline Plus down because I know that it works for so many animals it just didn't work out for me because I deal with a multi-cat household and I think I should just try out different products to get to the bottom of this problem with the fleas, my sister on the other hand swears by it and has been using it for 10 years so I think that I'll will treat the outside of my house and all corners of my house with lemon water or mint and then see if it makes a difference
---
By Bonnie on Aug 8, 2022
Waste of money
I have 8 cats.I ordered this for them.Only 1 of these cats are allowed out of the house,as she was a feral.I put this on all of the cats.I am still finding fleas on them after 8 days.I feel I wasted my money.The worst part of this is now they have to wait another 3 weeks before I can try something else.Unbelievable that it didn't work on any of them.I used a different brand last year and it worked fine last year.Too bad the store was sold out and so we were unable to get that brand.I am beginning to wonder if this product I purchased was out of date.I know I won't buy it again.
---
By cathwilms on Jul 28, 2022
Only one that works
Our cat has had terrible itching and sores all over her since she was born. She is almost 17 now. We have had multiple testing done and found she had lots of allergies, but mostly to things outside, such as pine, grasses and severe high allergy to flea saliva. We have always used Advantage Plus as recommended by our vet and Sofie has always been an indoor cat. She still had the problem of scratching constantly, chewing, pulling out her hair and sores everywhere, but worse around her tail and hip area. I read up on chewing lice and though supposedly it is only contracted from other cats, I determined this is what she had. Frontline is the only topical flea control that will kill chewing lice also. We've used it for 6 months now and no itching, scratching, chewing and sores! We are both happy! Highly recommend and price was $10 cheaper than our local pet store.
---
By chewyKAT on Sep 18, 2022
works for ranch cats
good rain this year, probably have some fleas and other itchy things, though I haven't really seen them (ask about mosquitos, though!). cats and dogs were all shaking heads and scratching ears. a few days after treatment that has stopped.
---
By Lynda on Sep 12, 2022
Frontline is available without a prescription
Frotline flea & tick spot treatment for cats is available without a prescription. It also treats lice. How wonderful to be able to purchase this item online from Chewy without having to beg a veterinarian to write a prescription for parasite treatment.
---
By Faye on Sep 27, 2022
Doesnt work at all
Dont waste your money. Also dont expect chewy to actually help if it doesnt work on your animals. Your just out the money. This product needs to be pulled from chewys shop so more customers dont waste money.
---