FURemover Extendable Pet Hair Removal Broom
By FURemover
---
About This Item
No need to spend the whole day cleaning—the FURemover's patented design makes cleaning up pet hair easy and fast.
Made with natural rubber bristles that attract pet hair on multiple surfaces, including carpet, tile, hardwood, and linoleum.
Sweep up pet hair and dirt easily without leaving a single scratch on your floors.
Includes a built-in rubber squeegee that's perfect for cleaning windows and spills.
Helps you reach those furballs in high places without a ladder, thanks to the telescopic pole that extends from 36 to 60 inches.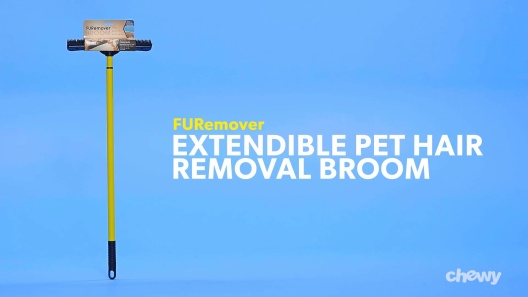 Learn More About FURemover From Our Team of Experts
---
Compare Similar Items
| | | | | | |
| --- | --- | --- | --- | --- | --- |
| | | | | | |
| Customer Rating | | | | | |
| Price | | | | | |
| Material | Rubber, Stainless Steel | Recycled Materials | Carpet | Silicone | Microfiber |
| Breed Size | N/A | N/A | N/A | Small Breeds, Medium Breeds, Large Breeds | N/A |
| Small Pet Type | N/A | Rabbit, Guinea Pig, Chinchilla... | — | N/A | N/A |
| Grooming Tool Type | N/A | N/A | N/A | N/A | N/A |
| Cleaner Usage | N/A | N/A | Hard Surface | N/A | N/A |
| Brush Type | N/A | N/A | N/A | Deshedding Tool | N/A |
| Cleaner Type | N/A | N/A | Accessory | N/A | N/A |
---
Questions & Answers
20 Customer Questions
---
After you collect all the hair, then what? Do you have to pick it off the broom, or can you sweep it into a dust pan? My biggest complaint of a regular broom is all the hair sticking to it and having to pick it all out.
Answer by • Sep 12, 2018
This broom is made with natural rubber bristles that attract pet hair. The hair would then need to be removed from the bristles. To clean the broom, as needed, wash with soap and warm water.
---
Does it work good on carpets?
Answer by • Jul 19, 2020
This broom is made with natural rubber bristles that attract pet hair on multiple surfaces, including carpet, tile, hardwood, and linoleum.
---
Hello. I just wanted to make sure this is for the rubber head and also the pole. I've seen several people in the reviews who stated their order didnt come with the pole. I dont believe it's the same product however I wanted to make sure before buying. Thanks so much .
Answer by • Jul 31, 2019
This broom has a telescopic pole that extends, a built-in rubber squeegee, and soft bristles made from natural rubber.
---
How big is the rubber part?
Answer by • Jan 14, 2019
The broom head is 12 inches wide, two inches deep, and the bristles are each about one inch long.
---
---
---
By Debbie on Mar 18, 2022
AMAZING! Love this broom! Multi-purpose and house is clean!
So, with 2 dogs (1 over 1/2 Great Pry and 4 cats, we live, eat and breathe hair) Broom? Kinda cool cause the hair gets caught in the bristles and you can pull it out if you hold your foot down on the hair and reach down and throw it away. Kind of like a disturbing, uncoordinated, gymnast. Will I fall? Who knows? This old girl is not quite bendy anymore. Throw away, quick mop? Okay and smells good but it just pushes the hair around. Vacuum cleaner, I swear it whimpers when I pull it out and changing the canister all the time is a pain. The hair clogs the filter, the hose, the tube/handle! Plus, factor in cat litter (my sister says my rug is like a pumice stone) a daughter with over one hundred plants that she transplants every week (gravel and dirt) and you have got one hairy, gravely, cat littered, dirty house. This is a life saver. Quick idea? Spritz the carpet with a fabric freshener and the hair just rolls up! Awesome on my ceramic tile, goes under and around and into corners. For the first time, my house looks clean! Maybe then maybe mop for a nice smell. Another great idea - AMAZING on your car when removing snow. Soft rubber bristles don't mar up the surface and the length means you don't have to lean in the snow to push it off. I am quite sure I will find some more uses for this handy essential for all of us who have dogs and cats that shed, shed, shed! And cars that get snow on them. Best investment in forever!!!
---
By FurMumma on Mar 8, 2022
Works except for handle extension
This does a great job with cleaning up hair from carpet and other surfaces, but the extendable handle doesn't stay extended, and once it's pulled out, it takes a lot of effort to get it to lock back in place (I can't do it at all, but my daughter can). It's working great for my child to use, but it's too short for me to use. It needs some work, but once they fix the handle issue, it will be a great product.
---
By broom on Mar 11, 2022
best broom for pet hair
We had a similar version of this broom for years and loved it. It broke while we were sweeping snow off the porch, and I found this one online. This version is an upgrade as the handle is extendable. It truly is the best broom for pet hair--it sweeps up cleanly and doesn't get stuck in the broom bristles.
---
By James on Feb 13, 2022
Way better than a Swifter or broom
I have a Great Pyrenees mix who sheds a lot. I tried using the Swifter Pet but that was a total joke. And a broom would get his hair up but you would have to go over the same spot a couple times. This thing takes care of it no problem. And it even works on carpet. One thing to note: the "bristles" work best when you are pulling towards yourself. Then flip over to the "squeegee" side to push away from you.
---
By Broom on Apr 7, 2022
Don't recommend
Broke before I ever got to use it the first time. Metal is so thin that it bent and broke before I got to try it, had to unscrew bottom and use rubber part on my hands and knees :-(
---
By Kathi on May 4, 2022
Hair removal vbroom
My salon isn't used this and recommended it. I purchased it and love it! Great for pet hair and Beauty salons. I recommend this.
---
By RonnieK on May 2, 2022
Great for her regardless of the
Basically I bought this for my long gray hair and it works exceptionally well on our Leonberger mix hair
---
By NJSuzieQ62 on Jan 18, 2022
Waste of money
This item was very disappointing. First, the handle did not stay extended...I guess it was broken from the get go. So, every time you used it, the handle would fall back down, which made it very difficult to use comfortably. I have area rugs and honestly, this did not do what I expected it to do which was grab the fur so you can put it into a pile and dispose of it.
---
By Britbrit on May 6, 2022
Does not work on doodle hair
Its probably great for standard dog hair, but it doesn't do the job for my goldendoodle's hair
---
By Kaiser on Apr 7, 2022
FURemover Extendable Pet Hair Removal Broom
Love Love this broom.It worked fantastic on my hard wood floors.Pickes up the hair just like it says.Thank You Chewy
---