FurHaven Water-Resistant Reversible Furniture Protector
By FurHaven
---
About This Item
Let your best friend sit on the furniture again without the fur, paw prints, scratch marks and dirt he would otherwise leave behind.
High-quality sofa cover features a soft, comfortable quilted feel and water-resistant coating for superior protection.
Thread-free pinsonic quilting electronically bonds the water-resistant fabric with ultrasonic heat so there are no needle holes in the fabric.
Cushion anchors and an elastic back strap ensure a snug, stylish fit that won't shift or slide off; machine washable for easy care.
Available in two colors; the innovative dual-sided construction provides a variety of looks to complement your décor.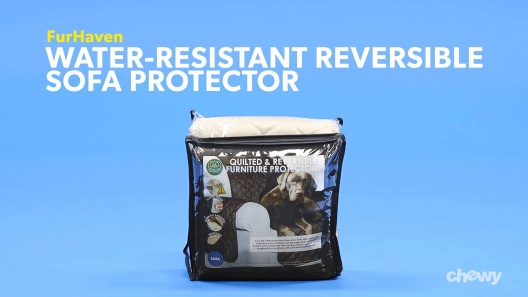 Learn More About FurHaven From Our Team of Experts
---
---
Protect Your Furniture
FurHaven offers a variety of products to help keep pet hair and messes off of your furniture. From blankets to full-coverage protectors and even a cozy bolstered bed, you are sure to find the right protective product for your needs. All FurHaven covers are easy to clean and water resistant to make relaxing with your best friend at home simple and worry-free.
Water Resistant
FurHaven's furniture covers are designed to prevent damage and wear to your household furnishings due to daily use by pets. Their water-resistant furniture protectors help keep pet hair, moisture and pet accidents safely contained and away from your furniture's surfaces.
Easy Care
FurHaven's furniture protectors were made with you in mind. The covers take the brunt of pet messes to keep your furniture protected, but they are easy to spot clean and you can easily wipe away any pet hair, soil or wet spots.
The Perfect Place to Nap
With your furniture protected by FurHaven covers, your pet can join you on the couch or anywhere else in your home. You can have peace of mind knowing your furniture is safe while your best friend snoozes by your side.
Compare Similar Items
| | | | | | |
| --- | --- | --- | --- | --- | --- |
| | | | | | |
| Customer Rating | | | | | |
| Price | | | | | |
| Breed Size | N/A | Small Breeds, Medium Breeds, Large Breeds | N/A | N/A | Small Breeds, Medium Breeds, Large Breeds |
| Material | N/A | N/A | N/A | Polyester | N/A |
| Tools Included | N/A | N/A | N/A | N/A | N/A |
| Pattern | N/A | Solid | N/A | N/A | N/A |
| Features | N/A | N/A | N/A | N/A | N/A |
| Compatibility | N/A | N/A | N/A | N/A | N/A |
---
Questions & Answers
25 Customer Questions
---
I am looking at ordering a couch cover. I measured my 3 seat couch across and it's 72" wide. Your FurHaven Water-Resistant Reversible Furniture Protector comes in Sofa, Large Sofa, and X-large sofa. In looking at the sizing, all you have listed is Sofa and it says 117". IDK if this is too big
---
Does the dimension include the arm rest? Is the 96 inch width only the seat portion or is that the width from tip of arm rest to tip of the other arm rest? I have an oversized chair. Trying to decide if I should get the loveseat or chair cover
Answer by • Mar 31, 2020
The measurements listed are for the overall dimensions of each size. Each protector is one piece.
---
Can this be used on leather furniture?
Answer by • Dec 22, 2017
This Sofa Protector may be used on leather furniture.
---
Does this have any microfiber in it? I do not like microfiber
Answer by • Dec 21, 2017
The Sofa Buddy's are constructed of a quilted polyester twill material that does not contain microfibers.
---
---
---
By Mary on Apr 4, 2022
Sofa Saver
I waited a couple of months to write this review so that I could see how the sofa cover actually performed over time. I have not washed it so I can't speak to that. However, I can say that it has performed well so far. It is slightly too short for my sleeper sofa but others were too long. It still looks good and works great. It actually improves the look of the sofa because I don't like the upholstery (not actually my sofa). It fits well overall and looks nice and tidy, no sagging. It does require occasional tidying on the end I sit on all the time. The hair vacuums off easily. My dog is a farm dog, a working Border Collie so he often brings dirt in and he has loads of fluffy hair that he liberally sheds. He sits on the sofa next to me every evening so this cover has been a real sofa saver.
---
By MM01 on May 9, 2022
Useful and attractive
I ordered a cover for my recliner. Since I knew I would need to wash it frequently, I pretty much threw the cover over the chair and left it at that. I didn't use either of the enclosed items to make it fit more snugly. It still fits quite nicely and stays in place. It has done a good job of protecting the chair, both from accidents and from cat claws. It washes well.
---
By Customer on Apr 14, 2022
Disappointed
This cover might work okay on a fabric sofa, but for a leather sofa it slips all over and has to constantly be straightened. I tried to use the enclosed strap for the back of the cover to help keep it from slipping, but the first time I tried the metal connector on the strap broke right off. It is flimsy and not strong enough for any tension to hold the back part in place. Now the back part of the cover constantly falls to the front whenever the dog or a person sits on the couch. Basically the cover is unusable. The premise is good but the function is not good for a leather couch.
---
By KangaRoo on Apr 17, 2022
Has subtle chemical smell - cat hates it
Bought this sofa cover to protect it from cat hair and food/drink spills and general grime. I made mistake of Not washing it first - No blatant smell to my human nose- and looked good. However cat promptly peed on sofa. Yes water-proof but good grief not meant to attract marking behavior. Have washed it twice and cat still wants to mark on it. This cat has NEVER marked furniture before. I am going to see if my sister can use it - she has dogs.
---
By Lisa on Apr 27, 2022
Won't stay up
I bought the extra large size and measured my couch ahead of time. It is too small for the armrests to be positioned correctly. It also never stays up over the back of the couch and that's a spot I want to protect from my cats. The back should be much longer to allow for a larger drape which would keep it from falling completely off when someone sits down.
---
By Izumi on Apr 1, 2022
What I was looking for
I got this to protect the couch from puppy nails. I am just using it just for the seat cushions and it fits pretty well. You'll have to occasionally adjust it after getting up but nothing bad. I don't have it over the back of the couch, but I could see that falling down all the time. The water proofing seems to work pretty well. The first day I got it the dog knocked a drink out of someone's hand and the liquid beaded really nicely for a quick clean up. However she was licking her feet on the couch and made a wet mark on the fabric, which I wiped with wet cloth and it dried very nicely.
---
By WeLoveCritters on May 19, 2022
Very pleased!
Works great! Looks good for a furniture protector. Mostly stays in place - Needs only minor smoothing out every couple of days. Buying a second one to switch out while washing the first one (due to dog and/or cat spitting up or vomiting).
---
By Bruss on Apr 6, 2022
Resists Pet Hair
This product is easy to care for. The only reason I did not give it a 5 Star rating is because I have not yet laundered it. It vacuums nicely. We got new living room furniture and THEN decided to get another dog. First dog did not get on furniture. I think the second one is part goat. Rather than risk damage to furniture during the training process, I decided to cover it all. Glad I did. Again, I really like how easily it is to vacuum the hair off.
---
By Bozz on Mar 25, 2022
Not big enough for overstuffed sofa, love seat
It's actually very nice however not long enough over the back to stay in place. Strap is a great idea but again, not long enough. I would pay a lot more for these if they actually fit. Have to constantly put it back because if anyone or dogs sit on the couch or love seat, the back slides down because it isn't abler to reach under the strap.
---
By Becky on Apr 1, 2022
Great for a normal dog!
It covers my couch well. Color is true to what's offered. It has a wrap around the back of the couch strap to hold it in place. My only issue is that it only drapes in the front. My dog is a little hyper and when she jumps on the couch it pulls the cover up and it just bundles up on the seat and exposes the couch. I might get some suspenders to attach the front to back. But if your dog gently jumps on the couch, you shouldn't have a problem.
---