Gamma2 Nano Automated Dog & Cat Feeder, Black
---
About This Item
Designed with a precision portion control feature that weighs the foods as it dispenses, making sure your pet gets the right amount every time.
The unmatched feed dispensing technology both detects and helps prevent food jams.
The Gamma Seal Technology-Gamma2 gasket system helps keep your pet's food fresher longer!
Features intelligent program settings for full customization.
Holds 7.5 pounds of food and has a smaller footprint than some other programmable food dispensers.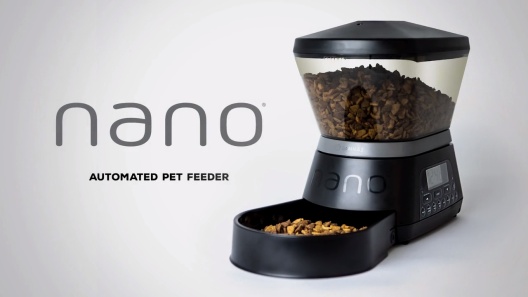 Learn More About Gamma2 From Our Team of Experts
---
Compare Similar Items
| | | | | | |
| --- | --- | --- | --- | --- | --- |
| | | | | | |
| Customer Rating | | | | | |
| Price | | | | | |
| Breed Size | Small Breeds, Medium Breeds, Large Breeds, All Breeds | Small Breeds, Medium Breeds | Small Breeds, Medium Breeds, Large Breeds | Small Breeds, Medium Breeds, Large Breeds | Extra Small & Toy Breeds, Small Breeds |
| Bowl & Storage Feature | Automatic | Automatic, Portion Control | Automatic | Automatic, Portion Control | Automatic |
| Lifestage | Adult | Adult | Adult | Adult | Adult |
| Material | Plastic | Plastic | Plastic, Stainless Steel, Metal | Plastic, Stainless Steel, Metal | Plastic |
| Capacity (Max) | 30 cups | 25-cup | 1.8-gal | 17 cups/4L | 18-cup |
| Assembly Required | No | No | No | No | No |
| Compatibility | N/A | Plug-In Power | N/A | Plug-In Power | Plug-In Power, Battery Powered |
---
Questions & Answers
6 Customer Questions
---
Is it easy to program? Does it require batteries or does it have a cord?
Answer by • Nov 26, 2020
For power, the NANO uses a standard USB Power Supply and Micro USB Plus. As a power back up, the NANO uses 4 "AA" batteries (not included).
---
Is it easy to program?
Answer by • Nov 27, 2020
Out of the box, the NANO is pre-scheduled to serve 2 cups, 2 times a day. However, pet-parents can fully customize their pet's meal schedule with up to 6 meal times and meal sizes to dispense daily. A detailed Instruction Manual is included with easy to follow programming instructions.
---
Can it be programmed to dispense 1/2 cup of food twice a day?
Answer by • Aug 17, 2021
This feeder has the ability to program custom meal times, up to (6) per day. The meal size can be increased or decreased by increments of 2.5 Ounces or 7 Grams.
---
How long will the batteries run the unit with out being plugged in?
Answer by • Apr 03, 2021
This feeder uses a standard USB Power Supply and Micro USB Plus. The unit is not intended to run on batteries alone. Batteries are a backup to ensure user defined CLOCK, MEAL TIME and MEAL SIZE programming are maintained in the event of a power outage.
---
---
---
By Garfield on Nov 24, 2021
Food is Life
I'm a 1.5 year old, 6.5 lb rescue cat and boy did this feeder change my life. When Mom walked in with it, I thought "oh well, she probably won't be able to get it together". I prefer the bags Mom attempts to store in places I can't get to - because ultimately I succeed. I was looking forward to the assembly show, but it all popped together in minutes and Mom said it was the best doc ever. I didn't even have time to finish microwaving my popcorn. She put the batteries in to backup the programming for when the Texas electric grid fails again. After that, she plugged it into the wall, cause it's not supposed to RUN on the batteries. Out of the box, there were pre-programmed settings to use, like it's set to dispense an awesome 2 cups, 2 times a day. Mom ruined that by ignoring the default setting options and programming a stingy 1/2 a cup A DAY over 4 feedings. Let me tell you, she measured what it dispensed and was very happy. I was not so happy. One thing she doesn't love is that it's a bit loud, but I love that because no matter where I am in the house, I know it's time to eat! She says it's not that big of a deal because the food slides out in the right amount and then shuts so I can't get into the motherlode of food left. She has to keep it pretty full so the "low food" warning won't come on but that's FINE WITH ME. Even when it's low, it still dispenses so that's a relief. Overall, I'm happy that nobody forgets to feed me and Mom is happy that she's the boss of my food. PS. Mom hasn't figured out how to clear out a feeding she doesn't want but says she's sure she could call customer service and find out.
---
By JCRR on Nov 20, 2021
Don't Buy This
Bought this feeder to keep my cat on a controlled diet. Feeder never worked properly from the start. Never jammed but sometimes would dispense the correct amount, at other times it would dispense almost a cup of food. Flashed "fill" even when full. Returned, still looking for a new one.
---
By Weimthebest on Aug 17, 2021
Randomly resets its programming
I got this feeder for my senior dog so she could eat at a normal time while I was working evening/night shifts. It worked great at first...or at least I thought it was working great. About two weeks of use on my night off I watched the dispenser turn on and only release about 1/4 cup of the 3/4 cup feeding my dog was supposed to be getting. I thought maybe it was jammed, nope no error code. I reprogrammed it with a new time to test it out and this time it literally errored out and emptied the whole canister until the bowl overflowed (about 6+ cups of food). I unplugged and reset/reprogramed the whole unit and it seems to be dispensing correctly for now. Sadly its just not a trustworthy product and I now know why my girl was dropping so much weight. Here's the pros if you are willing to take a gamble on this feeder: the airtight food canister is great and keeps foods fresh, the bowl can be unclipped for washing, it has battery backup in case of power outages, it can feed larger dogs when it works correctly (most auto feeders are geared towards cats/small dogs).
---
By Feeder on Nov 26, 2021
Kitty feeder
Where has this been all my life. Precise & accurate on the scheduled times. Highly recommend!
---
By DebB on Aug 6, 2021
Working out Perfect so far
Feeder is smaller than expected, which is really nice because it doesn't take up as much room as I thought it would, but still holds plenty of food for my big dog. It was very easy to put together, and easy to program. I like the pre-programmed feedings, lots to choose from, but can also create custom feedings. Great options.
---
By Bobby on Apr 23, 2021
Best auto feeder yet
So this is the 3rd auto feeder I've bought so far and it is my favorite. I'll give you a brief comparison. Size- The first thing I look for is how much food will this hold. I have 3 large dogs. This was the largest one I could find. Pieces- this entire thing snaps together so I don't have to worry about my dog pulling the bowl out and hiding it somewhere. There are no this flimsy pieces that I have to worry about breaking. Edges- I have a feeder that is flat on top which my dogs chewed the crap out of. Also had a problem with that feeder since there was an edge at the bottom where the food drops into the bowl. One of my dogs was an aggressive eater and would cut his snout on that edge. None of those concerns with this feeder. All rounded edges and the food slides into this one instead of dropping in like the other. Going to test this one out for a few more weeks then will probably replace all of my previous feeders.
---
By AJBordeaux on Apr 17, 2021
Instant Regret
The clock won't even program properly. It refuses to set to midnight. It's literally 12:58 am. I've been trying for thirty minutes. Nothing more irritating than terrible low-tech hi-tech. Off to a very bad start when this hunk of plastic can't even compute 12am.
---
By Laura on Feb 20, 2021
Great for cats who try for extra food from other feeders
I've owned this auto feeder for about 6 weeks now and previously had my 2 cats using a different model of feeder for about 3 years. One of my cats is extremely food motivated and broke the last feeder hitting it against the wall to coax extra food out. I chose this feeder because of the dispensing mechanism and the automatic door that closes in front of the chute when not dispensing, as well as being lower to the ground so my cats can't move it. So far, I'm very impressed with this purchase and recommend this feeder to other cat owners who have motivated cats who like to beat up other automatic feeders to get extra food. Overall: 9/10 Pros: accurate food dispensing and clock keeps correct time (my last feeder lagged behind sometimes); wall plug included with unit; up to 6 programmable feedings a day; so far no jamming (I use large kibble), seems to be indestructible for my cat who broke the last auto feeder trying to get extra food (lots of bonus points here for me) Cons: relatively loud when dispensing food (the food dispenses, and then the sound continues for about 5 seconds afterwards while the door covering the chute closes); the food doesn't always get pushed all the way out in to the feeding tray so my cats have to either use their paw to pull pieces down or I clear it for them (not a big deal); hopper empties unevenly which causes the "fill" message to come on when the hopper is still about halfway full of food (not a big deal, it still drops kibble when this happens)
---