Gamma2 Vittles Vault Stackable Pet Food Storage
By Gamma2
---
About This Item
Easy and wide screw lid opening helps to ensure freshness without much effort and the space efficient and stackable design keeps these containers organized and easy to store.
Heavy duty, BPA free food grade plastic. For those who care about the safety and storage of their furry friend's food.
Airtight seal keeps pests out and food fresh. Your furbaby never has to settle for stale kibble again.
Keeps pet food odor contained in vault. No more pet food smells emitting from your cabinet or attracting other animals!
Includes a free measuring cup for precision feeding.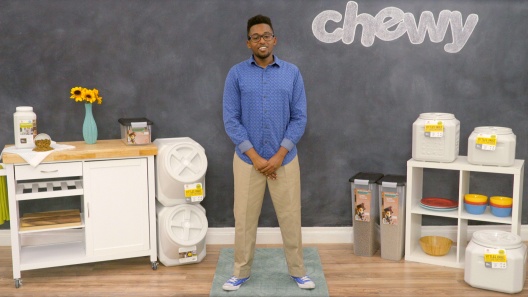 Learn More About Gamma2 From Our Team of Experts
---
Compare Similar Items
| | | | | | |
| --- | --- | --- | --- | --- | --- |
| | | | | | |
| Customer Rating | | | | | |
| Price | | | | | |
| Bowl & Storage Feature | Airtight, Food Storage | Airtight, Food Storage | Airtight, Food Storage | Airtight, Food Storage | Airtight, Food Storage |
| Breed Size | N/A | — | — | — | — |
| Capacity (Max) | 40-Ib | 35-Ib | 30-Ib | 6-Ib | 8-lb |
| Material | Plastic | Plastic | Plastic | Plastic | Plastic |
| Assembly Required | N/A | — | — | — | — |
| Tools Included | N/A | — | — | — | — |
---
Questions & Answers
52 Customer Questions
---
Do they make 20lb. Stackable vaults, I have 2 dogs w/ special diets and they are 20lb. Bags?
Answer by Sierra • Mar 21, 2022
There appears to be a container that can hold 25lbs I would probably shoot for that one
---
will the 15-lb Vittles Gamma2 vault Plus pet storage upright set on top of the 40-lb Gamma 2 Vittles Vault stackable pet storage container?
Answer by • Sep 26, 2017
The 15 pound Vittles Vault containers won't stack on the 40 pound containers.
---
Is it water proof
Answer by • Oct 25, 2017
This product is waterproof and ideal for outdoor storage. It's not recommended to put the Gamma Seal Lid in the dishwasher however the containers themselves can be put in the dishwasher.
---
Where are the gamma to vittles Vault made USA?
Answer by • Sep 02, 2017
This product is made in the United States.
---
---
---
By Finley on May 9, 2022
Not Pest Proof
A rat chewed through the plastic that is claimed to be pest proof. We had the vault for just over a year when this occurred. Contacted Chewy who couldn't directly do anything about replacing it since it had been just over a year. Chewy however contacted the company and never responded. I would not recommend the vittles vault especially if you have rats in your area. They will chew through not only the garage door lining to get to the food but then also ruin the vault itself.
---
By Harleyridingirl on May 7, 2022
Great containers
I bought these after buying gamma lids for 5 gal buckets for food storage. I just love them. I use them for chicken feed, sunflower seeds, cracked corn and oats for my animals. I do not stack them. Since they are out in the shed I wanted something critter and bug proof. These are great. They hold a 50 lb of chicken feed plus about 1/3 bag more. Nothing gets in and it stays fresh.
---
By Anastasia on Apr 5, 2022
Good with one flaw
These are nice - they hold a full bag of 25 lb (or more) food and they fit into the tight spaces we needed them to. However, when they're stacked and there is more in the top canister, the bottom lid is a pain to close. It seems like it's that the weight of the top one distorts the opening of the bottom one, and while you can get it to twist close, it's not easy. Our seven year old feeds both dogs and can never get it closed tight. Other than that we're happy with them. Once I figured out the "magic" to close the bottom one, we decided to keep them.
---
By Mads on Apr 4, 2022
Not quite what I was hoping for
To start, I have two dogs; an 11 year old Lab and an almost 2 year old bully mix. Anyone with a Lab knows they have a tendency to get overweight, ours has been on a weight management food since she was taken off puppy food. When our puppy was transferred to adult kibble, we put him on what she was eating just to make meal times easier. After 6 months of crate rest following a couple hip replacement surgeries I decided to start feeding him a higher protein diet to rebuild muscle which is where the vittles vaults come in. I thought, 40lbs of kibble would be perfect for each dog since they seal airtight and the kibble would stay fresh, and they're stackable so they won't take up that much space. They're definitely airtight. Stackable is debatable. They do NOT hold 40 pounds of kibble. They don't hold 30. I went to fill one with a 32lb bag of kibble and I had about 5lbs left after filling it to the brim, shaking it to settle the kibble, and filling it even more. Thankfully this was not an issue for my purposes. As for stackability, yes they do fit on top of each other. However, they are not very stable even when fully filled and I think a decent hit would knock them right over, and I definitely wouldn't stack more than two. We keep them in a low traffic corner so I'm not worried about them toppling but that's something to take note of. The top vault also weighs down the bottom vault and makes it a bit harder to close it. That said, they are well built and seem sturdy enough. If you're looking to get one for the airtight and pest proof seal and aren't buying huge quantities of food, I say go for it. If you're buying a lot of food or looking to stack containers I would size up by at least ten pounds per food bag or look at other options.
---
By Jessica on Apr 18, 2022
Lids don't close if container above it is full
These are good in theory. I have 3 stacked on top of each other. The first two are fine, they're easy to open and close. But the bottom container is warped from the weight of the other 2. The lid doesn't close and randomly pops off. It's incredibly disappointing, considering they advertise stackable storage.
---
It technically does what it's supposed to
I bought this a 60lb Stackable Vittle Vault in April 2021 when I adopted my dog because I was told by ALL my dog friends how amazing it is. I have used it almost a full year to try and love it. I simply don't! Some people say you should store dog food in the bag inside of it? Can't fit a 30 lb bag of food inside the bag in here let alone 50. So I would dump the dog food in and just wash it between bags. Except this thing is molded plastic with about 12 different grooves and bumps along the inside surface, making it hard to clean every nook and cranny so you don't have oils going rancid. Can't even just rinse it in the shower because if you try to dump it out, water catches in the rim. And that last bit of dog food? I am 5' 3" and I feel like I had to be basically inside the dang thing to get the last cup or two. If I try to dump it out, it goes everywhere because of the aforementioned lip. Oh and the lid? Please try to screw on this lid with one hand in one attempt. I found it so difficult to get it threaded on correctly! Overall this is a headache. I will use it for bird seed that doesn't need to be accessed twice a day and cleaned out once a month.
---
By storage on Apr 19, 2022
Good storage container
This is my second purchase from this storage container company. The 1st one was of similar size but opening on top. That one was excellent without leaks and airtight. Upon washing this one, it wasn't. Water got through the seal when cleaning. I still like this product.
---
By meagan on Mar 29, 2022
Great if you only need one
I purchased 3 different vittles vaults. A 60lb, 40lb, & 35 lb. They're supposed to be designed to stack but that idea was poorly executed. They don't stack securely and if not positioned in a place that's secure on both sides, they would surely topple. I had read about this issue in other reviews but I wasn't concerned about it due to where I would be placing them. It was a snug corner perfect for these. Long story short, the material cannot support the weight of stacking with food in them. Between the 2 smaller containers, I had 60lbs stacked on the largest(60lb container) and it distorted the shape of the bottom one to the point I couldn't get the lid off. You would think by design that 2 of the 60 lb containers could stack on each other but fact is they can't support the weight of another filled to capacity. In all, if you only need one, they're amazing. They're water proof & air tight. If you need a true food storage system, these are not for you. I will probably keep the largest one and donate the 2 smaller ones to a rescue as they're not going to suit my storage needs & I'll be seeking other arrangements.
---
By Maggie on Mar 31, 2022
lid doesn't align with grooves
I bought 2 of these. 1 is great and easy to use and the lid goes on easily every single time and the other one is an absolute nightmare- the lid doesn't go on in any easy manner whatsoever. It's like the grooves aren't aligned at all. I can't stand it and think I will return it.
---
By have3kids on Feb 6, 2022
These are great!!!
We bought two of these. The 60 lb. and the 40 lb. one. We have five dogs. Two large breed and three small dogs. The girls food goes in the small one and the boys food goes in the big one. They fit perfectly in a corner of our kitchen next to the microwave stand. We have them stacked and it works great for our needs. Contains all the food for 5 dogs, out of the way and organized in the corner. We didn't have full bags of food, but I think it will hold the 31 lb in the big one and 15-17 pound bags in the smaller one. We don't buy huge bags for the small dogs. Can't speak for durability or ant proof, hopefully they last and keep ants out. But, right now the dog food corner looks great!! :)
---