Gamma2 Vittles Vault Stackable Pet Food Storage
---
---
Try This Similar Item By Chewy
---
Frequently Bought Together
---
About This Item
Easy and wide screw lid opening helps to ensure freshness without much effort and the space efficient and stackable design keeps these containers organized and easy to store.
Heavy duty, BPA free food grade plastic. For those who care about the safety and storage of their furry friend's food.
Airtight seal keeps pests out and food fresh. Your furbaby never has to settle for stale kibble again.
Keeps pet food odor contained in vault. No more pet food smells emitting from your cabinet or attracting other animals!
Includes a free measuring cup for precision feeding.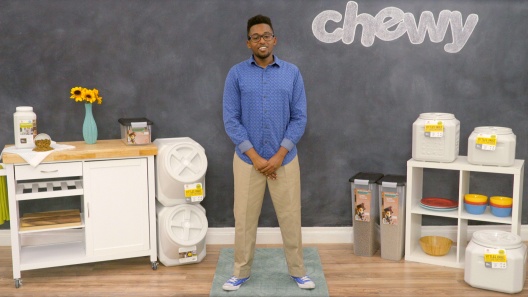 Learn More About Gamma2 From Our Team of Experts
---
Compare Similar Items
| | | | | | |
| --- | --- | --- | --- | --- | --- |
| | | | | | |
| Customer Rating | | | | | |
| Price | | | | | |
| Lifestage | Adult, Puppy, Senior | Adult, Puppy, Senior | Adult, Puppy, Senior | N/A | Adult, Puppy, Senior |
| Material | Plastic | Plastic | Plastic | Plastic | Polypropylene, Plastic |
| Bowl & Storage Feature | Airtight, Food Storage | Airtight, Food Storage | Airtight, Food Storage | Airtight, Food Storage | Food Storage |
| Breed Size | N/A | N/A | N/A | N/A | N/A |
| Capacity (Max) | 60-Ib | 50-Ib | 35-Ib | 8-lb | 26-lb |
---
Questions & Answers
53 Customer Questions
---
Do they make 20lb. Stackable vaults, I have 2 dogs w/ special diets and they are 20lb. Bags?
Answer by Sierra • Mar 21, 2022
There appears to be a container that can hold 25lbs I would probably shoot for that one
---
will the 15-lb Vittles Gamma2 vault Plus pet storage upright set on top of the 40-lb Gamma 2 Vittles Vault stackable pet storage container?
Answer by • Sep 26, 2017
The 15 pound Vittles Vault containers won't stack on the 40 pound containers.
---
Is it water proof
Answer by • Oct 25, 2017
This product is waterproof and ideal for outdoor storage. It's not recommended to put the Gamma Seal Lid in the dishwasher however the containers themselves can be put in the dishwasher.
---
Where are the gamma to vittles Vault made USA?
Answer by • Sep 02, 2017
This product is made in the United States.
---
---
---
By Jennifer on Jun 22, 2022
Does not hold 40lbs
Disappointed. Wanted to be able to put an entire new bag in this vault. Got the new vault. Had a brand new 40lb bag of food. Not even close. At least 4 pounds still in the bag. :( it's also not a super thick plastic. I agree that they aren't as stackable as they could be if they used more/ went for a thicker plastic. In the curves of the design you can easily see light through (its that thin) We already planned to use these inside. But I'm guess they wouldn't last long in any sort of weather or sun/ not squirrel proof
---
By k9kure on Jun 8, 2022
Great containers. But don't stack the heavy ones
I have 6 of these (the 60lb ones) that I bought the last time they were on sale I was excited to be able to stack 2 high and have all of my dog foods and horse grains in easy access and pest proof containers. I was greatly dissapointed when I noticed the bottom containers caving under the top weight and that the bottom container lids were very hard to open and close with the weight of the top container. They do work well as storage Containers just not for stacking. Theve been outside the snow and rain storms and have always kept the grain/food fresh and dry. What I do now instead is use the bottom level for bagged food and the top level holds supplement bottles, bowls, treat toys etc. Since they are light weight items they don't impead the use of the bottom container.
---
By Sunny2010 on Jun 3, 2022
Poorly Made
I ordered one of these to see if i liked them. Everything looked and seemed great. So i ordered the second one to stack. The video shows picks of a stack of at least three. I got the second one and put it on top the first one. It wouldn't stay. I called Chewy. They were great and just replaced it. Well, i got the third one and got it to stay. I used 28 lb. Bags of dog food. I put one bag in top and one in bottom. No sweat, right. Four days later i came home from trip to find the bottom one caved in in one corner. On top of that, i almost couldn't get it open. Not a happy camper. Now I have to call Chewy again.
---
By GinaS on May 24, 2022
Not Air Tight
I went to wash this upon arrival filled it with a little bit of soap and water. Turned it upside down over the sink to swish it around and water started dripping out. If it can't be water tight, how can it be air tight? Can't imagine leaving this outside and attracting pests. If you look at the picture of the lid you can see that the joint of the plastic molding is pushing the seal away from the lid. Really should do some quality control on this. This is the 2nd item that is working (or not working) this way.
---
By tasi on Jun 7, 2022
non stackable
I have 2 40lb stackables and I continue to have issues with the one on the bottom...they have buckled and continuous issues with getting the lid to screw on, the cap is popping off due to the buckling from the weight of the one stacked on top The ph # they give you is for a medical alert giveaway
---
By Amanda on May 23, 2022
Should not be stack
I bought these with a lot of excitement. I have a puppy and two grown dogs and I needed a way to store their food separately but also using the least space possible. I filmed them up within the weight it states it can take. Now the one on the bottoms lid won't close because it got damaged by the one on top. Very disappointed for the amount of money I spent for two of these.
---
By Finley on May 9, 2022
Not Pest Proof
A rat chewed through the plastic that is claimed to be pest proof. We had the vault for just over a year when this occurred. Contacted Chewy who couldn't directly do anything about replacing it since it had been just over a year. Chewy however contacted the company and never responded. I would not recommend the vittles vault especially if you have rats in your area. They will chew through not only the garage door lining to get to the food but then also ruin the vault itself.
---
By Harleyridingirl on May 7, 2022
Great containers
I bought these after buying gamma lids for 5 gal buckets for food storage. I just love them. I use them for chicken feed, sunflower seeds, cracked corn and oats for my animals. I do not stack them. Since they are out in the shed I wanted something critter and bug proof. These are great. They hold a 50 lb of chicken feed plus about 1/3 bag more. Nothing gets in and it stays fresh.
---
By Angel on May 28, 2022
Best Buy for dog food
Literally the best investment for dog food! No Joke! I can tell that the dog food isn't going bad being in there compared to just being in a bag. It's kinda like having butter in a plastic container or sugar in a tight lid seal next to your coffee pot! I Love it.
---
By Anastasia on Apr 5, 2022
Good with one flaw
These are nice - they hold a full bag of 25 lb (or more) food and they fit into the tight spaces we needed them to. However, when they're stacked and there is more in the top canister, the bottom lid is a pain to close. It seems like it's that the weight of the top one distorts the opening of the bottom one, and while you can get it to twist close, it's not easy. Our seven year old feeds both dogs and can never get it closed tight. Other than that we're happy with them. Once I figured out the "magic" to close the bottom one, we decided to keep them.
---