---
About This Item
Litter box is designed to look like a house plant to cleverly become part of your décor.
Come complete with the two-piece base, high-quality plant, decorative moss and dust filter.
Filtered vent system controls dust and odor and cut-out gives cats easy access.
Made from durable polypropylene construction that looks just like a real clay pot.
Large capacity pot is great for large cats and multi-cat households.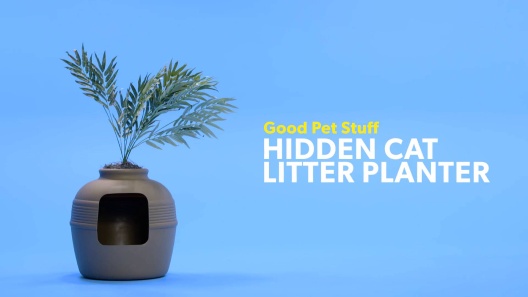 Learn More About Good Pet Stuff From Our Team of Experts
---
---
Questions & Answers
51 Customer Questions
---
Do you shipping Michigan?
---
I absolutely love this litter box!! I'm needing a filter for it but can't find it on your website. I don't know if I'm typing it in wron or what. Thank you.
---
Is it possible to take the fake plant out and out in a real one? Or would the litter get wet when you watered it?
Answer by • Mar 11, 2021
This planter is not designed to support the life of a living plant.
---
Do you have a suggestion on what else I could place on top other than the fake plant? I have a cat that has pica and will eat the fake leaves. I really want to buy and just looking for ideas for the top. I realize it is a planter so placing something else there may look funny. Any ideas?
Answer by • Jul 17, 2017
If your cat will eat the fake leaves you could try adding some decorative rocks or stones.
---
---
---
By soup on Apr 15, 2022
Great for small apartments!
I recently downsized to a small apartment from a bigger house, and having the litter box in the bathroom was a total mess (litter on your feet after a shower is NOT pleasant). My cats were used to having their own litter box room before so I didn't know what to do, I already felt bad downsizing their litter box. I had seen pictures of these planter litter boxes before but wasn't sure if they were actually worth the price -- it is! People don't even notice that the cat box is in the living room, and since I have a ton of plants in my space already this blends right in. The cats like it a lot, they adjusted quickly :) the lid is super easy to take on and off too. Would definitely recommend!
---
By Nina on Apr 26, 2022
Problem cat
I had a male fixed cat start peeing in this area, I got this new box and he likes it, he is a 18 lb cat and stretch out 36 inches. So this box is rummy and he can turn around in it, but it is hard to clean for a 77 yr old woman, who can't get on floor with her knees.
---
By Mzcouguar on Mar 14, 2022
best litter box ever!
My cat is a polydactyl with huge paws and scatters litter everywhere, this vase box has wonderfully eliminated almost all of that problem! She has had no hesitation with using the box, and it fits in perfectly with my jungles themed bathroom full of souvenirs from a Kenya mission! There is no odor and no problem removing and replacing the top to scoop the litter.
---
By LItterbox on Mar 21, 2022
Kinda Weird but Pretty Awesome!
My daughter recommended this after seeing it on TikTok. I gotta say, it looks pretty awesome in my newly styled very small 1/2 bath! Cat loves it too. Very happy with it and tho the top is a little difficult to attach, it hasn't been a problem. Scooping is easy
---
By Honeydew on Mar 15, 2022
Functional but ~ aesthetic ~
I bought this because I used to keep ugly boxy litter boxes tucked away and hidden in closets. However we recently moved into a home with a much more open concept and less space for a litter box. We chose this one so we could keep our litter box in plain sight without looking so unsightly! I did some minor adjustments to make it more to our liking, but after 2 coats of spray paint and some new fake plants we have a winner!
---
By CatLady on Apr 7, 2022
Kinda Flimsy
It was much more flimsy and harder to align the too and bottom than I expected and I had to get another litter box to put inside to stabilize. Seems a bit redundant, not as practical as I hoped.
---
By Drice on Feb 21, 2022
Love it, but that moss....!!!!
OK, first of all I'll say that I really like this. I have a small bathroom and the big "dome box" litter box was just too much and was really ugly. This adds a decorative touch and fits nicely into the corner, so it's a big improvement. I also like that it's large enough for my big cat, and easy to access for scooping. BUT.....seriously, whoever designed the decorative part of this obviously does NOT have a cat! The artificial plant is nice, and you can arrange it in different ways, but it comes with this batch of artificial moss to go around it. Anyone with a cat knows that this is going to last all of about 30 seconds, until the cats notice it and destroy it. I tried picking it back up and sweeping up the mess, but after the third time I admitted defeat and just threw the moss away. So overall, I really like the litter box but they really need something better to "decorate" the base of that plant.
---
By MYBABIES on Mar 10, 2022
PUSS & BOOTS
THINK ABOUT IT AN ATTRACTIVE WAY TO SUPPLY DISPOSAL FOR YOUR LITTLE DARLINGS, RESERVING THEIR DIGNITY. LOL I LOVE IT IN MY OFFICE AT HOME, THE REGULAR PAN WAS AN EYESORE. SAME CLEANING METHOD SCOOP AND DUMP.
---
By medusa04 on Apr 19, 2022
Gives your kitties their privacy!
Love this litter box. Does not smell as bad as opened one's, gives your cats their privacy they need. Big enough for multiple cats
---
By CynS on Feb 17, 2022
Love it! Can I have a bigger one?
I love this design so much! I've had it since my cats were kittens and it's so discreet, no visitor knows it's there. Sadly, one of the cats has gotten too big for it. He's a long boy (almost 36 inches). When he sits in it now, he has to do it with his head sticking out the door. So, now I'm looking at cabinet litter boxes to give him more space. If this came in XXL jumbo size, though, I would definitely buy it.
---