Grannick's Bitter Apple Original Taste Deterrent Dog Spray, 16-oz
Temporarily Out of Stock
Get notified when this item is back in stock.
Compare Similar Items
| | | | | | |
| --- | --- | --- | --- | --- | --- |
| | | | | | |
| Customer Rating | | | | | |
| Price | | | | | |
| Autoship | — | | | | — |
| Lifestage | Adult | — | Adult | Adult | Adult |
| Cleaner Usage | — | Furniture/Upholstery | — | — | — |
| Cleaner Type | — | Protector | — | — | — |
| Top Ingredients | — | — | Active Ingredients: Bittering Agent (0.075%)., Inert Ingredients: Water and Sodium Bicarbonate.... | Water, Natural Bitter Agents, Isopropanol 20%, Lemon Extract. | — |
| Health Feature | — | — | First Aid, Itch & Redness Remedy, Skin & Coat Health | — | — |
| Small Pet Type | — | — | — | Rabbit, Ferret | — |
---
About This Item
Discourages fur biting, hair chewing and hot spots.
Easy to use spray bottle makes it convenient.
Discourages licking and chewing on furniture or fabrics where applied.
Invented by a pharmacist and trusted by veterinarians and groomers.
Non toxic, safe and effective chew deterrent.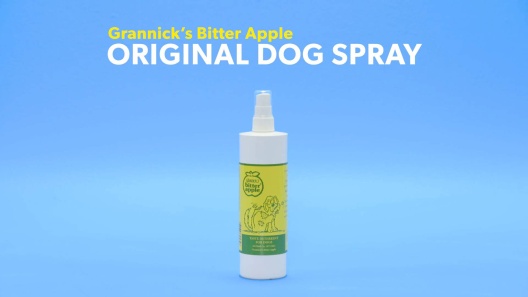 Learn More About Grannick's Bitter Apple From Our Team of Experts
---
---
Questions & Answers
25 Customer Questions
---
Can this be used for pet rats?
Answer by SueB • Aug 01, 2022
Yes. But, like every product out there, it may not work for some. I had one goof ball who'd actually lick it up. Kids? What can ya do? lol
---
If this bottle is not used up should this be disposed of in a special way?
Answer by DaneMama • Oct 22, 2022
Nope. It's non-toxic, so you can throw out any that is old that needs to go. I wouldn't try to wash out and recycle the bottle though. And wash your hands really well any time you handle the bottle. If you get a weird taste in your mouth like you have been sucking on a handful of pocket change, that means you didn't wash your hands well enough after handling it. Just drink water and it will go away. Nothing to be scared of. Works the same on your critters too. Used it on kittens, puppies, ferrets, and none of them have liked it much. Worked especially well when using it on things like cords that I just could not have them chewing on! Won't hurt them or you. Just toss it.
---
Can this be used on carpet?
Answer by • Jan 25, 2018
This product can be used on carpets. As with any spray, test a small section of carpet first.
---
Can you spray this on acorns to keep dog from eating them?
Answer by • Sep 25, 2017
This non toxic, safe,and effective chew deterrent can be sprayed on acorns.
---
---
---
By TheChewer on Jul 5, 2022
Fantastic Stuff
I've had 5 different dogs I've used this for. I'm cheap and when I ran out, I tried a vinegar solution that I used only one of my dogs and it worked. My newest one found the vinegar wonderful and cleaned up the spray. Finally I bought some more Bitter Apple and he was not happy with me. Yep, the only thing all my dogs didn't like. I need more until I know Zeke is out of the chewing stage completely.
---
By Bjean on Jul 20, 2022
Puppy can't stand the taste
I have a new puppy that likes to nibble on everything. I was really worried about him getting into cords, and also chewing on the bottom of the couch. I sprayed this and he was disgusted - which is great. Very effective. He stopped the behavior immediately.
---
By JLMCAT on Mar 19, 2022
works within first 48 hours
I tried a homemade version of this that did nothing to curb my puppy's behavior of eating the carpet so I was skeptical. Within minutes of spraying bitter apple on the carpet my puppy had visible reaction. She would go near the spot and then back away. I could not smell much but the smell was so strong to her that she has not eaten the carpet in weeks.
---
By Pwhitener on Mar 22, 2022
Does not work
I have tried this on a variety of items; a bench to stop a puppy from chewing, a plant to stop a cat from chewing, and a wound and hot spot to stop a dog from chewing. This stuff does not work. I finally flushed it and recycled the bottle.
---
By sailaway27 on Mar 1, 2022
When is it going to be back in stock?
I love this stuff. It got my boxer pit mix to stop eating my carpet in my old apartment and his bed as well. But when he became obsessed with his paws that's when we really put this to the test and it did good for a little bit but then he kept obsessing over his paws again. That's why I gave this a 4 star. Now I have a 1 year old half blue nose half red nose pit and he eats everything. So I tried to buy this and seems like it's been out of stock for a while now... what is going on?
---
By debweb on Mar 13, 2022
Product Works
Product Works exactly what it's suppose to do discourages chewing. My 6 month old Rat Terrier say's it taste YUCKIE. Saved our furniture and stair carpets.
---
By Barb on Mar 6, 2022
Has controlled each of our puppies
Have used for years for each of our puppies. Makes training much easier. Much more effective than other brands I have tried. Pleased that Chewy carries Bitter Apple.
---
By Cooper on Dec 2, 2021
Great Chew Deterrent
I love this product. It's a safe effective way of keeping chewers from chewing things you don't want your pups chewing.
---
By Izzy on Jun 8, 2021
Temporary Deterrant
This product didn't really work well. After my human sprayed the area of carpet I was chewing, I let the smell dissipate then I went right back to that spot. Mommy says it's because I'm from a stubborn breed....I say it's because I like her taste in carpets!
---
By abc123 on Feb 23, 2021
Know how to use it.
I've had great success training my dogs with this product. You have to know how to introduce it properly so that when they smell it, they know it tastes bad. So many just start spraying objects expecting it to deter. That doesn't work for all dogs. A trainer explained to me... spray a cotton ball, then place it in the dog's/puppy's mouth and gently hold closed for a couple seconds. Then let them spit it out. Once they smell a surface that has been sprayed they remember the taste. Has worked for me every time and I've rarely had to respray items I didn't want chewed. It helps to redirect their attention to appropriate chew toys.
---