Green Gruff Soothe Skin & Coat Health Salmon Flavor Soft Chew Dog Supplement
---
About This Item
Made in the USA.
Dietary supplement that is safe and effective for dogs of all breeds and sizes.
Provides your dog with salmon oil, hemp seed oil, cricket flour, sunflower lecithin, beneficial yeast, and omega-3 fatty acids to help promote coat and skin health.
Formulated with a delicious coconut and pumpkin flavor that dogs love.
Helps reduce dryness and irritation in your dog's skin.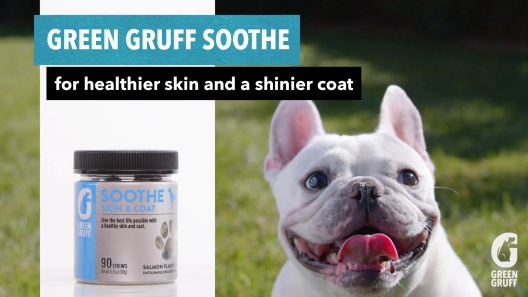 Learn More About Green Gruff From Our Team of Experts
---
Compare Similar Items
| | | | | | |
| --- | --- | --- | --- | --- | --- |
| | | | | | |
| Customer Rating | | — | | | |
| Price | | | | | |
| Autoship | — | | | | |
| Top Ingredients | Active: Algae, Organic Cricket Flour, High Omega 3 (Fish Oil)... | Potato Starch, Cane Molasses, Natural Pork Flavor... | Dried Potato, Flax Seed Meal, Tapioca Starch... | Pollock Oil, Salmon Oil, Wheat Germ Oil, Biotin. | Natural Vitamin E, Calcium Pantothenate, Puridoxine... |
| Breed Size | Medium Breeds, Large Breeds, Small Breeds | Large Breeds, Small Breeds, Medium Breeds | Small Breeds, Medium Breeds, Large Breeds | Large Breeds, Small Breeds, Medium Breeds | All Breeds, Extra Small Breeds, Small Breeds... |
| Lifestage | Adult, Senior | Adult, Puppy, Senior | Adult | Adult, Puppy, Senior | Adult, Senior |
| Health Feature | Skin & Coat Health, Itch & Redness Remedy, Shedding Control | Skin & Coat Health | Skin & Coat Health | Skin & Coat Health, Itch & Redness Remedy, Sensitive Skin... | Skin & Coat Health |
| Food Flavor | Salmon, Seafood & Fish | Pork, Meat | Hickory | Seafood & Fish | Unflavored |
| Special Diet | No Corn No Wheat No Soy, Organic, High-Protein | — | — | Limited Ingredient Diet, Human-Grade, Grain-Free... | — |
---
Questions & Answers
2 Customer Questions
---
will this help with itching and flakey crusty skin
Answer by • May 18, 2022
This supplement provides your dog with salmon oil, hemp seed oil, cricket flour, sunflower lecithin, beneficial yeast, and omega-3 fatty acids to help promote coat and skin health.
---
how many do i give my sheperd
Answer by • Jun 20, 2021
For a complete list of feeding recommendations, click the "Feeding Instructions" tab, next to the "Nutritional Info" tab, just under the product photos.  
---
---
By RebeccaH on Nov 12, 2021
Great supplement for dogs with serious allergies!
We have an English Bulldog that has serious environmental and food allergies that lead to severe skin problems—itching red cracked skin, bald patches and inflammation. We have tried a variety of oral and topical treatments both prescription and non prescription. I can genuinely say that this ranks among the best, including treatments that are much more expensive. We have noticed a significant reduction in scratching, redness and inflammation. This has given her skin a chance to heal some of the wounds caused by previous scratching. We have already purchased this product ourselves and intend to use it for the rest of her life. Highly recommended.
---
By MrsHC on Nov 1, 2021
May Help With Coat
During the Summer and early fall months in Arizona my Silver Lab mix always suffers from skin allergies and "hot spots." She loves being outdoors but the grass and fall weeds do a number on her skin. She's a pretty picky eater so getting her to take the Green Gruff Soothe Skin & Coat chews was a chore but extra treats helped. She seemed not to love the taste alone and usually just played with the Chews when offered alone. I do have to say I feel like her coat grew back smoother in her hot spot areas but I saw no real improvement in her itchiness. That being said I gave the Green Gruff Soothe Chews 3 stars for effort as I'm assuming they helped improve her coat growth where her hot spots were. I received this product for my pup courtesy of BzzAgent for my honest opinion and review. 90 Chews lasted us just over 22 days at 4 Chews per day.
---
By Masha on Nov 10, 2021
It a no for my dog
My dog wasn't happy about those, even when I made them smaller. We have a white Pomeranian that we also call a trash can, because she would eat anything, but these treats. Even myself, when I opened them, wasn't happy about the smell. I assume they tried to put as many nutrients in it, hence the big size, but it just didn't work with our dog. She would smell it and walk away. I am always looking for a good natural product that would keep her skin and coat shinny, since she has a long hair. I wish she would eat it. I got it as a free sample from BzzAgent and I appreciate it.
---
By Elle on Nov 10, 2021
Very small difference
I received this product for free to test and try on my little guy, Snax. My dog is a mini dachshund, and suffers from minor allergies and will lick the top of his paws like crazy. I started to give these supplements to my dog per the instructions but I haven't seen any major changes in his behavior. The only noticeable difference has been the softness of his fur. He's super soft! I had no issues getting my dog to eat the chews. I would just give it to him with his regular food. I love that these chews use organic and the best quality ingredients so I def would recommend to give these a try. Though these didn't work for my dog's allergies I appreciate that this company uses great ingredients and that the chews provide healthy vitamins for dogs.
---
By AmandaH on Nov 10, 2021
Great tasting and performing
I received this awesome product courtesy of BzzAgent. This is the first time we gave our young Sammie any kind of supplement as she is really young, healthy, and we haven't had her very long. I was concerned she wouldn't enjoy the taste and these would be a struggle to get her to eat, but that's the opposite of what happened! She really loves them and looks forward to when I whip these out. In addition to being to them being yummy, they really do seem to perform quickly for a supplement! Her coat seemed to get a bit thicker and shinier in just about 2.5 weeks. I think that's incredible for any kind of supplement. I highly recommend you give these a try for your pup!
---
By OSteveO on Oct 25, 2021
Still has dry itchy skin
I had received this product as part of a free sample program. After using it for 26 days (First 90ct bottle), my dog still had dry skin and his scratching frequency remained the same. The shine of his coat seemed duller, but its hard to say if it was the product as he is shedding his summer coat for his winter coat. He was hesitant at first to eating his first chew, but after cautiously consuming it, the hesitation was gone as he looked forward to this daily treat. So for taste, he'd rate this as 5 stars. But after reviewing the product dosage, he may have seen better results, if the dosage was higher. At his weight he should have had 5-8 daily (Under 10lbs = 1/9lbs, 10-25lbs = 1/12.5lbs, 26-50lbs = 1/16.7lbs, and then over 50lbs, the dosage gets even weaker per lb.) By these dosage recommendations, smaller dogs get a stronger dosage, and may be why they have favorable results.
---
By Reebie81 on Oct 27, 2021
Relief for the dogs
I received this product as part of a free sample program from BzzAgent. I gave my dogs one a day for 2 weeks and noticed they were not itching or scratching as much anymore. My Yorkie and Jack Russel loved the flavor of the supplement. They would get so excited when I asked if they wanted one. They eagerly ate up every bite, it was like a treat to them. I will definitely be buying these for my dogs and recommend trying them if your dog seems to be itchy a lot. While writing your reviews, here are some questions to keep in mind as you use your product: How does this product compare to other products you've tried? What are some benefits of owning this product? Would you buy this product? Would you recommend this product to your friends or family?
---
By hybroanglid on Nov 1, 2021
My dog loves his 'treats'.
My dog has never been crazy about fish flavors. Like most dogs, he'll eat virtually anything, but the only things I have seen him hesitate about are fish-flavored treats, oils, or foods. That's why I was a little concerned that he wouldn't willingly eat this salmon-flavored supplement. However, I needn't have worried; he loves it! He eats these chews very happily, and seems to think they are his after dinner treats. My boy has some itchy skin issues, especially in the summer. As the seasons are changing, it's hard to know for sure whether or not this product is helping soothe his irritated skin, but it certainly hasn't hurt. I have been giving him these treats (three to four chews a day, since he's over 50 pounds) for nearly a month. I can't really say I have seen any visible improvements in his coat, but it has always been soft and shiny and beautiful. And it still is. I appreciate how 'clean' these chews are. No corn, wheat, soy, or pesticides, and they're made in the USA. And the price seems pretty fair, too. This mix of fish oils and omega-3 fatty acids should be helping my dog's joints, too, which is definitely a good thing for most senior dogs. And the fact that they come in a plastic jar or canister with a lid to close is great. That means his treats will stay fresher for longer, and there's no worry about their spilling or going stale. Just another reason I would recommend these for almost any dog! I did receive a free sample to let my dog try this product, but the honest opinions expressed here are mine and his.
---
By Remmie on Nov 6, 2021
Definitely makes a difference in my dog's coat
I have a husky mastiff mix, as he's getting older his fur is getting dryer and rougher. It doesn't help that we moved to Arizona where it's very dry majority of the the time. I received Green Gruff skin and coat free to try from BzzAgent. He wasn't eager to eat them at first, but came to enjoy them daily. After a few weeks his coat is softer and smoother. These definitely are helping and I'll be buying more to keep up the results.
---
By mastiffowner on Nov 9, 2021
silky coat
I was given this product to try for my honest review from bzzAgent! Our Mastiff has been offered many treats, vitamin supplements, and dog food, he is a picky eater and will hide food in his mouth, eat around supplements!! Moose actually ate 1 after 1 week then increasing daily to 4 yea. Slowly I noticed his coat improving and becoming shinny and silky. My self and Moose would recommend this product.
---