The Green Pet Shop Cool Pet Pad
Frequently Bought Together
---
About This Item
Pressure activated self cooling pad is weight activate so it activates as soon as your pet's paws hit the mat and folds easily for easy storage.
Patented "green" pad uses a non-toxic gel formula to absorb body heat and reduce body temperature without water, electricity, or refrigeration.
After a short period of non-use, this convenient pad automatically recharges itself which makes if good for travel.
Ideal to sooth on hot summer days to keep dogs from overheating or for senior pets or those with hip dysplasia.
Hand-washable for easy cleanup, or just wipes clean, and fits most standard-size crates and beds.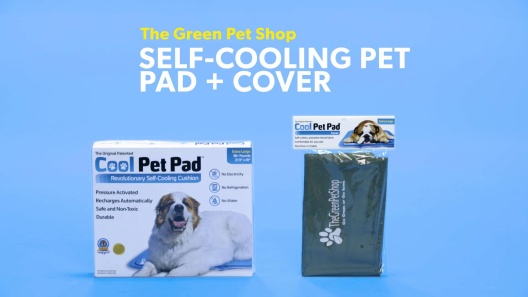 Learn More About The Green Pet Shop From Our Team of Experts
---
Compare Similar Items
| | | | | | |
| --- | --- | --- | --- | --- | --- |
| | | | | | |
| Customer Rating | | | | | |
| Price | | | | | |
| Material | Plastic | Nylon, Synthetic Fabric | Fleece, Synthetic Fabric | Plastic | Plastic |
| Breed Size | Medium Breeds | Giant Breeds | Giant Breeds | Medium Breeds, Large Breeds | Large Breeds |
| Features | Cooling, Machine-washable | Cooling | Heated, Machine-washable, Non-skid | Cooling | Cooling |
| Lifestage | Adult | Adult | Adult | Adult | Adult |
| Bed Shape | Rectangular | — | — | Rectangular | Rectangular |
---
Questions & Answers
47 Customer Questions
---
What are the dimensions for the different sizes? All I see suggested dog weights for the different sizes. I'm trying to gauge which pad would fit best in a small doghouse.
Answer by • Jul 16, 2017
The Small is 11.8 x 15.7 inches, the Medium is 15.7 x 19.7 inches, the Medium/Large is 20 x 30 inches, the Large is 35 x 23.6 inches, and the X-Large is 43.3 x 27.5 inches.
---
Does the cooling pad provide any cushioning? Can you put it over a crate pad?
Answer by • Aug 23, 2017
This cooling pad does not provide cushioning and it can be placed over a crate pad.
---
will the cooling mat still be effective if kept in a hot car to be used to cool my dog down during the long car ride home after a long hike?
Answer by • May 23, 2018
The Green Pet Shop Self-Cooling Pet Pad will be okay if left in a hot car. It is a pressure activated self cooling pad and weight activate so it activates as soon as your pet's paws hit the mat.
---
My Mother-In-Law sleeps with her dogs & is wondering if this works on beds?
Answer by • Aug 04, 2018
This product may be used on a bed.
---
---
---
By BlueBuffalo on Jul 21, 2022
Lifesaver during heatwave
This is our first summer with Lucy and we have no air conditioning, so I knew she was going to have a rough time between the heat and humidity. Boy am I glad I got the pad when we did! I put it down on the floor right out of the box and she was less than interested, but I found that if I put the pad in the fridge (even though it says it's unnecessary, trust me) and then put it on our sofa and I think she can actually feel the cold now because she refuses to leave it. I want to note that the pad worked almost instantaneously in cooling her off, too. Without the pad she was panting, but after a minute of laying on the pad she stopped panting. We're now thinking about getting more pads to try to get our cats to lay on them as well. For reference, we got the 'large' size pad for Lucy - she's about 50lbs and fits on it just fine.
---
By MalamuteMom on Aug 3, 2022
Alaskan Malamute tested
We moved from Alaska to Northern California. I have three Alaskan Malamute puppies and one full grown Mal. They're all having a hard time with the heat. After research and reading reviews I decided to purchase and try the cooling pet pad! One pup instantly laid down and wouldn't share haha, I guess I better buy 3 more!
---
By Broccolismom on Jul 10, 2022
This really works!
I wasn't sure how well this was going to work, but it is great. I have a huge 110 lb German Shepherd. He is a rescue we got from TX. We live in NJ. I thought he would be more tolerant of the heat being from TX but he hates it. I noticed that even in the house, he would always lay on cool tile or linoleum, so I thought I'd give this a try. HE LOVES IT!! I have stood on it in bare feet and it is cool to the touch. If Broccoli likes it then I like it and would highly recommend. I haven't had any of the issues that I saw in some other reviews, but we have only had it for a few weeks. So far its great!!
---
By MaddieMama on Jul 5, 2022
My dog immediately started napping on it
I just received the cooling pad delivery about 5 minutes ago and she is already out cold on it (pun intended) :) She is a senior dog with an enlarged heart who overheats so easily in this Arizona climate, even inside with the AC on. I am so happy she took to the pad so fast! I want to see how it does when it's warmer out tomorrow and after she's been out in the heat. When I sat on it myself I could feel slight cooling but not as cold as I imagined it would be so I want to give a bit more time to see how it goes.
---
By Bobo on Jul 19, 2022
I think he likes it
Our dog developed a lump on his "elbow" which the vet said was from lying on a hard surface. We live in the Mojave and it gets HOT. I figured he was choosing the stone tile because it is cool even though he has many softer options for naps. We placed this cooling mat on our bed and now he's favoring that spot during the day.
---
By Erin on Jun 16, 2022
Great for hot and aching dogs
We got our first mat a couple of years ago for our older dog to help keep him cool on camping trips and other hot summer days. It usually takes some encouragement to get him on the mat at first but once he figures it out he'll go to it. It's been even better this year as he's getting up there in age and having a harder time with heat. This mat does a great job of cooling him quicker. The mat has worked and held up so well we bought a second one for our puppy this summer. She got really sick with a tick-borne illness last month and commandeered our older dog's mat while she was recovering. It helped soothe her achy joints and we were so grateful to have something else to help ease her pain while she was recovering from that nasty business. So, while I thought I was crazy for spending the money on even one mat they proven to be worth every penny!
---
By CocoLoco on Jul 15, 2022
Pitbull Recommends
My Pitbull loves it so far! My baby has hotspots due to allergies and we have tried every method (creams, oils, oatmeal bath) but hopefully this can help cool her off. I had to lay next to it for a bit so she can get accustomed to the sound and feel of it. But has been snoring and drooling on it since we got it in the mail.
---
By Hotdog on Jul 14, 2022
Not cooler than floor (except carpet)
I had high hopes for it, but it's not cooler than the floor. (I must say it would be cooler than a carpet floor, so it could be useful for some people). Dog didn't mind laying on it but preferred floor. I laid on it too and it didn't feel any cooler than the floor. Quality seems good, no odor.
---
By Brodie on Aug 6, 2022
Cool Pet Pad
Our Pembroke Welsh Corgi puppy is a tri-color and gets very warm to the touch after only a few minutes out in the Colorado sun. Placed it on the tile floor and is where he does the majority of his napping . . . we are very pleased.
---
By Lola on Aug 2, 2022
It really cools!
I did not want to have to fill a pad with water and didn't think this would really cool but our bulldog loves it! I can throw it down wherever I am, and she will go to it. Great product for summer and for any dog that overheats easily!
---