Guardian Gear 2-Way Dog Coupler, Black
---
About This Item
Walk both your pups at the same time with this 2-way dog coupler leash.
Made of nylon with nickel-plated swivel clips that are durable for long lasting use.
Easy way to use one leash and walk both pups at the same time.
Comfortable for both pups and tangle free.
Multiple leashes size options allow you to pick the best fit for your pups.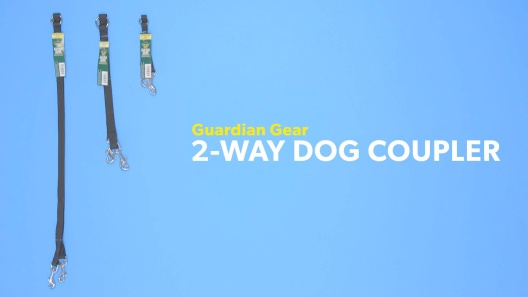 Learn More About Guardian Gear From Our Team of Experts
---
---
Questions & Answers
6 Customer Questions
---
For the medium, is it 12 inches total length or each side 12"?
Answer by • May 26, 2019
The X-Small measures 4 inches long x 1/2 inch wide, the Medium measures 12 inches long x 3/4 inch wide and the Large measures 24 inches long x 5/8 inch wide. The length will be for each side of the coupler.
---
What size is best for a 10 pound dogs?
Answer by • Jul 19, 2017
The 4-inch coupler is designed for small dogs, the 12-inch coupler is designed for medium to large dogs, and the 24-inch coupler is designed for very large and giant breed dogs.
---
Does the size of the leash indicate it's tensile strength?
Answer by • Aug 04, 2019
This coupler is made of high-quality, durable nylon with heavy-duty swivel snaps. The 4-inch coupler is designed for Small dogs and has a width of 1/2 inches, the 12-inch coupler is designed for Medium to Large dogs and has a width of 3/4 inches, and the 24-inch coupler is designed for very Large and Giant breed dogs and has a width of 5/8 inches.
---
Is it ok to use a double tether leash with two dogs and use collars for both of them? Is that harming the dogs at all?
Answer by • May 21, 2020
This coupler is meant to attach to collars with the nickel-plated swivel clips.
---
---
---
By Champ on Apr 26, 2022
Brace collar nit adjustable
The leads to attach my dogs were too long and lengths were not adjustable .to got to Hobby Lobby to buy shortening link . Then to a local tailor to have a tailor install one link on each lead. Addition costs $1.29 for the links and @20.00 to install .
---
By Gilbert on Apr 7, 2022
Walking together
Works great, Makes walking two big dogs at the same time easily. One makes the other walk well. Quality is good and solid, price is right.
---
By 2YorkieMom on Oct 19, 2021
Works great
I bought the X-Small to walk my 2 Yorkies. One is just under 5lbs and the other is just over 5lbs. They caught on right away. I was concerned they would be too close to each other when ordering, but it's perfect. I added a photo of our first walk with them. They are about 9 months in this picture and both wear harnesses.
---
By Steve on Mar 6, 2022
Great Product
Simple item - very functional - works great with my two medium sized dogs.
---
By carla on Sep 18, 2021
Walk the dogs
I purchased this after battling with walking two dogs on their seperate leashes. This is terrific and don't know why I waited so long to purchase. Good price and as always, with Chewy, great delivery.
---
By Aboogie on Jul 23, 2021
Great product!
I have 2 small dogs and this worked perfectly for them, they behaved so much better when tethered together! I will have to buy another because I took them to the ocean and took it off to let them play in the water and we lost it in the ocean, but I will be buying it again!
---
By JCFF on Nov 24, 2021
Just what I needed
Perfect for walking two dogs at once with only one leash in hand.
---
By Love on May 24, 2021
Super cool!
I never thought to use one of these on my two small dogs. One dog is crazy and uncontrollable so when I put this on them, it took him a while to realize he was pulling his little sister when he was not walking right. It Helped keep him a little more controllable, and in time I think he will be a much better walker. Item very sturdy!!!!
---
By Olivia on May 9, 2021
Not bad, the only issue...
For its price, its not a half bad leash coupler. My only concern with the product is that for the length and the width of the straps, the clips are too large and bulky. I bought this for my two small/medium size dogs, but the clip size seems more appropriate for medium/large dogs. It's a little heavy for them. Otherwise, it works fine.
---
By Lovedogs on Jul 31, 2021
Small dog coupler
Just what I sought. Solidly made and suitable for my two Schipperkes. Price is right too.
---