Habitrail OVO Hamster Loft Habitat, Orange/White
Frequently Bought Together
---
About This Item
Includes: cage, 2 windows(red), food dish, cozy hide away, interactive chewable maze, water bottle and lock connector
Access doors let you interact with your pet
Four-piece roof has two ventilated retractable dome doors that provide all-around access and viewing. Perforated panels allow for improved air flow and ventilation.
Exercise wheel keeps your hamster active and maze helps satisfy hamster's natural chewing instinct
Easy to assemble and maintain, high molded walls keep your hamster's bedding inside his home, not all over your table or floor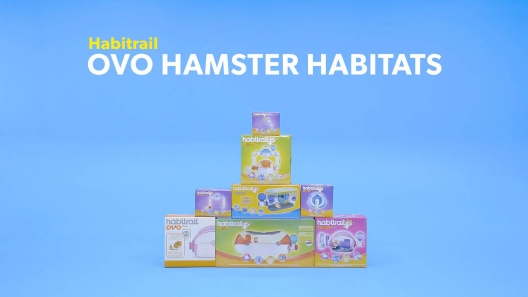 Learn More About Habitrail From Our Team of Experts
---
Compare Similar Items
| | | | | | |
| --- | --- | --- | --- | --- | --- |
| | | | | | |
| Customer Rating | | | | | |
| Price | | | | | |
| Small Pet Type | Hamster | Hamster | Hamster | Hamster | Hamster |
| Material | Plastic | Plastic | Plastic | Plastic | Plastic |
| Features | — | N/A | N/A | N/A | N/A |
---
Questions & Answers
13 Customer Questions
---
Is this large enough to house a grown fancy hamster comfortably?
Answer by • Mar 23, 2021
This habitat is designed specifically for hamsters.
---
What are the dimensions of this cage?
Answer by • May 13, 2020
This habitat measures 13 x 20 x 11 inches.
---
Can this safely house a mouse?
Answer by • Apr 28, 2019
This home is intended for hamsters.
---
How much bedding would this need?
Answer by • Nov 07, 2019
The amount of bedding needed will vary. A general rule is that a hamster should have 2-3 inches of bedding covering the habitat floor.
---
---
---
By Jessica on Jul 24, 2021
Too small, pieces don't connect snugly
I am sticking with the bin cage I made for our dwarf hamster, she had much more space in it. I ordered this because it looked nice in the picture and I thought it might be more "fun", but it's not. Sadly many of the hamster cages out there are just too small. This one is actually slightly larger than many of the others on the market, but the bin cage we made is bigger, and is cute and can fit all of her accessories. This does not comfortably fit all of her toys. Also, one of the tube accessories on the side did not stay secure. It also does not come with a water bottle, and when I tried to find a flat space to attach her water bottle from her bin cage to (we attach her water bottle to that with adhesive Velcro), there was no appropriate spot to do that. Overall, I wouldn't recommend this and I am returning it.
---
By MouseMama on Feb 28, 2021
Highly Recommend
My young mouse is very happy with this habitat. The elevated food dish is great — I love watching her take trips to "the kitchen" throughout the day. She loves the wheel, and the cardboard insert is great too. Lots of space in the bottom of the habitat for bedding and burrowing. Would purchase again.
---
By Monika on Jul 18, 2020
Good purchase
I have been a big fan of Habitrail OVO. This set is probably the most expensive one but I think it's totally worth it since it has plenty of space for the hamster and allows for addition of fun toys for hamster.
---
By MariaT on Nov 20, 2019
Well designed and proud of the designer!
My uncle designed this system for Living World many years ago. We had fun as kids testing out the different parts of the system and I am delighted to see it is still in use. The design has improved and works well with hamsters and rodents to this day. One big improvement: Pets can't nibble their way out of the system like they used to! We had fun trying to hunt down the escapees when they found the weakness in the design. Fortunately, our struggle is your gain as this seems to be resolved now. Enjoy the system! We had fun testing it for you!
---
By Bonita on Sep 27, 2019
Pretty good size
I have a dwarf hamster who loves to explore. This is one part of many parts of his adventure trail that I attached to his actual home. One thing to expect however is that this one does not have the tubes or anything. Just the loft habitat and it's inside parts ( wheel and stuff). If you have other habitrail habitat it's easy to attach, I also have a habitat by another brand and it attached and matched up with the tubes and locks with no issues (just a note: this is my personal creation and works well for me so don't expect it to be the same for everyone). All in all I love it.
---
WAY TOO SMALL
This cage is WAY to small for any breed of hamster, as are most cages sold in pet stores
---
By Gerbil on May 30, 2019
Oooooooooooo
Can you use Kaytee tubes on this I was just wandering so then I cloud connect it to my Kaytee cage for my gerbil and so she will have some more room in plus I don't like the tubes made by this brand
---
By MomofOne on Dec 16, 2018
Nice Habitat
We rescued a syrian hamster that was living in one of the small round habitrails with lots of tubing. The small round habitat that she had was patched with wire where a previous hamster had chewed out of it and I was worried that she would hurt herself on the wire. I saw this habitat, the doubling of her square footage and she's single and medium sized so I thought it would be perfect. So far, with the rooms attached via tubes and all the space she has for moving around, we are pleased. She was living in a closet so a dog wouldn't get to her so I think she was very stressed before her arrival to our home and her new cage. She seems happy and she can still have a part of her old cage (tubes and her extra little house at the top of the tubes) which reduced her stress levels of family changes. The Loft is easy to put together BUT if it is not just right on the base, the hamster CAN get out. For first time owners like us, it should specify that this needs to be double and triple checked. The food bowl could disconnect a bit easier but it's fine. I like how easy it is to get it apart for cleaning and it really provides lots of space, even for the biggest of hamsters and easy to add other things if you want even more space. A little pricey too, but we like it. I'm glad she gets this house to live out the rest of her life in, especially after the stress filled situation she came from. Thanks Habitrail!
---
By Piggie on Jun 10, 2018
water bottle
I love how roomy this case is and how easy it is to clean. However, the water bottle is terrible. It keeps dripping, creating a huge puddle of water. It is also very hard for my hamster to reach, that she has to drink from the puddle of water on the ground. it is also hard to replace it with a different water bottle because of how this case is structured. The wheel has a big gap so I had to tape it down but other than that it's smooth and quiet. I would have recommended this to others if it had a better water bottle.
---
By Kris on Mar 18, 2018
Great product unfortunate time and packaging
I ordered this for my two gerbils it works great and is pretty sizeable.The unfortunate part is that it came cracked amd didn't have time to have it replaced because I was getting my gerbils the following day.
---