Habitrail OVO Studio Hamster Habitat, Multi-colored
Frequently Bought Together
---
About This Item
Unique habitat lets you design and create up to 4 different design possibilities for your hamster
Habitat includes: cage, mini maze with interactive chewable maze, water bottle, 2 tees, 3 elbows, 2 cubes, 4 curves, 1 U-turn, 7 windows and 15 lock connectors
Chewable cardboard satisfies chewing urges, extensive tubing lets your pet explore and burrow
High molded walls keep your hamster's bedding inside his home and not all over your table or floor
Deep base design makes it easy to clean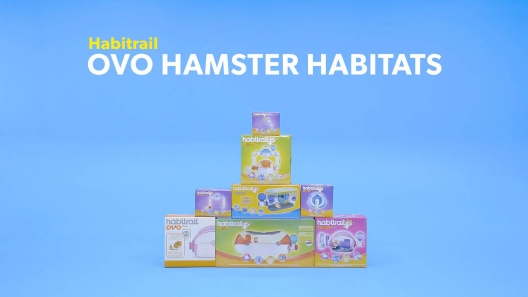 Learn More About Habitrail From Our Team of Experts
---
Compare Similar Items
| | | | | | |
| --- | --- | --- | --- | --- | --- |
| | | | | | |
| Customer Rating | | | | | |
| Price | | | | | |
| Small Pet Type | Hamster | Hamster | Hamster | Hamster | Hamster |
| Material | Plastic | Plastic | Plastic | Plastic | Plastic |
| Features | N/A | N/A | N/A | N/A | N/A |
---
Questions & Answers
12 Customer Questions
---
Would this be big enough for a hedgehog
Answer by • Mar 08, 2019
This unique habitat was designed with the size of hamsters in mind.
---
How do you open the water bottle?
Answer by • Jun 06, 2019
The Water Bottle should be cleaned and refilled on a daily basis. To fill the water bottle, remove the stainless steel nozzle and fill the reservoir with water. Replace the stainless steel nozzle, turn right side up (so nozzle is pointed downwards) over the sink and shake in an up and down motion 3 times to allow vacuum to form, insert into water bottle support.
---
I have a teddy bear male Syrian hamster. He is too big to fit in the small tubes..So this would be perfect for him but all I'm wondering about is the wheel size and if he will fit.
Answer by • Jan 17, 2018
The diameter of the wheel measures at 7.25 inches.
---
Can a Syrian hamster use these without getting stuck?
Answer by • Nov 07, 2017
This habitat is suitable for a Syrian hamster.
---
---
---
By Stacy on Dec 3, 2020
Wanted to love it
My son picked this cage for his hamster, and we wanted to love it, however after about a month we switched him back to his starter cage until we can get another because the hamster hated it. Its so small that its very hard to interact with the hamster because he tends to stay hidden (theres barely any room), and because of this he has gotten a little fiesty from not being handled as much (its harder for my son to get to him) the doors are very hard to open. While its super cute its just not functional. I recommend finding a cage with more area to it.
---
By Aariyon on Jan 3, 2021
Soo Beautiful
I love it so much it was kind of hard to put it together but I manage i'm just happy that she has two places to sleep now
---
By Jackie on Apr 29, 2020
Not so great
Didn't like the cage. A couple pieces were broken when it arrived. Obviously didn't use them, which made it smaller. The second thing was I don't think there is enough air into the cage... Hamster #1 unfortunately did not make it because it went into the hide with the bedding to nest and didn't have enough oxygen. Hamster #2 has a new wired cage not using this one and is doing fantastic. It's a really cool idea and design I just don't think they provide enough air to them... I was going to buy a whole lot more to expand but after hamster #1 decided to not go this route..
---
AWFUL CAGE
Do not buy this cage! This cage is WAY WAY WAY too small for any type of gerbil, mice, or hamster to live in. A hamster needs at least 450 square inches of floor space, a single gerbil needs at least a 300 square inches of floor space, and a mouse needs at least 200 square inches of floor space. If you put ANY animal in this, you shouldn't keep that animal or even buy it to begin with. Bin cages (clear storage bins) are a VERY affordable solution for giving your pet more space and save yourself a lot of money!
---
By Pumpkin on Oct 2, 2019
Great hamster home
Very easy to put together love how rings lock in place has water bottle and food with hide out underneath comes with wheel very roomy
---
By Kimberly on Jun 6, 2019
Amazing And Easy
My mouse LOVES this cage and his brother loves his version and it is so easy to clean! You may need a second person to re-connect the tubes back to the base unit, but other than that you can do it all yourself! I love this cage.
---
By sucks on Aug 11, 2019
Too small for any animal
Hamsters and gerbils need a minimum of 450 square inches. It's so much cheaper to make a bin cage
---
By Ariana on May 14, 2019
Not Suitable for main cage.
I use this as an extension to my original cage. My Syrian hamster absolutely adores this extension and I don't regret buying it! The only thing is, some people are using it for a main cage? The MINIMUM size is 400 square inches. That's the minimum. My main cage is a little less than 700 square inches and I'm hoping to get a bigger one next month. Anyway, as I was saying, don't use this for a cage. Even if you do get all the parts and spend $200 on all of it, it's still not suitable. You need to buy an actual cage with the bottom being at LEAST 400 square inches.
---
By Crystal on Mar 14, 2019
Great for my syrian/Teddy bear hambster
I loved this as an extra home for my hambster. It holds food and has an extra water bottle which I love! It always is very very easy to clean and makes for an extra add on for other habitrail cages.
---
By belle on Mar 1, 2019
habitrail ovo is great
It's a lot bigger than I thought it would be i looked at the size of the tubes and thought my big hamster wouldn't fit. She fits perfect though and even turn around in the tubes she loves it.
---