Herm Sprenger Ultra-Plus Training Dog Prong Collar
By Herm Sprenger
---
About This Item
Chrome prong training collar is safe, practical and easy to use for effective training.
Features a solid fastener plate that provides a more secure connection.
Patented center plate construction and symmetrical prong placement provides natural contact for optimal communication.
Great for walking strong pullers, large dogs, obedience training and behavior correction.
Blunt prongs do not cause pain or harm. Replacement links available to increase collar size.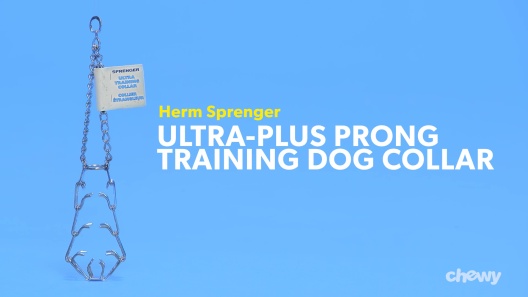 Learn More About Herm Sprenger From Our Team of Experts
---
Compare Similar Items
| | | | | |
| --- | --- | --- | --- | --- |
| | | | | |
| Customer Rating | | | | |
| Price | | | | |
| Material | N/A | Vinyl | Chain | Polyester |
| Breed Size | Medium Breeds | Extra Small & Toy Breeds, Small Breeds, Medium Breeds, Large Breeds | Medium Breeds, Large Breeds | Small Breeds |
| Pattern | Solid | Solid | Solid | Tie-Dye |
| Leash & Collar Feature | Training | Training | Training | Training |
| Closure Type | Slip On | Buckle | Slip On | Slip On |
| Collar Type | Prong & Pinch | Prong & Pinch | Chain Slip | Martingale |
| Leash Type | N/A | — | — | — |
---
Questions & Answers
36 Customer Questions
---
can you buy links for herm sprenger
Answer by 1Silverfox • Apr 04, 2022
Yes, sold in packets of 3. They sell them on this site.
---
Can a dog wear it all day and everyday?
Answer by • May 15, 2018
This collar should only be used during walking or training sessions. These collars are not designed to wear for long periods of time.
---
Is the collar suppose to be tight around the neck so it stays in the right place? Not like other collars that are loose around the neck.
Answer by • Jan 09, 2019
The collar should fit snugly as it doesn't move around from the proper place. If the collar is loose, consider removing one of the prongs. A prong collar should sit right behind the ears and under the jaw. Placing the collar lower than this will make the collar ineffective.
---
Can you remove link from a standard size collar (one that doesn't already have added links).
Answer by • Dec 22, 2018
All Herm Sprenger pinch collars come in a standard length which is adjusted to fit the neck of the dog by removing or adding links.
---
---
---
By SimbasMom on May 15, 2022
GAME CHANGER
Oh my goodness! I have a 2 year old lab mix, he's about 80lbs. He's incredibly reactive, lunging after bunny's, birds, squirrels and other dogs. He's very friendly but reactive and strong, he's ripped the leash out of my hands before & broke out of his harness last weekend. Today I took him out with this prong collar and I could cry tears of joy. Not one lunge, no pulling, I corrected him maybe 3 times with the leash and that was it. He spent the rest of the walk by my side. This was the best walk we've been on in the past 2 years and I attribute it all to this collar. Walks are going to be pleasant now instead of stressful. If you're considering the Hermsprenger prong collar for your dog, you should 100% buy it. I can't recommend it enough.
---
By Steve on May 16, 2022
Works great - until it falls apart
When I got this prong collar, it was fantastic. Put it on my dog, and suddenly he became the perfect dog for walking. (My dog, a 32 lb dog, literally breaks the metal on his leather collars every few months.) However, after a couple of weeks, the segments kept coming apart from each other. I would put them back together and use a wrench to bend them back into position. A few days later, apart again. After going through this several times, I'm tired of it. I need a prong collar that doesn't fall apart. So even while the functionality of this collar was perfect in magically turning my dog into a tame walker, the fact that it keeps falling apart makes it entirely problematic in usage.
---
By MarcyM on Apr 14, 2022
Great collar
My German shepherd is very well behaved, but did have a propensity to pull on the leash while walking, especially when he would see a deer or a squirrel! He is extremely strong and I felt that there could be a chance that he could get away from me at some point. I've tried so many other options and finally decided to try the HS training collar. I put the Herm Sprenger training collar on him and it absolutely amazed me that within approximately two minutes he knew exactly what he had to do and stays right beside me now! He actually gets so excited when I get the collar out because he knows it's walk time, and sits there like a good boy while I put it on him. He's only 18 month's old so I removed two of the links to fit in the exact spot where it should be just behind his ears, high up on his neck. I also have a bit of arthritis in my fingers so I used pliers to just "slightly" push the prongs together on one of the links, and now I can easily put the collar on and remove it without difficulty! It still takes pressure to do it, but it's so much easier. I also marked that prong with a dab of fingernail polish so I know which one it is! Remember if you do what I did you barely put pressure on it with the pliers, and not so much that it slips back out of the other link on it's own.
---
By Melissa on Mar 23, 2022
Great quality no sharp edges.
Great quality and works like a charm for my pulls like a pit little Boston terrier. I ordered the size for a 12 in neck plus 2in like ordering instructions state. I find it a little loose after removing links but if I remove one more extra it's too tight. But I just try to keep it in place as we walk. He's a puppy still so I didn't want to alter the chain as of yet. But he seems more comfortable wearing that than pulling his collar and choking himself. I know some people may say wear a harness. But pushing a child in a stroller and trying to walk a dog that pulls like a work mule on a harness isn't working for any of us. Especially because he tries to eat cars as the pass as well. Makes for a very unsafe situation for us all. But the prong collar keeps him for pulling and doesn't hurt him at all we all enjoy our walks now and are safe! Very pleased with my purchase! He just walks along beside us now.
---
By Yvonne on Mar 22, 2022
High quality prong collar, can't beat HS.
This has been a great tool for training my sometimes knuckle-headed dog. As expected, Herm Sprenger has come through with a high quality collar with blunt tipped links. I recommend that people review how to properly fit their prong collar as I see a lot of reviews with pictures where the collar sits too low - it should sit close to behind the ears of the dog to be safe and effective. I also recommend that people work with a trainer. I used to be against prong collars but after working with a trainer and learning more about them, I know they can be an effective tool when used properly and may not be appropriate for every dog.
---
By Dawn on Apr 25, 2022
Don't waste your money
I ordered this for my dogs training class. This collar does not open up to put on your dog. My dog has a 18 inch neck so I ordered the next size up. And it just about didn't go over his head. By the time you get it over there head and put the leash there was no slack.
---
By Beth on Apr 3, 2022
Best Training Collar
This is the best training collar when used correctly and appropriately. My dog went from extreme pulling to walking by my side with gentle, consistent corrections. The prongs are smooth and rounded so the correction is uncomfortable but not painful. With the martingale style chain, the dog can easily loosen the collar when it tightens due to his pulling away.
---
By RyssaA on Mar 9, 2022
Best training collar for my dog
I was always wary of prong collars, but after enrolling my 7 yr old adopted husky/German shepherd in training classes (he is reactive and very very sassy) our trainer recommended this collar and showed me how to use it properly. The minute that collar goes on, he's a completely different dog. He listens well, he doesn't pull, and I feel completely secure taking him for long walks with the potential of running into other dogs. This collar has been a HUGE help in our training. It is NOT recommended for constant use but for walking and training classes it is perfect.
---
By Larry on Mar 16, 2022
Difficulty in Sizing and returning this item.
The collar did not fit. I looked all over the Chewy.com web site to find out how to return it and could find no direct link as how to return an item. All I could find was a place to send a message. The website is most difficult to navigate regarding returns. I would not recommend buying any items from Chewy if there was the slights possibility of having to return it.
---
By Patricia on Apr 4, 2022
Prong collar
The fine prong collar is lighter and more comfortable fit (with the 6 additional links). The only out point is it has to be slipped over his head and gets snagged in his long fur. To make it safer I turn the prongs pointing out as not to injure his eyes or ears.
---