Hexbug Nano Robotic Cat Toy, Color Varies
Frequently Bought Together
---
About This Item
Navigates with lifelike moving patterns propelled by vibration technology.
Navigates around objects and corners and can flip itself over from its back to its feet.
Soft and colorful tail captures the attention and interest of your four-legged friend.
Includes batteries so it's ready to play straight out of the box.
Comes in a variety of colors—let us choose for you!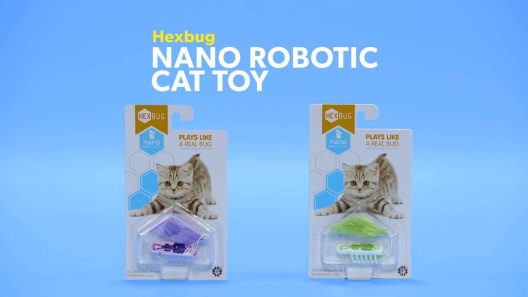 Learn More About Hexbug From Our Team of Experts
---
Compare Similar Items
| | | | | | |
| --- | --- | --- | --- | --- | --- |
| | | | | | |
| Customer Rating | | | | | |
| Price | | | | | |
| Material | Plastic, Rubber | Cardboard / Paper | Cardboard / Paper | — | Polyester, Synthetic Fabric |
| Toy Feature | Electronic | Catnip | Catnip, Exercise | Catnip | Catnip |
| Toy Type | Robot & Remote Control Toys | Scratchers, Scratch Boxes | Scratchers | Scratchers, Scratch Boxes | Plush Toys |
| Lifestage | Adult | Adult | Adult | Adult | Adult |
---
Questions & Answers
16 Customer Questions
---
I see others say this goes beneath things and gets lost. It may be difficult to get out from under a stove, if this is the case. How tall (or short) is this toy?
Answer by • Nov 29, 2017
The Hexbug Nano is 55" inches in width, 1.73" inches in length and .7" inches in height.
---
Does this work on carpet?
Answer by • Jun 22, 2021
This toy only works on hard surfaces.
---
how long the battery last?
Answer by • Mar 23, 2018
The length of time the batteries last is determined by how often the product is used.
---
Does this toy make machine noises (whirring motor, etc.)?
Answer by • Mar 07, 2018
This toy does not make noise.
---
---
---
By Bellasmommy on Aug 11, 2022
fantastic playtime toy!
My kitty doesn't get fooled by much and gets bored easily. But the only way she would stop playing with this toy is if I took it and put it up for awhile after it had entertained her for over two hours straight. Even on carpet, the "bug" moves slowly as it vibrates and she catches the slightest movement. She will watch it for a bit, then jump over to get and throw it around. On tile, the bug moves faster in a chase and my kitty loves it when it appears to "crawl" underneath something that she has to work at to get back out...such as under a rolled-up rug. It appears the bug is hiding from her and challenges her to "get it." She loves catching it and throwing it around and up into the air. She loves laying still and watching it and then jumping out at it. I love this toy because my kitty loves playing with it. It is actually the best toy I think she has every had....fun for me too: to watch, laugh and take videos.
---
By Maya on Aug 16, 2022
Cat's new favorite toy
My cat hasn't gotten tired of this toy yet and it's been over a week. The toy does need a little bit of supervision and it can get stuck in inconvenient places and wastes battery that way. I only allow a set amount of time per day for my cat to play with it then hide it so she doesn't get bored of it quickly. It has already run out of batteries but I was easily able to replace the battery and it was working brand new again.
---
By Stella on Jul 30, 2022
great toy, but needs to be larger
My 2 year old kitten loved it ! Within 5 minutes it was under the stove, as it is so small. I have now fished it out from their 4 times, with a hanger, handle of fly swatter, fireplace tool, etc. It's now stuck...vibrating like crazy...driving her, my dog and soon, myself nuts. Great concept, had it for less than 24 hours...am out of ideas, oven is much too heavy to move. Let's hope battery dies soon !
---
By Ashe on Jul 21, 2022
Cat's favorite toy
I really really REALLY wanted to give this toy 5 stars, but I've purchased 3 and they've lasted roughly two days each. And by days I mean evenings when I don't want to stomp around the apartment carrying a string for him to chase. Despite this, would I purchase another? Yes. It's one of four toys my cat actually likes. (the other three being a string, laser pointer, and this racetrack type contraption he plays for less than 1 min a day with) I just wish the battery it came with would last longer as he loses all interest in it once the battery is dead.
---
By LoLo on Aug 16, 2022
LoLo Loves it!
LoLo, my young cat, loves watching the Hexbug and chasing it around our home. When she first watched the toy she would tilt her little head as if she was trying to figure out what it was. I love watching LoLo watch her new toy. BTW, my great nephews loved playing with the kids Hexbugs a few years ago, too.
---
By Lorie on Jul 17, 2022
Absolute Favorite Toy
My kitty has dozens of toys, but this little bug is by far her favorite! It is the purrrfect size to pick up in her mouth and run around the house with, flip into the air, she's "gifted" it to me, and gets very anxious when she can't reach it under the couch. Only thing, it has to be turned off. She's afraid of it when on! Lol - Not the brightest cat ever, but she knows what she likes. Who am I, as a silly human, to judge how best to play with this great toy? She is an aggressive hunter and this toy has held up nicely.
---
By Hjcat on Jul 24, 2022
Going to sleep well tonight
My cat is incredibly energetic and requires a lot of play time each day. This dumb little bug is actually genius. It keeps her going for a half hour at a time chasing after it. Will definitely be buying more. It is obviously very small so it can fit under doors. You may need to check in frequently to make sure it hasn't been lost. Not a bad trade off for keeping the little one so happy.
---
By Cashmere on Aug 7, 2022
Quiet yet effective
Love this little toy! My baby isn't easily entertained but she gets a kick out of this little thing and swats at it. I like how it will turn on its back (meaning the toy) then spin around and flip itself over and keep moving. Cheap, effective and whisper quiet!
---
By Sawyer on Aug 7, 2022
FINALLY A TOY HE LIKES
This is the first and only toy my 11 year old Sawyer has ever liked besides his rolling marbles. It does not scare him, it's not loud, doesn't overtax him, just goes around in circles which he interrupts with his whaps. He needs this and so do I, for him, my first success.
---
By Marie13 on Jul 10, 2022
My cat LOVED THIS
My cat loved this so much he played non stop with it but he sadly destroyed it lol he kept getting excited and throwing it up in the air and when it would land the battery fell out and my husband was able to fix it but after a week of him doing that nonstop he somehow got the whole bottom portion to fall out and it doesn't work anymore ): but definitely worth it if your kitty won't throw it around a bunch
---