Hyper Pet GoDogGo Fetch Machine G5 Rechargeable Ball Launcher Interactive Dog Toy
Frequently Bought Together
---
About This Item
Comes with 5 GoDogGo dog tennis balls, a remote control, rechargeable lithium batteries and an AC Adapter. It also features a wide-mouth ergo bucket with handles that makes ball return easy for your dog.
Measures 13.8" D x 12.6 " W x 16.7 " H and weighs 8.6 pounds, so it's compact and lightweight for travel! Plus, it can hold 17 tennis 2.5" tennis balls and 23 small 1.5" tennis balls. Does not work with balls that are 3" or bigger.
The safety arc provides launches the balls upwards and out to keep you and your dog safe. For added safety, all paw-ticipants should stand off to the side or 3-feet in front of the launcher. This is not a child's toy as balls launch at high speeds
Choose from 3 time setting options (4, 7 and 15 second launch intervals) and multiple distance settings. Distances will vary depending on the size, type, and condition of the dog tennis ball.
Powered by an AC adapter or rechargeable batteries. Simply remove all the balls from the launcher prior to charging, flip the toggle switch to "ON" and when the blinking green light turns to steady green, the unit is fully charged. The unit will only charge when "ON".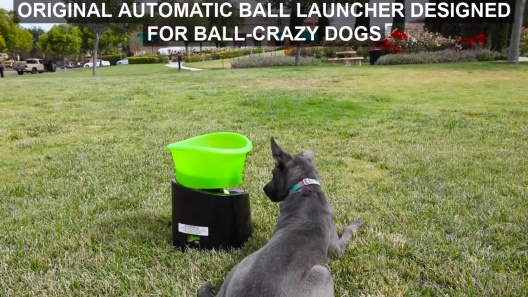 Learn More About Hyper Pet From Our Team of Experts
---
---
Questions & Answers
15 Customer Questions
---
My dog has a lot of saliva and ball will be thrown into a sand pit and gets pretty messy, will it still work and can the machine be washed
Answer by • Jul 13, 2021
This dog toy will still work in sand or with excessive saliva. We recommend cleaning the sensor switch and area periodically or frequently if you have a dog that tends to mouth the balls creating heavy saliva. Please be sure to have the unit OFF and unplugged when cleaning the sensor area. To clean the sensor: Clean around and under the sensor to be sure there is no sand, saliva, or dirt buildup on/under the switch. Simply moving the unit by gentle shaking will sometimes remove debris such as rocks or sand that may be under the sensor. A hairdryer or compressed air in a can (like used to clean a computer keyboard) can be used to blow off the sand around and under the sensor. Follow the instructions below to wipe clean the sensor of saliva, etc after removing sand or debris. Instructions: Use a Q-tip or soft small cloth after the fetch session and carefully clean/wipe off above and between the metal, strip to insure it dries without sticking.
---
What is the height of the launch? Can this be used in a backyard and adjusted so it does not fly over my 6 foot fence?
Answer by • Feb 24, 2021
The dimensions of this launcher are 15 x 13 x 17 inches. It features a 3 distance setting launcher to control how far the ball launches.
---
Is this just powered by batteries or can you plug it in too.
Answer by • Mar 27, 2021
The Hyper Pet Fetch Machine G4 Ball Launcher operates on AC Adapter or Battery Power; adapter included.
---
can i use regular tennis balls?
Answer by • Jul 10, 2021
GoDogGo can be used with many ball styles, sizes and brands depending on your dog's preference, type of play, desired launch distance and conditions of play area. GoDogGo is compatible with Chuckit, Kong, Tuff, racquet balls and more. Launch distance varies based on ball style, brand and weight. Please note, GoDogGo does not work with 3-inch or 4-inch balls.
---
---
---
By Kate on Jun 4, 2022
Wears out fast
Bought this in Nov 2021. It took a while for my dog to get used to it because the motor is quite loud when it's prepping to launch. She still doesn't want to drop the ball in herself, so we only use it when we feel like playing fetch without having to throw the ball. The launcher has weakened immensely and now at its farthest it might shoot 15'. Not worth the $160 I paid.
---
By DutchieDad on May 4, 2022
Great toy for my Dutchie
It took almost an hour for me to figure out how to train my Dutchie to play by himself. Now, he will go for HOURS if we let him. Unfortunately, it is noisy enough that he takes a queue and sometimes leaps so the ball gets no more than a foot away before he catches it. As expected, the tennis ball lasted maybe 5 minutes before it was too deformed to use, so I recommend getting a Nerf Dog, Solid Foam Sonic Ball. I have had to shut it off and clean it out to keep it working. I'm not sure if it overheated, got too much slobber, or why. But it worked again the next day. If you have a Dutchie, you understand what a truly ball crazy dog is. Think any other breed on Steroids and Crack. That said, so far - my only issue is in training him to be patient enough to be a few feet away before launch.
---
By tash on May 16, 2022
addressing ball addicts
This is an awesome gadget that keeps my dog entertained. The only issue I have with it is that my dog (2yr old pitbull) is a ball addict/heavy chewer. So when she catches balls they become a little distorted which is normal. But once the ball becomes distorted the machine can't throw them more than a foot. So it only lasts about three throws before I need a new ball or have to put the ball in my nerf launcher. Other than that it's works well and my dog loves it.
---
By DollyDog on Apr 28, 2022
Great ball launcher with some issues
My beagle loves this toy! She fetches the ball and brings it back, but has not mastered dropping it in the bucket. That's fine, I just play with her and do the job of reloading. This toy is highly mechanical since it has to produce enough force to launch a tennis ball 30 feet. It has three distance settings, each one adding more tension to the spring. We started on the first setting and about a month later I moved it to the second setting. When I set it on the highest tension, a day later I heard a loud pop and it would not launch the ball anymore. The tension spring had come undone and was rolling around the inside. I went to the GoDogGoINC website for support but it looks like they have not been active on their social media accounts since 2020. The box was labeled CosmicPets, so maybe they got bought out. In the end, I was able to fix the issue myself. I disconnected the lithium battery and then popped off the 4 rubber feet. I used a long Phillips head screwdriver to unscrew the 4 screws in the feet and lift the top off to get to the internals. The screw that held the spring to the green plastic launch piece had popped out. I pulled the spring into place, screwed it back in, reassembled the unit, and we were back in business. (Maybe I should make a YouTube video.) I now keep it on the second setting and avoid the highest tension on the spring. I expect this type of mechanical toy may need repair somewhat frequently. I just hope I can get the green plastic launch piece replaced if it ever breaks. All in all, I still give it 5 stars because my beagle girl loves it and I did not see any other product like this on the market.
---
By Krista on Apr 28, 2022
One sad shepherd
This is my 3rd replacement and this one broke after using it for maybe 6 minutes. Maybe 5 balls were launched in that time. The launcher arm broke right in half completely by itself and fell into the machine. I finally got the piece out but the machine is pointless without the arm to launch it. My German shepherd absolutely loves this fetch machine but after 3 replacements (which chewy was absolutely amazing assisting me with) and this one lasting even shorter than the last, I won't be using this brand again.
---
By Launcher on May 2, 2022
Almost perfect toy
Honestly, the idea of this gadget is really cool and intriguing and I really wished my dog loved it. That is the reason why im giving it 4/5 stars. The main problem for us is that its a little too loud when the launcher starts to crank up and when it shoots the ball up that is scares my dog. Other than that I think this is perfect. Just wish it was quieter.
---
By Veronica on Apr 20, 2022
Stopped working after 10 minutes
The first 10 minutes were great and then it just started spitting out balls every two seconds regardless of what the program time was. Then it didn't work at all for about a half hour until I plugged it unplugged it and then plugged it again like six or seven times and then it did the same thing just kept spitting balls out every second. It also attempted to spit out balls when there were no balls in there. Good concept just doesn't work.
---
By MEAN on Mar 31, 2022
Disappointed
I had high hope for this toy for my Aussie. It worked great until I found it's fatal flaw. It worked until I put it on the third notch for throwing and that was it. The machine started to make the worst noise. It threw the ball a couple of times about 35 feet then no more then 15 and then every time I would have to turn it off and turn it back on. It would throw 4 or 5 in a row then just stop. The pup loved it he would go over and bump it so I would know it was time to go out and play. After putting it on that last notch you can't use it because the insides look like they are now longer lined up. Looks likes that spring is way to strong for the insides.
---
By Jaydee on Mar 28, 2022
Junk Construction, good company turned cheap
I had the original HyperPet Ball thrower, had it for about 7 years before it needed to be replaced. My border collies used it all the time, and I was impressed so I bought the new model. First one showed up broken and I had to send it back, Chewy sent me a new one and it lasted a couple months before the launch arm just broke in half, which is a part that is internal to the thrower so it was just a manf fail. Disappointed.
---
By Taylor on Mar 17, 2022
Pretty disappointed...
It was so great while it worked! My dog was finally getting the hang of putting the ball in on her own by the 3rd time using it (probably about 1 hour of total use) and it began continuously firing without a ball inside and wouldn't stop unless it was turned off. I emailed the warranty department and have heard nothing after 2 weeks and 2 emails. Can't return it because I don't have the original packaging. Really wish it would have worked out because it was awesome while it functioned!
---