I'm a Good Dog: Pit Bulls, America's Most Beautiful (and Misunderstood) Pet
---
About This Item
Set the record straight with I'm a Good Dog: Pit Bulls, America's Most Beautiful (and Misunderstood) Pet. Filled with inspiring stories and photographs, this heartfelt tribute to the pit bull celebrates one of America's most popular yet misunderstood dogs. Perhaps more than any other breed, the pit bull has been dogged by negative stereotypes, when in truth they are innately wonderful family pets that are just as capable of love and good deeds as any other dog. That's why Ken Foster sings the praises of pit bulls in I'm a Good Dog, a gorgeously illustrated and tenderly written tribute to the most misunderstood of canines.
Ken Foster has made it his mission to bring these overlooked canines into the limelight. I'm a Good Dog traces the fascinating history of this breed, starting with a century ago when the pit bull was considered a family dog, featured in family photos and trusted as loyal companions for children. But more recently, they have been portrayed to the media as stereotypes of everything they are not—and Foster shatters this maligned reputation with moving profiles of pit bulls that serve as therapy dogs, athletic heroes, search-and-rescue dogs, educators, and perhaps most importantly, loving pets. He also profiles many pit bull lovers, from Helen Keller and Dr. Seuss to actor Todd Cerveris. Proving there is much to love and nothing to fear, this book restores the pit bull to its rightful place as friend, family member, athlete and entertainer.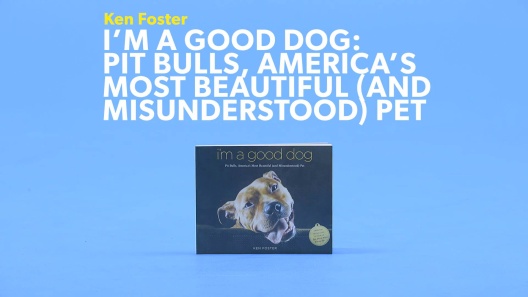 Learn More About Penguin Random House From Our Team of Experts
---
Compare Similar Items
| | | | | |
| --- | --- | --- | --- | --- |
| | | | | |
| Customer Rating | | | | |
| Price | | | | |
| Author | Ken Foster | Willow Creek Press | Dale C. Spartas | Terry Albert, Tom Geiselhardt, D.V.M., Betty Fisher |
| Publication Date | Oct 25, 2012 | Feb 1, 2014 | Jun 1, 1998 | Jan 10, 2017 |
| Subject | Dog Breeds | Dog Breeds, Humor | Dog Breeds, Humor | Training, Dog Breeds |
| Publisher | Penguin Random House | — | Willow Creek Press | Penguin Random House |
| Format | Paperback | Hardcover | Hardcover | Paperback |
---
Questions & Answers
Be the first to ask a question.
---
---
---
By Minnie on Jan 8, 2022
Love it! Amazing photos!
I have never had a pit bull but I love pit bulls. The stories show how beautiful this breed is and how misunderstood they are.
---
By 1spoileddog on May 30, 2021
TheyRGoodDogs
The truth about Pit Bulls is not what you think! They are beautiful dogs in all ways. Very talented, loving, good with children to name just a few of their qualities. And they LOVE to give big sloppy kisses! They have gentle souls. I highly recommend this book for any one wondering about this breed.
---
By Momof5mutts on Feb 14, 2021
Great great book, thanks!
Thank you, I was one of the misinformed as the book portrays. Accidentally adopted a pittie from the pound three years ago and it was the best mistake I ever made. The pictures and stories are so true. Don't knock them until you have had the opportunity to love them.
---
By mom2344 on Dec 15, 2020
Must read info on a wonderful type of dog!!
This book does a great job explaining the truth about this wonderful type of dog. They get a bad rap and people need to stop making assumptions. I've had many dogs over the years but never a pit until we fostered an American Staffie a few years ago. We fell in love and she is still here. We've never had a dog so full of love and just wanting to be by her "people." She loves everyone. Especially kids! Couldn't be happier than playing with kids or catching her beloved frisbees. It's so incredibly sad how misunderstood these dogs are. The good news is perception seems to be changing and this book can help!
---
By dfcash55 on May 22, 2019
Very inane
More of the same misleading propaganda in favor of a breed. Unfortunately, the author takes very little time to acknowledge the challenges and dangers that are well documented with pit bulls.
---
By marrey on May 27, 2018
Great Book
Such a great book ! Read it pretty quickly and have told many friends about it . So glad I found this
---
By Karizma on Apr 28, 2018
Great Book
This book is amazing. I love this author and his books are very informative and i love them. I got it the day it was set to be delivered.
---
By Joan on Dec 29, 2017
Pet lovers
Bought book for my daughter. She just loved it. The delivery is in my opinion so good snd fast. Can count on future business from us.
---