INSTACHEW Purechew Automatic with HD Camera Cat & Dog Smart Pet Feeder, White
---
About This Item
The Automatic Feeding option allows you to serve your pet according to your set schedules, while the the Instant Feed function allows you to feed your furry friend immediately from anywhere in the world!
The HD camera has motion detection, night vision, video recording and two-way audio, so you can communicate with your pet!
Can hold kibble from 5-10 mm in size.
The portion control feature allows you to choose the right amount of food for your pet, so you don't have to worry about feeding her too much or not enough.
Can store up to 4L of food, which always stays sealed and fresh!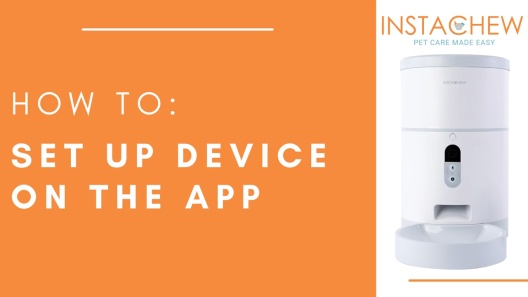 Learn More About INSTACHEW From Our Team of Experts
---
---
Questions & Answers
3 Customer Questions
---
How does the app work if I wanted to buy two separate dispensers for two different cats? How small/big of serving sizes can this device do, and how many times a day?
Answer by • Mar 02, 2022
You can create two separate pet profiles and on each pet profile you would connect one of the fountains, that way you can schedule it according for each pet. The feeder has a cup measuring system in which it estimates the grams per cup. Serving sizes are from 10-80 grams per serving. A single serving is 10 grams, minimum.
---
Does this allow you to feed through the app when you see your cat in front of it?
Answer by • Mar 15, 2022
The Automatic Feeding option allows you to serve your pet according to your set schedules, while the Instant Feed function allows you to feed your furry friend immediately from anywhere in the world!
---
Does this need to stay plugged in or is it chargable/battery operated.
Answer by • Apr 28, 2022
In the event of a power outage, the INSTACHEW Purechew Feeder can be powered by a battery, although this is not supplied.
---
---
By Mila on May 8, 2022
Lifesaver for anyone with a busy schedule!
My cat is often home alone while me or my family is at work for a large chunk of the day, and so theirs company's pet feeders have always eased so much of our anxiety when it comes to thinking about whether my cat is getting food while we're not home AND it allows us to check in on her from the little camera. I've been waiting for this new one to come out after being told they had a smaller and upgraded one coming out - and it was worth the wait!! It's small and sleek looking so it doesn't feel clunky in my home. I also appreciate not having to get out of bed early in the morning just to feed my hungry pet ;).
---
By Trix on Apr 27, 2022
I thought it told you when it was out of food
Well, this is a great feeder, but ... I thought it was supposed to tell you when it was out of food. But it didn't. My cat was crying at me and I couldn't figure out why until I realized the feeder was 100% out of food and had given me no indication at all. Luckily, I had just arrived home and there was only a 3 hour delay from her usual feeding time, but this could have been much worse. The app is also not the most user friendly thing on the planet. I also have the automatic pet fountain and it uses the same app. It is in dire need of some revamping. Overall, the potential for a great product is there, but falling down on some pretty important pieces.
---
By Guntash on Apr 11, 2022
Feed your pet anytime, from anywhere you are. So great!
We recently moved into a house and ended up adopting the local cat the neighbours told us basically lived in our yard for years. Once we started doing renovations we moved out and needed a solution to keep feeding our new friend "Kitty X". This is perfect! We built a little outside shelter and bought an Instachew feeder. We create a morning feeding time and Kitty X loves the technology. This is a very easy product to set up and utilize! It took a little bit but my cat loves it now even you can use your phone and give them extra food whenever necessary!
---
By RockyxBenji on May 11, 2022
Highly Recommend
After I got some products from this company, I had to buy more! This product is great if you're someone who is going back to work in office or someone who leaves home frequently!! I absolutely love this feeder and I think it's one of the best automatic feeders in the market by far!!!
---
By Yaqub on May 8, 2022
Best thing I have purchased
I love the fact that I don't have to wake up early morning to feed my muffin. Love the camera as well. Over all great product. Love instachews customer service,thank u for the best customer service!!! Will Definitely buy more products in the future
---
By Mimi on Mar 10, 2022
My cat wants it, my cat got it! Thanks Instachew
Instachew is a god send and game changer! We've upgraded from the first gen feeder to this one and we love it! (We gave the her first one to our friend and they love it too). It gives us peace of mind knowing Mila (our kitty) will be fed on time even when we can't be there in person and that it's portion controlled. I can check in on her via camera and even screenshot her being a cutie :D Also love the Instachew team, their customer service has always been A +. Instachew is like upgrading your pet from using dial up internet to fibre optics high speed internet. It's like using a those 90s chunky cell phones vs newest smart phone lol. My cat is decked out and she deserves it <3 Get the feeder, check out the fountain and the litter machine and you'll thank me later. You'll save time too and time is money/irreplaceable :)
---
By Help on May 12, 2022
Won't program
I've tried numerous times to program the two I bought for weeks now. Apple phone won't work, trying a Droid phone next. So frustrated and disappointed. Help line is VM. To be continued...
---
By Jasmine on Mar 8, 2022
Great Smart Pet Feeder
I ordered this for my two cats and this feeder is exactly what I needed. The app was super easy to download and set up, the amount of food it stores ensures we don't have to worry about our cats going hungry if we are away. It has a ability to program many meals, easy to use app to adjust feeding amounts and time, and the app sends an alert when food is running low. Love it more than I thought I would.
---
By erg99 on Apr 21, 2022
Worst machine ever
Machine loses internet connection periodically throughout the day and night and needs to re-bound each time. This is not good if I am away for the weekend so this machine is utterly useless.
---
By Petmom on Mar 9, 2022
Highly recommend this product
The product is exactly as mentioned. The two-way audio feature makes it so easy for me to connect with my pet when I'm away. App is simple and easy to use, best product where I can schedule feeding times and portions for my cat. I highly recommend this product to everyone who loves their pet and cares about their timely meals and portions.
---