Instant Ocean HoldFast Epoxy Stick for Fish & Reef Aquariums, 4.4-oz tube
By Instant Ocean
---
About This Item
Bonds live rock, slate, plants and corals.
Great for freshwater or marine environments.
Add landscapes and decorations like waterfalls, steps, caves and cliffs to your aquarium.
Safe and non-toxic for all fish and invertebrates.
Strong two-part epoxy is easy to use, simply break off the desired amount and rub the layers together to activate.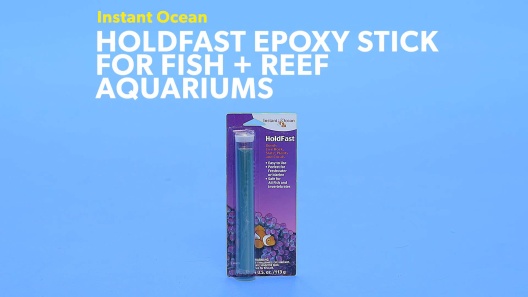 Learn More About Instant Ocean From Our Team of Experts
---
---
Questions & Answers
8 Customer Questions
---
Would this be safe for a waterfall in a frog vivarium?
Answer by • Apr 29, 2019
This epoxy can be used to create landscapes and decorations like waterfalls, steps, caves and cliffs to your aquarium. It is safe and non-toxic to fish and invertebrates in freshwater, saltwater and reptile environments.
---
Would this bond plastic back together on a broken aquarium brace?
Answer by • Aug 16, 2021
This epoxy bonds live rock, slate, plants and corals.
---
Is this non-toxic enough to repair toys for small pets (eg mice) who chew?
Answer by • Jan 01, 2021
This product is intended for freshwater or marine environments. It's formulated to be safe and non-toxic for all fish and invertebrates.
---
Can this be used in freshwater aquariums
Answer by • Apr 23, 2020
This epoxy may be used in both freshwater and marine reef aquariums.
---
---
---
By CoffeeLover on Mar 24, 2022
worked fine securing lava rocks to slate
created a wall combining a flat slate stone bottom w/ lava rocks joined together. used HoldFast Epoxy Stick to secure the lava rocks to the slate bottom as well as to seal crevices between the lava rocks. I followed the instructions on the back, let it dry overnight and the entire setup was sturdy for setting up on aquarium to segregate two sections of aquarium w/ different substrates. The product dries white which may or may not be what some are looking for but it works for my setup.
---
By richard on Aug 1, 2021
sticky situation
i love this epoxy stick! Very easy 2 part epoxy. Tear a little off and knead it for 30 seconds or so and go to town!. Works wonderfully. I'm using it to build cichlid caves from rocks and slate.. And it's a great price. A little bit goes a LONG way.. It definitely smells pretty bad when kneading it unfortunately.. if you have disposable gloves i would recommend using them because it'll leave a sticky residue on your fingers. But washes right off with soap and water... ONLY AFTER FINISHING.!!! NO SOAP PRIOR TO FINISHING.. SOAP WILL KILL YOUR FISH
---
By Chap1 on Feb 19, 2021
Works well when you follow the directions
Works well when you follow the directions. You have to knead the epoxy until it turns white and becomes soft. You can then shape it between and around rocks you want to join. Use a liberal amount at the connection points. It will gradually harden to hold the structure together.
---
By Kyuss on Jan 21, 2020
Doesn't hold well
I cleaned my rocks and made sure they were dry . I used the product according to the directions to cement two rocks together and let it sit for a week and came apart ... I would not recommend this product..
---
By alanjamesblair on May 19, 2019
Okay, but misleading
The rhetoric behind the sales leads one to believe that this can be used in water. One has to dig a bit to find that this should NOT BE USED IN WATER! Rather, one should give the rocks ample time to dry BEFORE using this product. I was lucky that I was setting up a new system when I bought this, but now I have 3/4 of a tube and I don't think I'll ever use the rest because it has to be dry when you bond.
---
By ReefAce on Jan 6, 2019
Works Great
These epoxy sticks are great, especially when used together with super glue GEL and trying to attach pieces underwater. Sometimes the SG isn't necessary with low water flow and if the pieces naturally fit together, but I've found that usually the epoxy or SG doesn't hold on its own. The best way to fix a frag to a submerged piece of rock is to: 1. Mix a "ball" of epoxy. 2. Press the bottom of the epoxy ball onto the submerged rock to make a temporary "form" on the epoxy to fit onto the rock. Don't try to attach the epoxy to the rock yet. 3. Put a dab of SG on the bottom of the frag and attach the epoxy to the frag. 4. Put a dab of SG on the "form" on the bottom of the epoxy ball that you just attached to the frag. 5. Press the frag/epoxy "assembly" onto the rock and hold it firmly in place for about 30 seconds. Boom. This NEVER fails. IMHO trying to use just the superglue on its own is usually a frustrating waste of time, despite what the glue sellers say, unless you can do it out of the water, like just attaching a frag to a frag mount, small rock, snail shell, dead frag piece, etc.
---
By Len1 on Oct 17, 2018
Not completely as advertised
I have never used this product before but I had some rock bonding and fragging to get done. The product seems to be good at bonding rocks together if the rock is completely clean. Next I had four pieces of coral that I wanted to attach to ceramic frags. No matter what I tried, I could not get the bond that was advertised on the package. Frustrating.
---
By Mjbuda on Aug 24, 2018
Great product can't beat the price!
I've used this product quite a bit. Usually buy at lfs costs about 14 dollars.
---
By 250gallon on May 6, 2018
epoxy stick is useful
Product works fine I use it all the time. It dries white so keep that in mind when using. Takes a while before it turns dark from algae.
---
By Liss on Feb 27, 2018
Don't waste your money
This doesn't work .tried the whole tube ..what a joke won't buy again
---