Instant Ocean Sea Clone Aquarium Protein Skimmer, 100-gal
By Instant Ocean
---
About This Item
Works in all marine aquariums to remove organic waste.
Two sizes for tanks up to 100 or 150 gallons.
Provides optimum skimming efficiency, organic compounds are trapped and contained in collection chamber until they can be removed.
Uses exclusive Turbo-Venturi Injector System.
Easy external hang-on or in-sump installation.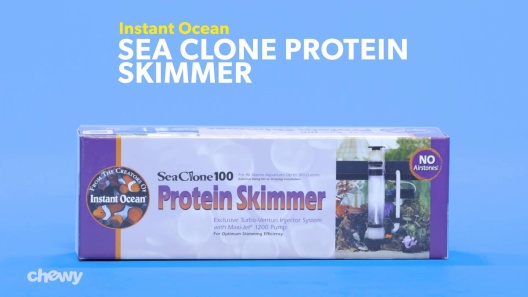 Learn More About Instant Ocean From Our Team of Experts
---
Compare Similar Items
| | | | | | |
| --- | --- | --- | --- | --- | --- |
| | | | | | |
| Customer Rating | | | | | |
| Price | | | | | |
| Fish Type | Marine Fish | Tropical Freshwater, Marine Fish | Tropical Freshwater, Marine Fish | Tropical Freshwater, Marine Fish | Tropical Freshwater, Marine Fish |
| Aquarium Type | Saltwater | Freshwater, Saltwater | Saltwater, Freshwater | Freshwater, Saltwater | Freshwater, Saltwater |
| Material | Plastic | Plastic | Plastic | Plastic | Plastic |
---
Questions & Answers
16 Customer Questions
---
Do you need to buy a separate pump for this model?
Answer by • Sep 22, 2017
This model includes a Maxi-Jet 1200 Pump.
---
Is this able to be hung on the back of my aquarium?
Answer by • Jul 07, 2019
The protein skimmer can be hung on the back of your aquarium.
---
Can you use this in a sump
Answer by • Apr 02, 2018
This product has easy external hang-on or in-sump installation.
---
What are the measurements?
Answer by • Feb 12, 2020
Both the 100 gallon and 150 gallon are approximately 4 inches in diameter. The 100 gallon is approximately 18 inches tall and the 150 gallon is approximately 22 inches tall.
---
---
---
By phoenixrayne on May 12, 2022
Too many microbubbles
I can't stop the microbubbles and no matter what I do, I can't stop them.
---
By Candyman on Feb 13, 2021
Fantastic skimmer
I was hesitant on buying this based on mixed reviews.. but i have no suml on my 135 gallon reef tank. Its an old tank built in 1982 and im not about to drill it for a sump. So i decided to try this skimmer out. I got it for 50$ with the autoship and 15$ coupon. First off i will say its BIG 27 inchs long so make sure you have a tall tank thats at least 20 inchs tall otherwise it might not fit. Now i had issues like alot of people getting it to skim. No matter how much i adjusted the bubbles it would fosm only half way up the neck and then drop down. After observing it for an hour or so i noticed the collection cup leaks inside the skimmer. No i dint mean it leaks outsude and in the floor. I mean what happens is the positive pressure of the bubbles goes under the cup and leaks out inti the skimmer. This leaking causes the bubbles to drop in the tube. Everytime i see it leak it drops. So i cane to the conclusion that the issue. All i did was add a thin rubber band to the top of thr neck of the collection cup. Then put it back on the skimmer. The leaking stopped. This acts a o ring. Immediatly the bubbles went up the neck in the cup and then go into the cup. After some adjustments of the bubbles it started skimming really good. Almost too good. Within 5 hours my cup was full of yellow funky liquid. I have had the skimmer for 2 days now and ive had to empty it twice now. Each time its foul smelling yellow liquid. This skimmer works great !! If you read this review.. just do what i did.. add a rubber vand to the collection cup neck.. make sure its flat and not twisted and on the top of the neck.. and dont use a super thick rubber band. After this it should work. You also need to adjust the bubbles si you see millions of bubbles swirling in the big tube. You want micro bubbles.. not large bubbles.. so adjust accordingly The skimmer isnt noisy. It isnt the skimmer or the maxijet that are noisy.. its the bubbles adjusment thats noisy. There are mods for that if you look it up online. All skimmers have this issue. Its a simple fix. I honestly dint know why anyone else noticed what i noticed after only an hour if having this.. instead people cry and give bad reviews and return it. Just give it a try you wont regret it. I attached some pics of the rubber vand thing so you guys know what im talking about
---
By Steven on Jan 1, 2021
Instant Ocean Protein Skimmer
For a protein skimmer that is around this price it is okay, I was scared to buy this because of the reviews it had on it. Most people saying that the noise the pump makes is unbearable when I bought it and turned on the pump (not in the water) it was freaking loud. When I added it into my fish tank it was not as loud as it was outside of the water but give it 3 days. Im on my third day with it in and the noise from the pump i can barely notice now and it is less louder than it was. The only issue i have with it is the microbubbles that comes out and makes the fish tank look dirty but no worries theres videos on how to get rid of the bubbles and make your water look clean but it works perfectly. So overall if you're on a budget like i am this is perfect for you I hoped I cleared up some concern with this protein skimmer.
---
By Rigby on Apr 18, 2021
Great buy for the money
Got one on my 125 got one on my 55 about to put one on my 40 gallon breeder works great with a canister filter if you have no sump
---
By Skimming on Mar 24, 2021
Great HOB skimmer
I own a 150 seaclobe skimmer on my 55G. Thats why i chose to get this one for my 29G
---
By Eileen on Apr 27, 2020
Seaclone Protein Skimmer
I've used this product for years on my saltwater fish tank. The tank is extremely heavy and this is the only protein skimmer that I have used due to the impossible task of moving the tank farther out to accomodate a different one. This protein skimmer is easy to use - and this is no reflection on Chewy - but the product itself has been made more cheaply over the years, and I have to replace it about once a year, which is disappointing. That said, I'm grateful that Chewy carries this, for a very fair price, and it arrived pretty quickly, especially with the shipping delays these days with COVID. 5 stars to Chewy!
---
By Matthew on Mar 30, 2020
worst skimmer ever
Skimmer does not work cup came with a crack in it air valve is horrible absolute awful product and super loud sending mine back the same day I got it trust me spend your money on a better one don't even waste your time trying it
---
By Dana on Feb 5, 2020
I don't like this
I do not recommend this skimmer. It doesn't bubble the water right. It has a little screw pice to control the water. It is also very loud
---
By skimmer on Feb 11, 2020
Instant ocean skimmer
Works great set it up yesterday and tweaked it some and it's working great definitely would buy again
---
By jdl96ce on Sep 15, 2019
Dollar for Dollar it does a great job.
My tank is a 55 show live rock fish only tank. I have had 2 of these skimmers in the last 6 years. They require very little maintenance and perform better than expected. Set up is easy, dialing it in to optimum efficiency is simple and only takes about 8 hours. It only gets a little noisy when it needs serviced. That only takes me about 20 minutes every 2 months.
---