iPrimio Sifter with Non-Stick Litter Scooper, Black
By iPrimio
---
About This Item
Made from non-stick coating so wet litter won't stick.
Deep shovel design features perfectly spaced slots that trap messes and allow clean litter to sift.
Ergonomic handle has a solid core that makes it easy and comfortable to grip.
Reinforced front edge can push through difficult clumps that cling to the litter box bottom.
Includes a plastic hanger so you can easily hang on the wall or on the side of the box.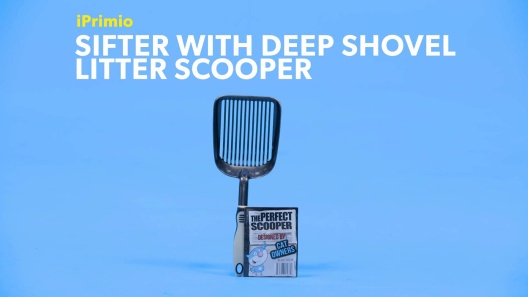 Learn More About iPrimio From Our Team of Experts
---
---
Questions & Answers
9 Customer Questions
---
Does this get all the little pieces of the urine that breaks and falls between the slots, and leaves little left overs all over box. I have a special box in area of house holds 60lbs. Litter so cats have lot of room, like to keep clean. Good for cats with UTI.
Answer by • Mar 23, 2018
This scooper is equipped with the perfect sift width of 4 millimeters to ensure clean litter boxes for our feline customers.
---
Can anybody tell me how long the handle is if you are able to measure it for me. Someone mentioned that it was short. Thank you very much.
Answer by • Jan 24, 2018
The total length is 13.25 inches.
---
How does it stick to the wall because the adhesive is not strong enough.
Answer by • Jun 14, 2018
Sticky 3M Tape is included with this product so that you're able to hang it onto your wall. Please be sure to clean surface with rubbing alcohol allowing 3M tape to stick properly.
---
Does the metal go all the way through the handle, or is the plastic handle stuck onto the metal part? Another scoop I am considering has the metal tang that goes all the way through the handle, and that's what I want, although I prefer the design of the scoop part of this one.
Answer by • Sep 13, 2020
This sifter is made of solid aluminum.
---
---
---
By MamaEve801 on May 10, 2022
Superb Litter scoop!
I have had this since February, and it's been great! Some of the other reviews said stuff gets stuck to it, which is sort of true—if it's a goopy wet mess, but it is easily brushed off when that dries. I would definitely consider this non-stick. Most of what I scoop out slides right off. Also, the gaps in the scoop are big enough to let litter pass through, but also capture most of those pesky little "crumbles". I bought this one to use for a second litter box, and it is way better than the one I already had. HIGHLY Recommend!!!
---
By FloridaMemaw on May 9, 2022
Good strong litter scooper
How have I gone all of my life without knowing you could get a metal scooper for the kitty litter box?? I can tell you it makes scooping SO much easier. The only con I might have is that this is advertises as "non stick" and it is NOT not stick!! I take it in and rinse it off with hot water every time I use it....the damp litter sticks to it even worse than it did to the old Plastic model. But I think the strength of this far outweighs the sticky issue. I would buy it again
---
By MeowmiMaui on Mar 17, 2022
Falsely advertised as "non-stick"
How is this "non-stick" when the first time I've tried scooping my kitty's litter with it, everything just got stuck right away on the metal railings. That was even the very first scoop! Once I've scooped everything up, it made much more of a mess than my previous litter scooper. This was supposed to be an upgrade, which definitely was not! I don't understand where all the positive reviews came from but this definitely did NOT work for me. Beware!
---
By Smdiaz001 on May 7, 2022
Does it's job
Love this scooper. It is really sturdy. Doesn't feel like it will break at the handle. Gets in corners well and put the holder on the inside of the cabinet door to hide it away better than on the wall.
---
By Cashmere on Apr 6, 2022
Very easy to handle
This a nice size scooper. Easy to handle and glides through litter making it a much faster cleaning process. It isn't completely nonstick (non of them are) but it's pretty darn close. A few taps inside the walls of the litter box and the excess comes right off.
---
By Jand on May 7, 2022
Too Large Scoop
The slots are the perfect size for getting the small stuff but the scoop is way to big. And it is NOT a no stick coating. Sticks just as bad as the plastic ones, maybe worse.
---
By pauld on Mar 6, 2022
well made, good quality.
I needed a scoop that would catch the smaller bits of litter that otherwise fall through most scoops. This works fairly well in that regard. Solidly made of a single piece of metal. non-stick is a plus. I use a large wire scoop first to quickly get the big clumps then follow up with this one to get the smaller bits and to scrape the corners/bottom of the box.
---
By NancyL on Feb 22, 2022
It's Ok - but I prefer others
I liked the description of the "sifters" -so bought it. Thought aluminum would have advantages I wanted to check out. I have about 8 indoor/outdoor cats and litter boxes are a must. Long story short - I much prefer "Litter Lifter" -- lighter, easier to use, and - cheaper. This one, since it is shorter than the LL, is somewhat easier to use in small litter boxes. I am waiting for someone to come up with a scoop using piano wires ----
---
By SphynxMama on Feb 21, 2022
Mrs Sphynx Cattery
I have tried just about every litter scoop there is. And NO litter scoop is going to be totally non-stick, Including this one. But this is still hands down, the very best scoop out there! I am here tonight to buy one or two more, because I live in North Dakota and it is impossible to clean them outside at this time of year. But if I didn't know they were the very BEST, I'd still be looking.
---
By Sandra on Apr 4, 2022
Best Litter Scooper Ever!!
This scooper works great, picks up smaller bits than any other scooper that I've tried! -Love that it's non-stick, and that it has a straight edge, for getting right up to the edge of the box!
---