IRIS Top Entry Cat Litter Box
---
About This Item
The paw-fect way to help prevent litter scatter and contain spraying.
Designed with a large top entryway for easy entry and exit.
Grooved lid helps remove litter particles from your cat companion's paws.
The rounded shape of the litter box and the included litter scoop make cleaning easy.
Dimensions: 20.75"L x 16.13"W x 14.63"H.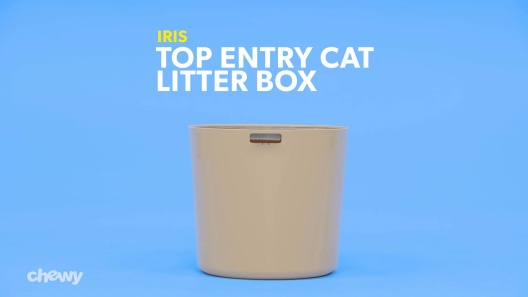 Learn More About IRIS From Our Team of Experts
---
Compare Similar Items
| | | | | | |
| --- | --- | --- | --- | --- | --- |
| | | | | | |
| Customer Rating | | | | — | |
| Price | | | | | |
| Litter Box Type | Top Entry, Covered | Top Entry, Covered | Top Entry, Covered | Covered | Covered |
| Material | Plastic | Plastic | Plastic | Plastic | Plastic |
| Lifestage | Adult | Adult | Adult | Adult | Adult |
| Assembly Required | N/A | N/A | N/A | N/A | N/A |
| Tools Included | N/A | N/A | N/A | N/A | N/A |
---
Questions & Answers
38 Customer Questions
---
This photo makes it hard to see what it actually looks like..is there any other photos?
Answer by • Mar 30, 2018
Some additional photos are attached below.
---
How would you suggest going about introducing a cat to this if they've only used a traditional litter box?
Answer by • Dec 19, 2018
It's recommended to add some litter from your old litter box into their new one and place the new litter box in the same spot you've had the old litter box. You may like to try placing your cat on top of litter box and offer some treats.
---
Is the top removable to allow access for scooping/cleaning?
Answer by • Jan 20, 2018
The Top is able to be removed for easy cleaning.
---
Is the bottom of the pan completely flat with no grooves or ridges around the edges? It is more difficult to scoop if there are grooves/edges. Thank you.
Answer by • Jan 04, 2018
The bottom on the inside of this product is completely flat.
---
---
---
By Sammy on May 25, 2022
Great Litter Box
I bought this litter box because my kitten started standing up when urinating, thus resulting in my needing to clean the wall every day. She's totally healthy - no UTIs or bladder issues; it's just a behavioral aspect that has recently developed. I bought this litter box to solve the issue of urine on the wall and couldn't be happier! The opening in the top entry provides enough breathability so that the odors don't get trapped and Cleo is more inclined to use it. I think Cleo appreciates the privacy this litter box provides as well. I haven't had any issues with the top falling in as other buyers have described, but I also went with the product I thought would best hold a 6lb kitten. The top is easy to remove and replace for scooping and cleaning. I also enjoy that the ridged top thoroughly catches the litter from Cleo's paws. I have a litter mat underneath the box, but I've noticed a lot less on the mat in general since purchasing this litter box.
---
By Francesca on May 16, 2022
Cats love it, but there are better designs out there.
My cats love this box and it does an excellent job of keeping litter contained. But I would not recommend this particular model. The box itself is made of fairly thin plastic that warps easily. The lid is only secured by the two paw print tabs and one in the back. It feels like only a matter of time before it fails. I would recommend going with a top-entry litter box that has a lid that sits on top of the edges of box, rather than inside them.
---
By DebB on Apr 15, 2022
GREAT litter box!
Love it! The Nature's Miracle disposable litter box fits into this unit perfectly as a liner. I use a specialty no dust/no odor litter that you stir & scoop daily and change out completely every 3-4 weeks. It's super easy to pop off the lid, put the used liner straight into a garbage bag, wipe out the box with a disposable cleaning towel, put the new liner box in, fill w/ 3" of litter, and done. The plastic doesn't absorb odors with this method. I tried it with clay & pine litters, but it wasn't nearly as efficient as the litter pearls. I've never had a better or easier litter box & liner set up in my life!
---
By tobysmom on Apr 5, 2022
Aesthetically Pleasing
I got this box because it was aesthetically pleasing and had top entry so that my cat wouldn't kick so much litter out like he does with other boxes. It has been a learning curve on how to use the top entry, but he's getting the hang of it. I bought both the medium and large box. My cat didn't like the medium size. It was too small for him (he's about 8.6lbs). I think the medium is best for kittens. I'd recommend large for adult cats.
---
By lsw3 on Apr 5, 2022
Great in theory, but...
In theory, and for short-term, this is a great litter box. However, the lid barely attaches and it is just a matter of time before it falls down into the litter when the cat stands on it. IF you happen to find a liner to fit (the recommended liners do NOT fit) the liner causes the lid to barely stay in place. I really want to love this litter box, but the design needs some tweaking.
---
By Sydney on Apr 8, 2022
Top Entry Cat Litter Box
I bought this litter box for two reasons. 1. to keep our dogs out of the cat litter box and 2. to keep more litter inside the box when our cat kicks it around. It definitely keeps are dogs out but litter still gets out of the box. However, the litter that escapes from the box is very minimal compared to before. Overall I'm really happy with my purchase!
---
By Georgia on Apr 27, 2022
Very clean litter box!
I got this litter box hoping the top-entry would keep my cats (2) from spraying as much litter everywhere on their way out of the litter box, and it is perfect for just that! It is so much less messy, and my cats adjusted to it very easily and really like it!
---
By Norman on Feb 28, 2022
Medium size for 11lb cat
I wanted to upgrade the litter box in our living room to something that was more aesthetically pleasing, but still functional and affordable. Our cat is comfortable with hooded litter boxes and is fine with enclosed spaces, so we figured this was worth a shot. It is well constructed; I didn't have any issues with the pieces not fitting like some other reviewers. My 11lb tabby is comfortable getting in and out of this litter box, and just hanging out in it, but he definitely prefers his standard you-can-get-it-anywhere litter box with the attached hood. He will still use this one so I don't regret buying it. I think he would prefer something where he can sit upright anywhere in the box, not just in the hole where he can comfortably squat while doing his business. This is the MEDIUM size, the additional height of the large size may have been better for him. The width and length work for him though.
---
By MnBo on Apr 27, 2022
Cover didn't stay
The cover didn't fit properly on the box and it would fall in if my cats stood on top. The box itself also seems a bit flimsy like it might warp or crack over time. Chewy has kindly refunded this item for me.
---
By CGJG on Feb 13, 2022
Quality litter box
I am very happy with this purchase & would recommend! This is the first top entry litter box we've had and I am wondering why we never got one before! The cats love it- we have a multi-cat home. It is very sturdy and well made- so it even works for our largest cat (12 lbs). The design of the lid has grooves so helps with containing litter that would normally get scattered outside the box. I'm thinking of replacing some of our other front entry boxes with more of this one. We got the large size and the grey & white color- looks sleek and modern- very happy with this item, definitely recommend!
---