Iverhart Max Chew for Dogs, 50.1-100 lbs, (Brown Box), 6 Chews (6-mos. supply)
By Iverhart Max
Autoship
(Save an extra 5%)
Choose Autoship at checkout for regular deliveries.
Why Autoship?
FREE access to chat with licensed vets 7 days a week.
Save 5% on all future Autoship orders.
No fees, no commitments - cancel Autoship anytime.
This item requires prescription approval.
---
Medications ship separately. Delivery times may vary.
---
---
---
Temporarily Out of Stock
Get notified when this item is back in stock.
---
About This Item
For use in animals only. Your furry friend must have a current heartworm test result on file with your veterinarian in order to be prescribed heartworm medication. Please visit your veterinarian to have this test performed annually to protect your four-legged friend. Help protect your pet from pesky pests with Iverhart Max Chews. These soft chews are formulated to help prevent heartworm disease and can also help treat and control the other three most common worms—roundworms, hookworms and tapeworms. This broad-spectrum medication helps to provide safe and effective year-round protection when given monthly and is intended for dogs 8 weeks or older weighing 50.1 to 100 pounds. To top it all off, it has a drool-worthy bacon flavor that your dog will love.
Proudly sourced directly from the manufacturer or their approved distributor. Guaranteed genuine and backed by the manufacturer.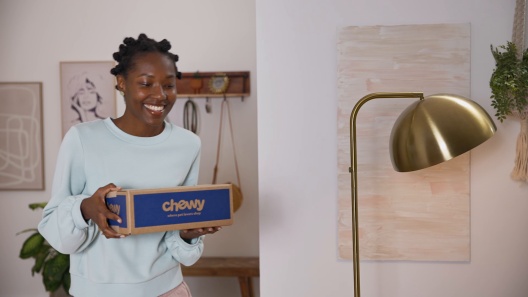 Learn More About Iverhart Max From Our Team of Experts
Dosage Chart
| Color on Box | Weight Range | Strength | Dosage | Product Page |
| --- | --- | --- | --- | --- |
| Purple | 6-12 lbs | 34 mcg Ivermectin, 28.5 mg Pyrantel Pamoate & 28.5 mg Praziquantel | Administer orally once a month | ✓-Click Here |
| Blue | 12.1-25 lbs | 68 mcg Ivermectin, 57 mg Pyrantel Pamoate & 57 mg Praziquantel | Administer orally once a month | ✓-Click Here |
| Green | 25.1-50 lbs | 136 mcg Ivermectin, 114 mg Pyrantel Pamoate & 114 mg Praziquantel | Administer orally once a month | ✓-Click Here |
| Brown | 50.1-100 lbs | 272 mcg Ivermectin, 228 mg Pyrantel Pamoate & 228 mg Praziquantel | Administer orally once a month | ✓-Click Here |
---
---
---
By Nisey on Feb 20, 2022
Very Easy To work with Vet.
Everyone at Chewy is pleasant. And they took care of everything.
---
By Millie on Oct 5, 2021
Slather some pb on and good to go!
We have never had a problem with this pill; it is larger but we just put a little peanut butter on it, and our dog usually eats it like a treat or in her dish with her food. This is our second year using it.
---
By dogmom11 on Jun 2, 2021
The taste must be terrible
Our dog isn't too picky and usually it doesn't take much effort to give him any medicine. The pill is huge and our dog wouldn't even touch it once he smelled it. When you try to cut it, it crumbles, so we had to chop it into a fine powder and mix it in a TON of canned cheese or tuna on a spoon. Even with doing this, he makes a face like it tastes bad and refuses to take it all at once. It's almost stressful to give him the pill every month. So glad we're done the box and moving onto a different brand of heartworm medication.
---
By Henry on May 19, 2021
Just used first time
I just gave my labrador this so can't say much about it. But yes they are big but I broke into 3 pieces easily with no problem. Can't believe all the negativity on here about the soft chew. If it does what it's designed for isn't that worth the little effort to give your best friend.
---
By MBBb on Apr 14, 2021
misinformation
The box states this is a soft chew. Unfortunately they are extremely hard. I have to chop into little bits for my dog to take it. Great product if your dog doesn't mind like mine does.
---
By Tangomom on May 7, 2021
Great service and product!
I used to get heart guard meds elsewhere but, after having such good service with pet food, I'm getting these at Chewey too.
---
By LiamBoy on Mar 26, 2021
Excellent Choice
Liam was our rescue with heartworms. Our vet got him cleared and he has been on Iverhart Max since 2016 and has done really well. Chewy has an excellent price for our large Border Collie!
---
By Kody on Jan 4, 2021
Dog Refuses to Eat
It gets harder every time to give it to my ~90 pound German Shepard. I currently have to grind it up to powder and mix it with a large quantity of braunschweiger. I have tried most other foods and methods. I wish they would produce it in a regular pill form that potentially could be concealed easier in food!
---
By DW190 on Nov 29, 2020
My dog won't eat these!
My chow hound, who will usually eat anything, reuses to eat this chewable. He'll roll it around in his mouth then spit it on the floor. I broke it up and mixed it with his dry food and some turkey gravy, and he refused the entire meal. Can't wait til next month! Will probably need to buy something else, an unneeded expense in these trying financial times.
---
By kahleesis15 on May 6, 2020
Kahleesi's mom
I had her on another med for heartworms but she would not eat them but she loves these. Kahleesi is a 65lb pit lab Mix and has no trouble chewing or swallowing these and I really dont understand why everyone is complaining about their huge dog not being able to swallow these, sometimes I think people forget that dogs are supposed to be allowed to chew on bones and in the wild that's just what they do. And they wonder why some dog have teeth problems. Really People come on give me a break. She has had no problem with positive test since being on this medication but I do know they can test positive but after second more inclusive test its negative, this happened to me on the last kind of heartworm med she was on. I usually get it from my vet so I have not had a problem with dry hard pills but if the are at the end of expiration date maybe that why they are hard but still not reason why your dog cant chew it and swallow. If you are giving this to a dog that is under 50 lbs then you are buying the wrong size, but if you have a lab or Doberman you should not have a problem chewing them up and swallowing them if you cut them up for your dog it's because you treat your dog too much like a human and allowed them to forget their natural ability to chew. My girl is spoiled she even sleep in my bed but she also is giving bones to keep her teeth sharp and clean and to remind her she was once a wild creature, I have never seen her more excited that when she laying on the floor chewing on one of her huge cow leg bones that are smoked i get from my butcher, and yes I have taken her to the vet with them and the vet says they are very good for her because she can not break little pieces of them off and swallow them and poke her stomach and intestines. This is the kid of things dog are supposed to do but people want to dress them up and paint their nails and stupid stuff like that and because of these things they forget the are dogs.
---