JW Pet Crackle Heads Ball Dog Toy, Color Varies
Frequently Bought Together
---
About This Item
Rubber with crunchy bottle material inside
Ball has durable rubber body outside, crunchy water bottle material inside
Features the water bottle crackle sound that dogs love as they chew
Safe and made of recyclable plastic water bottle
Provide hours of enticing, interactive playtime for your pup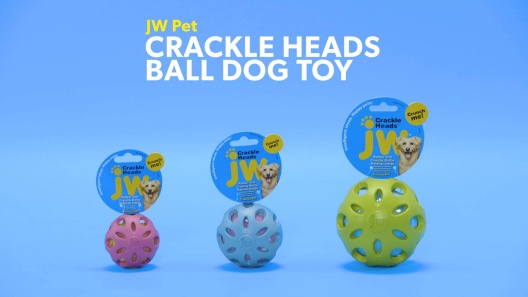 Learn More About JW Pet From Our Team of Experts
---
Compare Similar Items
| | | | | | |
| --- | --- | --- | --- | --- | --- |
| | | | | | |
| Customer Rating | | | | | |
| Price | | | | | |
| Toy Feature | Crinkle, Exercise | Squeaky, Exercise | Bouncy, Exercise | Squeaky, Crinkle | Outdoor, Bouncy, Exercise |
| Material | Rubber | Rubber | Rubber | Rubber | Rubber |
| Breed Size | Small Breeds | Small Breeds | Medium Breeds | Medium Breeds, Large Breeds | Small Breeds |
| Toy Type | Balls | Balls | Balls | Balls | Balls |
| Lifestage | Adult | Adult | Adult | Adult | Adult |
---
Questions & Answers
6 Customer Questions
---
Last with power chewer?
Answer by • Feb 18, 2018
While this product is durable, it may not withstand excessive, aggressive power chewing.
---
Is there a third ball or something inside the crinkle part?
Answer by • Nov 09, 2020
This long-lasting dog toy is fashioned with a tough outer rubber layer which provides a protective wall. The outer layer has holes so that the crunchy sound is easily heard by your pet. The crunchy ball inside is made with recyclable plastic bottle material.
---
Which size is comparable to a common tennis ball?
Answer by • Aug 01, 2021
The small ball is 2 inches in diameter, the medium ball is 3 inches in diameter, and the large ball is 4 inches in diameter. The closest measurement to a tennis ball would be the small.
---
Would a cat be able to easily scratch this up?
Answer by • Jan 29, 2021
This ball has a durable rubber body outside, crunchy water bottle material inside, and is designed for dogs.
---
---
---
By KansasPetParent on Aug 14, 2022
Chandini Approved
Chandini is a 70 lb bully breed who generally destroys her toys in quick order. The Crackle Head Ball has given her endless hours of chewing enjoyment that hasn't (yet) resulted in destruction of her, now, favorite indoor ball. We think the crackle sound the ball makes has, for her, taken priority over her usual hard and fast, savage chewing approach with her other toys. This ball clearly intrigues her. She seems to regard it as much a puzzle game as a chewing object.
---
By Hansea on Aug 13, 2022
Poor quality - lasted 5 minutes
This lasted literally 5 minutes with my 7 month old Lab/Catahoula mix . She's not a 'heavy chewer' , more average and her other toys - rope chews and softies and kong have lasted for a couple of months, still going strong. I was shocked that she managed to tear a huge piece of plastic off within 5 minute. I'm glad that i was watching her and able to remove it before it was swallowed. I wont be purchasing and JW Pet products for her again.
---
By BuddyTheDog on Jul 27, 2022
I wuff this ball!
I'm buddy, an American pit corso, I have high energy and big jaws and this ball is the best! My human ordered me one and I crunched on it so hard and the outside didn't even break! I've successfully flattened the plastic in the middle but it's still my favorite to chew on because it still makes the pawesome noise! Holy treats my human ordered me 3 more and they came today and I COULD NOT believe my eyes! Fluff yeah!
---
By Chris on Aug 4, 2022
Fun while it lasted
My Chesapeake Bay Retriever enjoys plastic water bottles. I thought this was a safer alternative. I was kind of right. She absolutely loved this thing. It lasted about 2 hours. The crinkle ball inside has collapsed and the outer shell is broken. A dog with less powerful jaws would love this toy but it doesn't stand up to large dogs with a heavy bite. (unable to upload photo)
---
By BrandyMom on Jul 31, 2022
She loves it
I have a very destructive JRT and this ball has really held up. She managed to tear up the inner ball and got a piece of it out, but, I snatched it and tossed that. Other than that, the ball is still intact and she loves it. It makes a crackling sound and it took me a little time to get used to it. (I kept thinking she had gotten a hold of something inappropriate.) Highly recommend it this toy.
---
By HeelerMixMom on Jul 2, 2022
Love is not a strong enough word
My girl loves to chew and destroy. We have had JW balls in the past that have lasted longer than average so I wasn't too hesitant to give this a try. She has always loved the sound of destruction and this ball delivers! I am writing this review after having purchased a second ball and back again to order 6 more at this awesome price. As other reviewers have stated it takes seconds for her to have the plastic inside (which is akin to a water bottle) crushed flat, but she still gets some good creaks and squeaks out of it even flattented. Despite that, she plays with it for hours, sleeps with it, and has forsaken all other balls/toys for her Crackle Head Ball. As for colors, we received a green one the first go-round and a purple one this time, hoping the 6 I am getting ready to order aren't all the same color.
---
By SMR8 on Jul 23, 2022
Aggressive chewers will destroy
Most balls I buy I don't expect to last long as I have 2 German Shepard's and they are aggressive chewers. I bought this ball back in May and although they have ripped them apart it did withstand the chewing for about a month 1/2 or so. I just bought 2 more they love the noise and for the price it's worth it to buy every couple of months to keep them busy. Just have to be carful when it does break down as they will eat the pieces.
---
By Zephyr on Jun 30, 2022
It's a HIT!!!
I'm always looking for suitable toys, mainly balls, to chew and play with. I am a high-drive working dog, and I'm a very voracious chewer. I have always loved the Kong Air squeaky tennis balls, but lately, I have started removing the felt covering from the ball and eating it. No more! Mom doesn't want to risk me having to undergo another surgery. Mom knows that plastic bottle material is a big hit with us dogs. She worked in the DOD Puppy Program for a year, and they would collect water bottles, remove the plastic cap and ring, as well as the labels, and make a 'bottle pool' for the puppies to play in. They LOVED it! So she decided to give this ball a try with me. I have similar pedigree lines to those Military working dogs. Guess What? I LOVE this crackle ball!!! It's a HIT!!
---
By Sabb890 on Jul 25, 2022
He loves it!
Vinny is a 7 month old whippet and immediately loved this toy! Kept him busy chewing long enough for me to read a few chapters of a book. He did completely crush the plastic inside but it still crunches so he still likes playing with it. Seems durable for now as far as the rubbery outside. It's a nice light ball for throwing too. If he does end up destroying it I will definitely buy another one.
---
By Coco on Aug 11, 2022
Colorlines
When ordering I picked Purple. The site has various colors to pick. I like Purple and also ordered one for my boyfriend. The unwanted green ball for me went to the trash. The 2nd green (instead of purple ball) for my boyfriend flattened out in the inside in less than 1 minute. Not a good buy.
---