K9 Sport Sack Air 2 Forward Facing Dog Carrier Backpack
---
About This Item
Features a thick rest pad so your pal can "sit" comfortably, while leaving his paws and head out to explore.
Easy to put on with adjustable chest strap for your pooch, adjustable shoulder straps with whistle clip for you, and easy-pull zipper.
Great for hiking, errands, long walks, rucking and everything in between, with light reflecting chest strip for added safety.
Additional features include adjustable side pockets and a fuzzy fastener soft side to add custom tags, lights and more.
Veterinarian-approved design with built-in safety D-ring for collar hookup and fully ventilated sides.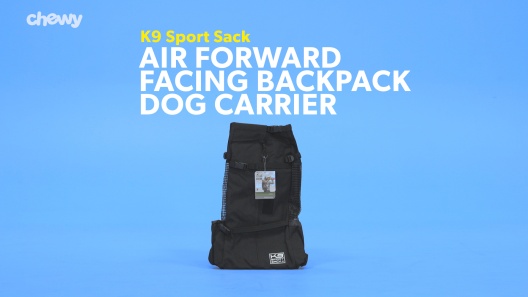 Learn More About K9 Sport Sack From Our Team of Experts
Click here for the K9 Sport Sack Dog Carrier Booster Block.
---
Compare Similar Items
| | | | | | |
| --- | --- | --- | --- | --- | --- |
| | | | | | |
| Customer Rating | | | | | |
| Price | | | | | |
| Features | Top Load, Interior Tether, Pockets, Water-resistant | Pockets, Water-resistant | Pockets, Removable Pad, Top Load, Water-resistant, Interior Tether | — | Top Load, Shoulder Strap, Pockets... |
| Material | Nylon, Mesh, Synthetic Fabric | Polyester, Synthetic Fabric | Polyester, Synthetic Fabric | Nylon, Synthetic Fabric | Polyester, Synthetic Fabric |
| Breed Size | Extra Small & Toy Breeds, Small Breeds | Extra Small & Toy Breeds, Small Breeds | Extra Small & Toy Breeds, Small Breeds | Small Breeds | Medium Breeds, Large Breeds |
| Assembly Required | No | No | No | No | No |
| Lifestage | Adult | Adult | — | Puppy | — |
| Tools Included | — | — | — | No | — |
---
Questions & Answers
32 Customer Questions
---
Do there legs hang out of this?
Answer by • May 11, 2018
Your pets front legs will come out of the top of the carrier a bit but their whole body, including their hind legs, are inside the carrier.
---
Does this pack have clips on the rear facing side over the zipper or not? Some pictures show it does others, it does not. Not very clearly advertised.
Answer by • Feb 26, 2018
There are clips over the rear zippers to better secure your furry friends.
---
Will the large fit a 31 pound male French Bulldog? Chest /girth 25 inches?
Answer by • Jun 29, 2019
The large holds a maximum weight of 35 pounds and is recommended for dogs measuring 20-23 inches in length.
---
Where is the chart for the girth? It tells you to measure it and my dog is 19" in girth but I can't figure out the right size. Also for the length.
Answer by • Apr 28, 2020
To measure body length, measure you pet in the begging position, from the base of the neck to the base of the tail. To measure chest girth, measure around the widest part of the dog's chest. Please refer to the complete sizing chart below:
---
---
---
By NYCMAMA on Jun 1, 2022
Poor Fit For Us Unfortunately
I am so disappointed. I measured and remeasured my puppy to be sure I was getting the correct size and I have tried to use the backpack three times on short walks around my neighborhood but it is SO uncomfortable! He fits in it but the actual backpack straps are so small that is it almost impossible to get him on my back. Once I do get him up, (there is a lot of swinging involved which he obviously doesn't like), and I tighten the backpack straps down so he is snug to my back then the adjuster plastic clips are digging into my arm pits because the padded part of the straps are so short. I am not a large woman, but also not tiny. We are supposed to go camping and hiking next month and I do not think I can bear the discomfort of using this backpack. I also really cannot afford for it to go to waste while I look for another backpack.
---
By MaryB on May 19, 2022
Well made backpack, but sizing is off.
I used the size chart to order a SMALL for my 16 pound pug who is under 15" long and has a girth of under 20". The backpack is long and narrow and fits her like a sausage casing. The armholes are small and constricting and, with her arms also raised straight up, I'm concerned that her circulation will be quickly cut off. I'm a small woman, so I can tighten the shoulder straps enough to ALMOST get the dog looking forward over my shoulder. (It would be even better if it also had a belt.) On a larger person, with the shoulder straps lengthened, the dog ends up tilted back, looking straight at the sun (if you prefer to walk upright, not leaning forwards like the models in the photos). This pack might work well for a smaller skinnier dog? Maybe it is unsuited to the pug body type or would fit my dog better in a larger size (hopefully with bigger armholes). There is NO WAY any animal weighing 30 pounds would fit in this thing.
---
By Roosevelt on Apr 15, 2022
LOVES THEM!!
Roosevelt waits for them! I give him his gravy treat first. Then he sits waiting for this treat! I chop them up into 8 pieces. He likes them this way. But if I leave them out, he has chewed through the paper and gobbled up several sticks on his own! I now keep them in the cabinet. He follows me to the cabinet and back. Meowing the whole way!
---
By Celine on Apr 1, 2022
Best Carrier!
This is the best carrier I have ever used for Indie! The Air 2 is lightweight but durable and that is exactly what I was looking for. It is also very comfortable to wear. We go on a lot of hikes and bike rides and now every time I pull out the K9 Sport Sack, Indie gets so excited to go on an adventure!
---
By Emily on Jun 21, 2022
Worked great for my pup
This worked really well for my dog who was having trouble walking at the time. Highly recommend!
---
By DeniseG on Feb 8, 2022
Jury is still out
I have only used it once so I can't speak to what I will think long-term. Doggie seems to be fine with it once she's in. It's not that easy getting her in and I do think you need it to be a 2 person job unless you have a very small dog (mine is 10 lbs). Once up on the back, it feels a bit awkward and I kept wondering if she was falling out. My husband assured me she seemed fine but it felt weird to not be able to see her and any movement made me worry she'd fall out, although she does sit snuggly in it. My main concern is that the material will probably be too hot for summer time. It is cute and we got plenty of remarks. Just not sure if this is going to be the solution for long hikes, especially once it gets warmer.
---
By dexter on Apr 25, 2022
carrier for my pup
When dog was in sack the weight of him dropped him to middle low back. Which then brought strap up to my throat. Item didn't hold him snug enough for my comfort. And my pup is only 8lbs.
---
By Lita on Feb 5, 2022
First time's a charm
When we tried to place it on our shitzu at home, she was hesitant. We didn't purchase the bolster and her leg was stretched a bit in an unpleasant manner. However, we used a yoga block in the bottom of it when we put it to use at Palo Duro Canyon and she had no problems with her leg and would allow us, without hesitation, to put her in it once she realized she would be getting a hiking break. She liked it so much, we purchased a custom patch with her name on it, to place on the body of the pack.
---
By OliversMom on Feb 1, 2022
It's the Worst
I don't know how anyone can say they like this. The pics are all very misleading. It wasn't bad getting my 9 pound poodle to sit in it, or put it on except he kept pulling his paws back out. However, it was horrible for me. With Oliver on my back, exactly as he should be, the chest strap came up across my throat. I had to hold the straps in the front down while I walked slowly on my treadmill. I don't even know how people said they wore it while biking, motorcycling, etc. I absolutely do not recommend this.
---
By Lili on Jan 5, 2022
Softer than expected
This bag has almost no structure, I wouldn't want to have my dog in it for longer than 20 minutes. He's 25 lbs and the bag felt like it was straining under his weight.
---