Kaytee Deluxe Multi-Level Ferret Home
By Kaytee
---
About This Item
Features a top door and two front doors, so you can easily access your ferret friend.
Designed with chew-proof latches and tab locks for extra safety.
Comes with 4 comfort shelves, 3 safety ramps, 1 spiral slide and caster wheels for easy portability.
Easy to assemble with zero tools required.
Suitable for ferrets, chinchillas or other small animals.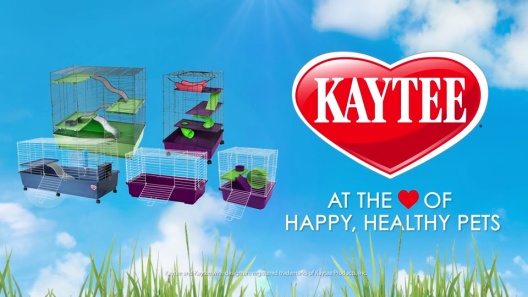 Learn More About Kaytee From Our Team of Experts
---
Compare Similar Items
| | | | | | |
| --- | --- | --- | --- | --- | --- |
| | | | | | |
| Customer Rating | | | | | |
| Price | | | | | |
| Small Pet Type | Ferret, Chinchilla, Degu | Ferret, Chinchilla, Sugar Glider, Degu, Guinea Pig | Chinchilla, Ferret, Hamster | Rabbit, Guinea Pig, Ferret, Chinchilla | Ferret, Chinchilla, Rat, Degu, Sugar Glider, Guinea Pig |
| Material | Coated Metal | Coated Metal | Plastic | Plastic, Stainless Steel | Coated Metal |
| Features | Chew-resistant | Feeder Included | Chew-resistant | N/A | N/A |
---
Questions & Answers
20 Customer Questions
---
How many ferrets could fit in this cage?
Answer by • Jun 02, 2019
This home is suitable for a single ferret.
---
Would I be able to used this cage as a home for guinea pigs ?
Answer by • Sep 03, 2019
This home should not be used for Guinea Pigs. Bar spacing should be less than ½ inch apart for adult hamsters. This home has 1 inch bar spacing.
---
Is the cage metal
Answer by • Jun 07, 2019
The cage is made out of metal.
---
Could I use this cage be used for a hedgehog?
Answer by • May 19, 2019
This Ferret Home is not suitable for hedgehogs.
---
---
---
By Sierra on Feb 4, 2022
Started out good but went down hill
This cage was delivered to me on November 3rd. It had been doing very well for my ferret. However I would have expected it to last longer than 3 months. My ferret gets excited when he sees me and digs at the bars on the cage and pulls on them. He has already pulled one bar off the cage and another bar on one side has came unattached. The welding I would have expected to be a little stronger since rodents like to bite and pull at their cage.
---
By jays on Jan 8, 2022
Horrible Quality
Got this as a Christmas present for my granddaughter for her chinchilla. This cage is less than a month old and I am already looking for a better one! No easy way to clean. The door closures are horrible plastic clip things that are hard to work and I expect them to break and be unusable at anytime!!! Ladders don't stay in place. And since everything is solid poop just stays everywhere instead of falling to the bottom. And there is no way to take her bottom out for easy cleaning. What a horrible waste of money!!! I thought it would be much better considering the brand and price, but I am not only disappointed I am furious with the quality of this cage!!!
---
By Upsetperson37 on Oct 30, 2021
Wouldn't buy this again
Haven't even had my cage for a year and my ferret has already pulled several of the wires off of it and she isn't a full year old yet
---
By Jamie on Mar 25, 2021
It's an okay cage, have some problems
I bought this exact cage for my ferret at a pet supply plus store. Let's just say I like the cage except for 2 things; the doors won't stay on, at some point I have to tighten the pieces that hold the door to the cage. Second would be that the ramps won't stay down so no matter what my ferret has to jump down a little, instead of going down the ramp. I am going to call the place I bought it at and see what they suggest. Also I bought the cage for like $169, so not much difference compared to here. But other than that, it's a good cage to start them off with.
---
By Zara on Jan 4, 2021
Cheaply Made
I purchased this same cage from a retail store when I first got my two ferrets. It lasted a few months, but exhibited several issues before I replaced it with the Ferplast two story; the platforms came slightly bent towards the middle which was not helped by the ferrets walking across them, and the hinges on the doors broke so I had to tie them to the cage. The spiral staircase bent and fell off the cage very often, and no matter what way I assembled the platforms, the ramp at the bottom never quite touched the base of the cage. The size is another issue. It worked alright for my two small females as they have about 12-14 hours of time outside their cage per day. However, I think large male ferrets would have a difficult time getting through that staircase ramp and even fitting together on the platforms. This cage was okay for a temporary cage, but I recommend investing in something a bit more expensive because the quality will be infinitely better.
---
By Robert on Dec 17, 2020
Ferrets can escape from the cage.
I purchased this to house two ferrets. After placing the ferrets in the cage and locking all three doors (even used the red lock mechanism), I stepped away and came back to be greeted by one ferret outside of the cage - its head fit between the space created where the sections are hinged. Unrelated but the ramps need additional padding to provide any grip for their paws. A wire was snapped and required repair. Otherwise an alright product for a critter that isn't as escape-prone as a ferret. That said, for my purposes I returned it immediately and would not recommend.
---
By Jackson on Nov 29, 2020
Some improvements failed
I purchased this to replace one that was 13 years old and the plastic had disintegrated. That alone should be a recommendation, however the new version is not all good. The special latches for the doors do not work, after calling the company and speaking to 4 people, one who called another specialist, they couldn't solve my problem of the latches not working. I solved the problem by taking the doors off of the old cage and replacing the "special doors". Additionally, there were a couple of bent pieces that had to be recurved to allow the cage to close on top. All this being said, the quality of the plastic and the metal seem improved. I would caution anyone buying this if they needed the company help, that is Kaytee not Chewy.
---
By DJPriceLV on Jan 28, 2021
Do not buy this cage.
I should have listened to the reviews. This product is total crap. I've had pet chinchillas for the past 11 years and I can tell you that this cage is worth $50 at most. Do not waste your time.
---
By poor on Mar 17, 2020
Not happy at all
When I received this it was damaged and had no instructions.
---
By Steph on Sep 23, 2019
Bad Manufacturer...
This cage all in all is beautiful, and every pampered rodent deserves a nice home. However... The instructions sent with my cage weren't even for the right cage. I was able to sort of guess how things went, but even so the instructions weren't very great, especially when it came to adding the ramps and slide. I ended up building this by looking at the box and the pictures on Chewy's website. A large pain and inconvenience, but the cage itself (AND CHEWY) are great.
---