Kaytee Hi-Corner Small Animal Litter Pan, Large, Color Varies
---
About This Item
Great for in-cage use and for liberty training big bunnies, ferrets and others.
Made of plastic that's stain and odor resistant so it stays cleaner and fresh-smelling longer.
High corner design helps prevent spilling litter to make cleaning even easier with no messes.
Size is designed to fit larger enclosures, and is great for rabbits, ferrets and larger small animals.
Available in different colors so you can color coordinate your pal's style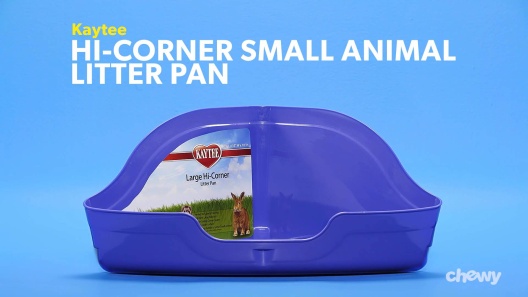 Learn More About Kaytee From Our Team of Experts
---
Compare Similar Items
| | | | | | |
| --- | --- | --- | --- | --- | --- |
| | | | | | |
| Customer Rating | | | | | |
| Price | | | | | |
| Small Pet Type | Ferret, Rabbit | Rabbit, Guinea Pig, Chinchilla, Ferret | Rabbit, Guinea Pig, Chinchilla, Ferret | Guinea Pig, Rabbit | Ferret |
| Material | Plastic | Plastic | Plastic | Plastic | Plastic |
| Litter & Bedding Type | — | — | N/A | — | N/A |
| Litter Feature | — | — | N/A | — | N/A |
| Bird Type | — | — | N/A | — | N/A |
---
Questions & Answers
11 Customer Questions
---
Does this litter pan have anything to attach it to the corner of the cage?
Answer by • Jan 16, 2018
Although this litter pan doesn't have built-in hooks to attach to the cage, the 13.75-inch, Kaytee H-Corner Small Animal Litter Pan does.
---
Can you use this for hedgehogs?
Answer by • Apr 28, 2020
This litter pan can be used for a hedgehog.
---
Is this pan large enough for a cat in a crate traveling?
Answer by • Aug 02, 2019
This pan measures 20 x 13 x 10 inches and fits easily in most large cages for ferrets, larger bunnies and other furbabies.
---
what are the dimensions of this?
Answer by • Feb 09, 2019
This litter pan measures 20 x 13 x 10 inches.
---
---
---
By Justine on Mar 4, 2022
Hi-Corner Litter Pan
This was the perfect size for guinea pigs and rabbits, larger than I anticipated. Nice and sturdy and decent price. I ordered all these items for a donation for my local SPCA that acquires guinea pigs and rabbits. They like to litter train the bunnies and I ordered this size since one of the last rabbits was fairly large. The shelter manager was happy with the size and design.
---
By Cindy on Jun 24, 2022
Grate was not included
The inside grate in the rabbit litter box was not inside of box
---
By Tjschoch23 on Nov 1, 2021
Good for Ferrets
I purchased this to have larger litter pans for my ferrets now that I have three. I love the height of the sides and my ferrets quickly started using it. It's one of their favorites. I would make one suggestion of improvement and that would be someway to clamp/hook to the cage. Ferrets love to push items around and make a mess so I added some hooks to mine so they can't do that.
---
By Jdpdx on Mar 19, 2021
Great for ferrets
These are great for ferrets, one of my boys won't go in the box if it is too small and these are just the right size. They are big, I have a Ferret Nation cage so there is plenty of room but if you have a smaller cage be sure to measure. My only complaint is that there is no way to connect these to the cage. Seems silly, anyone with ferrets know that they will always try to climb behind or move the box around. I drilled two little holes to tie it in place. Easy peasy
---
By rose on Jun 12, 2021
corner litter pan
This is perfect for my ferrets. It was expensive but I guess it's worth it. The sticker comes off really easy.
---
By ssmcdaries on Feb 2, 2021
Small Pet Litter Pan
This litter pan is large, and it takes up a good bit of corner space in my hedgehog's habitat. It looks much larger than a hedgehog really needs. However, it very comfortably holds his wheel and still allows plenty of space for moving around the litter pan and his habitat is still plenty spacious. He is a 3-year-old rescue who has seemingly never tried litter training and has yet to establish a potty corner in his new digs. We're hoping that because he goes potty while running, a litter pan this large will help all of us keep his habitat that much cleaner. This size will definitely not work in a smaller enclosure than our 2x4 habitat, but if you have a bigger enclosure or multi-level enclosure this size may be perfect for you long-term. It would be a good size for small pets larger than a hedgehog or for multiple guinea pigs, but probably not for a large rabbit. My hope is, over time, this large of a litter pan will help us as we expand the size of his habitat and we can potentially down-size to a litter pan more hedgehog sized while just keeping a small flat litter tray beneath his wheel. The litter pan we received was a bright green color, which isn't my first choice. But it is a great quality and a good size for it's price.
---
By Peach on Mar 1, 2021
Too big for bunny enclosure
This item was too big for my bunny enclosure and did not have a e. Bunnies feet get stained if no grate. It was a nice firm plastic
---
By BunMom on Nov 28, 2020
Not large enough for most rabbits.
Not large enough for most rabbits. recommend using regular cat litter box...less accidents outside of litter box occur..(tip: when litter box training add hay to shallower end of cat litter box as bunnies like to eat while doing their business...sound gross but bunnies are smart and won't eat soiled hay). Check out Chewy's cat litter boxes... save corner litter boxes for smaller pets like maybe ferrets, guinea pigs etc.
---
By ChewyandLouie on Jan 14, 2021
Good litter pan but large.
This works well in a 2X4 small pet play pen but don't buy it for a smaller cage since it is quite large. My 4 month old Guinea Pigs are getting used to it slowly. Very easy to clean
---
By Kingmc on Sep 2, 2020
Easily accessible for my 3 legged Ferret
I purchased 2 of the Kaytee Hi-Corner Litter Pans for my 3 legged ferret. The lower step in cutout makes it easily accessible for Loki to climb in with one front leg and hold himself up a bit to utilize the corner pan.
---