Kaytee Lava Ledge Small Animal Toy, Color Varies
Frequently Bought Together
---
About This Item
It easily and securely attaches to the side of any wire enclosure, providing a great climbing surface that encourages natural jumping exercise
Safely colored with pet-safe food coloring
Made of pumice rock, making it safe for chewing
Coarse, hard texture cleans teeth as your pet chews
Great for chinchillas, rabbits, rats, mice, hamsters, gerbils and more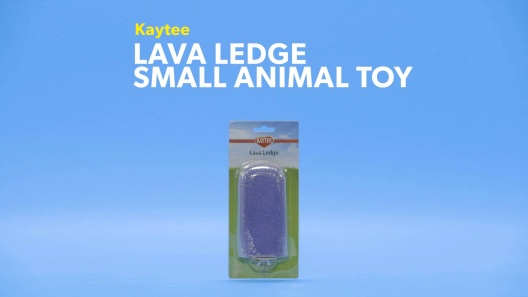 Learn More About Kaytee From Our Team of Experts
---
Compare Similar Items
| | | | | | |
| --- | --- | --- | --- | --- | --- |
| | | | | | |
| Customer Rating | | | | | |
| Price | | | | | |
| Small Pet Type | Chinchilla, Rat | Chinchilla, Gerbil, Hamster, Rat, Guinea Pig, Rabbit | Rat | Hamster, Chinchilla, Gerbil | Guinea Pig, Rabbit, Rat, Gerbil, Hamster, Chinchilla |
| Material | Stone | Wood | Wood | Stone | Wood |
| Toy Type | Chew Toys, Climbing | Chew Toys | Chew Toys | Chew Toys | Chew Toys |
| Toy Feature | N/A | N/A | N/A | N/A | N/A |
---
Questions & Answers
20 Customer Questions
---
Are these big enough for rabbits
Answer by • Sep 27, 2017
Kaytee Lava Ledge Small Animal Toy is perfect for your Chinchilla, Rabbit, Mouse, Rat, Hamster, and Gerbil.
---
What are the ingredients
Answer by • Sep 15, 2017
This toy is made of pumice rock and is completely safe to chew and promotes clean and healthy teeth.
---
Can this work on my hamster's toe nails as well? My Avery's are getting very long and I am afraid to cut them
Answer by • Aug 13, 2018
This product would not be suitable for trimming toe nails. It's made of pumice rock, it's completely safe for chewing. Its coarse, hard texture even cleans your pet's teeth as he chews.
---
My rat is actually ingesting the rock is that safe?
Answer by • Jun 20, 2018
This rock is deemed pet safe so it should be harmless if ingested by your rat.
---
---
---
By ajoa on May 18, 2022
Nice product
Got this for my gerbilarium. Gerbils love it. Perfect size and hangs nicely in the cage. They sit on it, and they can also grind their teeth down. When this one wears out, I will definitely be buying another.
---
By Amanda on Apr 20, 2022
My Chin loves it!
My chinchilla Kimchi devoured this stone. He loved it so much and it was gone in about 3 days. I was very happy with the quality as there had been some rumors of a weird smell on this product. But no weird smells! Overall very happy with the product! Ordered the 3 pack this time too
---
By Sholly on Jul 2, 2022
Great rat toy
My rats love to hop from one to the next and it files their nails a little.
---
By Customer on Mar 17, 2022
Mixed Feelings
These are great for grinding teeth, but I don't think they hold up well. This particular one got wet and it broke into a bunch of tiny pieces.
---
By Rebecca on Dec 5, 2021
Noxious Chemical Smell
I ordered two of these and to my dismay both had terrible outgassing. It took several hours of baking on low heat for it to be at a level I felt comfortable exposing my rats to. Now that they no longer reek, the ledges are nice and firmly attached to the cage near their food and water and have worked well to prevent them scratching open my hands by accident. The coating can be easily scuffed off when wet, which doesn't matter much to me but heads-up if you do care.
---
By wobble on Oct 18, 2021
No more scratch marks!
We started putting lava ledges around the rat cage, but specifically as a way to get to their water and their favorite hammocks. They get a lot of use, and it files their nails way down so they don't mark our arms up during playtime anymore. Lava ledges are porous though, and when our rats poop on them and inevitably step in the poop it is impossible to get it off of the ledge completely because it gets into the tiny holes.
---
By Cheap on Oct 4, 2021
Usually great, not this time
I've ordered these many times, and also have bought them from stores. They usually last months. I waited a couple months to open these and put them up, as I still had quite a few I was using. Once I opened them, they lasted less than a week and then the ledge was falling off the metal part that usually holds them. I now have 3 lava ledges that are used as just chew blocks because they won't stay on the holder.
---
By AlexisC on Sep 8, 2021
A Good Stone
I purchased this pumice stone to help wear down my dwarf hamster's nails. First, I was pleasantly surprised by the size of the ledge, as it covers a good amount of surface area. My hamster was a little wary of climbing on it as a ledge, so I sewed fabric around the bolt that attaches it to the cage wall and placed it in a high-traffic area of the cage. It does smell a little strongly of a chemical when it first comes out of the package, but the smell dissipates after a few days and my hamster is not deterred by it. The bright colored paint is also a good idea because it shows on the stone where the animal has chewed or walked because it scratches the paint off to reveal the gray stone underneath.
---
By Sarah on Oct 2, 2021
Reeks terribly of fuel, had to throw away
As soon as I opened the package I was hit with a very strong odor - the entire ledge stinks of gasoline. I tried washing it, letting it sit in the sun, and finally just left it on the counter for a few weeks - nothing helped. There is no way I would ever put something with such a strong acrid smell in with my mice. It went in the trash.
---
By Fiver on Aug 3, 2021
Great climbing ledge for rats
I use these to create extra access points to the top levels of my rats' cage. They're easy to move around between cage cleans/redecoration and the boys love them--they're great for climbing, excitedly waiting for me to open the cage on, occasionally chewing, and sometimes even napping. They definitely need to be changed out sometimes (the boys are...not the cleanest) but they're a great price and last a decent amount of time with the occasional spot clean.
---