Kaytee My First Home Rat Habitat
By Kaytee
---
About This Item
Two-level home provides plenty of room to play plus security and comfort for your pal.
Chew-proof latches and durable wire for added safety, plus a comfort shelf and safety ramp for mobility.
Great for small animals like hamsters, guinea pigs, rats, dwarf hamsters and others.
Deep base prevents litter and bedding spills with an easy-access front door for easy cleaning.
Wire-base locking system adds a layer of security, and includes a hole that fits securely in the shelf.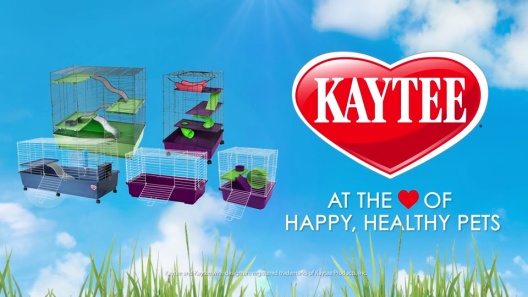 Learn More About Kaytee From Our Team of Experts
---
Compare Similar Items
| | | | | | |
| --- | --- | --- | --- | --- | --- |
| | | | | | |
| Customer Rating | | | | | |
| Price | | | | | |
| Small Pet Type | Rat | Rabbit, Guinea Pig | Hamster, Gerbil, Mouse | Gerbil, Hamster, Mouse | Rabbit, Guinea Pig, Ferret, Chinchilla |
| Material | Plastic | Coated Metal | Plastic | Plastic | Plastic |
| Features | Chew-resistant | Outdoor | N/A | Chew-resistant | N/A |
---
Questions & Answers
7 Customer Questions
---
How many rats can this cage fit in it?
Answer by • Jul 22, 2018
This product is intended for one rat.
---
How big is this cage,and can a hamster live here for there hole life?
Answer by • Oct 04, 2019
This habitat is large enough for a single hamster to live for the entirety of its life.
---
can mice get out of this?
Answer by • Aug 09, 2021
This habitat features chew-proof latches and durable wire for added safety.
---
What is the bar spacing? Would this be suitable for a syrian hamster?
Answer by • Dec 28, 2020
This habitat has a bar spacing of ½ inch tall.
---
---
---
By Nana on Apr 15, 2022
great habitat
Very good cage for 1 adult rat. Built well and room to move and hang items.
---
By Carol on Jul 7, 2021
Rats can get out
This cage is way too flimsy for a smart rat. The bars can easily be pushed apart and rats can squeeze through. The door and the latch are not secure and rats can get out. I cannot recommend this product.
---
By RUSTYCAGE on Oct 25, 2021
rusty cage
Came with a few rusty spots. Rust is like a cancer. Overpriced
---
By DBouffard on Feb 8, 2021
Great temporary cage
This cage is not enough space for keeping even one rat long term- and yes, you should always have at least two. But it is a very good holding cage for when you clean out the regular cage, because, although it is too small to be a the rats' regular cage, it is a pretty comfortable cage for the rats for a short time. You can put a hammock, water, bottle, food, and chew toy, and they will be okay. It's also good as a nursery, bonding, hospital, and travel cage. I love these cages, but the rats will not be happy if kept too long in here, at least most will not be.
---
By GuineaPig on Dec 21, 2020
Yes, it's terrible.
We had a dwarf hamster dropped off and needed a cage quickly. I bought the cheapest cage that was bigger than a shoebox. Reviews told me it was poor quality, and it is. But I can make it work. Bad: >Door doesn't hinge properly / partially gaping on one side. (Zip tied for now.) >The bar spacing is inconsistent and there's wider gaps in sections. >As mentioned, ledge doesn't fit well (floating corner) and you'll need to bend the plastic ramp for it to reach the substrate. Not a big deal nor surprising! Good: >Big enough for a 9" silent Silent Runner wheel, hamster house, toys, and bowls, with clear floor space to spare. Decent for a single petite female dwarf hamster. >4" deep base for substrate. >Aesthetically... it's not bad. I wouldn't recommend it. But I know most (if not all) hamster cages aren't worth what they're priced at, which is what made spending $50 on this garbage IMO kind of worth it.
---
By cate on Apr 2, 2021
Nope pls no
these types of cages are only good for traveling and temporary set ups
---
By Jill on Jul 14, 2020
Not for rats!!!
This cage is WAY TOO SMALL for even one rat! Please don't do this to your rat. Ok for a mouse perhaps but nothing bigger!!!!
---
By KateyBug on May 9, 2020
It works for a budget.
The accessories are cheaply made and don't connect and stay in cage well. I removed them and added my own shelves/ledges for my ratties. They are fine if you keep them busy!
---
By RatLover on Apr 24, 2020
Far too small!
I´m very disapointed that this is made and marketed for rats. It is way too small for rats to live in permanently! It´s great as a travel cage, or for holding them, but PLEASE do not make your furbabies live in this! Rats should never live alone, and this is not large enough for even one!
---
By Estefany1 on Apr 29, 2020
Not suitable for any small pet
This cage is way too small. Not at all suitable for any small pet. This cannot be used as a permanent home. It would only be reasonable to use this to TEMPORARILY house my rats when cleaning their cage, vet trips, etc. Please do not use as a permanent home.
---