K&H Pet Products CleanFlow Filtered Water Dog Bowl with Reservoir
---
About This Item
Bowl is BPA free and designed to be silent and leak proof
Perfect for either indoor or outdoor use in temperatures above freezing
Filters contents up to 130 times per hour, keeping floating, suspended and sinking particles out and your pets water clean and the charcoal filter helps remove impurities and can be replaced to ensure water remains clean and purified
Moving water invites more water consumption, making drinking water a little more interesting to your pet
Includes reservoir to hold water so you don't need to refill the bowl as often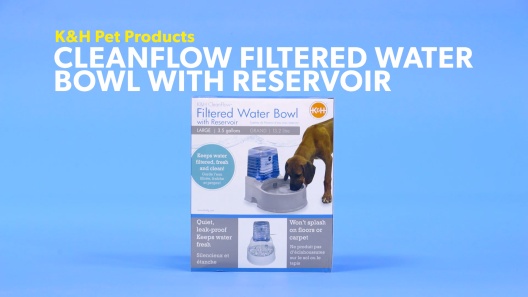 Learn More About K&H Pet Products From Our Team of Experts
---
---
K&H General Unheated Products
K&H Solutions for Your Pup
Take care of your dog with a wide assortment of premium K&H pet accessories. Their heated, self-warming, and cooling dog beds will leave your pup feeling comfortable and safe. Not only do they offer beds, but K&H also has other dog supplies, including filtered water bowls, travel accessories, and more to help provide the quality of life your pet deserves.
Green And Energy Efficient
Made from green, bio-based foam and polyfill from recycled bottles, many K&H products use less energy than the average nightlight.
Machine Washable
All K&H beds are either machine washable or made with a machine washable cover for cleanliness and convenience.
Vet Recommended
Veterinarians and pet experts recommend both traditional and heated K&H pet beds for their reliability and comfort.
Therapeutic Warmth
Every K&H bed and mat provides soothing warmth for muscles and joints—perfect for active or aging and arthritic pets.
Safety
K&H prioritizes safety and works closely with MET Laboratory to ensure all their products are safe for your pets and home.
About K&H Pet Products
K&H has over 20 years of experience making products for pets with the goal of making their lives—and yours—better and easier. They know how much you care about your pets and are dedicated to designing innovative, quality solutions that enhance their comfort and well-being.
Shop K&H
Compare Similar Items
| | | | | | |
| --- | --- | --- | --- | --- | --- |
| | | | | | |
| Customer Rating | | | | | |
| Price | | | | | |
| Breed Size | Medium Breeds | Medium Breeds, Large Breeds, Giant Breeds | Large Breeds, Giant Breeds | Large Breeds, Giant Breeds | Large Breeds |
| Bowl & Storage Feature | Non-Skid, Dishwasher-Safe, BPA-Free, Lead-Free | N/A | N/A | Dishwasher-Safe, Automatic | Dishwasher-Safe |
| Lifestage | Adult | Adult | Adult | Puppy, Kitten, Adult, Senior | Puppy, Kitten, Adult, Senior |
| Material | Plastic | Plastic | Plastic | Plastic | Stainless Steel, Metal |
| Capacity (Max) | 307-oz | 4 Gallon | 3-gal | 120-oz | 320-oz |
| Assembly Required | Yes | No | No | Yes | Yes |
| Compatibility | Plug-In Power | N/A | N/A | N/A | N/A |
---
Questions & Answers
31 Customer Questions
---
Does this water bowl filters out fluoride, copper, chlorine and other harmful chemicals that you find from the tap?
Answer by • Oct 20, 2017
This filtered water bowl does not remove chemicals from the water. It does removes debris and saliva keeping the water clean and fresh.
---
Where do you get a new filter?
Answer by • Mar 04, 2021
At this time, replacement filters are sold separately through the manufacturer.
---
What are all the measurements on the medium and the large? I need to know height, width, depth please, depth meaning front to back, not depth of the bowl.
Answer by • Dec 19, 2017
The Small measures 11.5 x 9 x 10.5 inches. The Medium measures 14 x 11.25 x 12.5 inches and the Large measures 16.5 x 13.25 14.5 inches.
---
Is the reservoir BPA free, or is it just the bowl?
Answer by • Dec 08, 2017
The plastic is BPH & PBA free in both the bowl and the reservoir.
---
---
---
By OliverG on Jun 6, 2022
Don't Buy this, Overflows/Leaks
Bought this 4 months ago. It's been overflowing/leaks out from day one. I hate writing reviews or complaining I normally just figure how to deal with things. This Dispenser overflows everytime there is absolutely nothing to fix I've put towels around and under the dispenser and it's helped to get minimal overflow but I now have to buy a new one because now it overflowed so bad it got to laundry because I'm a moron lol. Key it overflows and if I pay over $100 for a Water dispenser it better be close to perfect from at least the day I get it
---
By MissyLor on Jun 20, 2022
Leaky Fountain
This was a very costly purchase for a very cheap product. The fountain is messy to fill and started leaking just a couple of months after the purchase was made. I woke up to a kitchen full of water last week after only 6 months of my purchase. The fountain no longer holds any water. Don't waste your money on this cheap fountain. You will regret it
---
By GnG18 on Jun 7, 2022
Time saver
I can't rave enough about this water bowl. I was filling up the regular bowl several times a day. I now fill it up every other and on hot days 1 time day. I have 3 dogs and 3 cats that use this bowl! The water stays fresh and filtered 24/7. Totally recommend!!!
---
By Hannah on Mar 16, 2022
Amazing so far
I was refilling my regular bowl like 4 times a day with my 4 dogs, and often I had to dump the water out because it looked so nasty even though it was from that day. Every couple of times I refill the jug I take the filter out and rinse it out in the sink, and it's good as new. Also my dogs kept putting so much hair in the bowl that it was getting caught in the filter, so I followed somebody else's recommendation and put a dobie pad sponge in behind the normal filter because it's taller and I haven't had problems with hair reaching the filter. Love not having to refill the bowl all the time and knowing my dogs aren't drinking water with particles of gunk floating around.
---
By giana on Feb 6, 2022
So far so good!! Follow the directions!!
i've had this for a couple days now and my dog loves it. he is a brat and doesn't like anything besides fresh water (like if he drinks from a bowl and gets some food particles in it, he will not touch it again) so he refuses to drink during the day when im not home to replace his water. this solved my issue! pretty easy to set up, but make sure you follow all the instructions!! make sure to tilt the bowl back while filling to get the air out of the pump, you'll see air bubbles come out of it. i did have to place some treats around the rim of the bowl to get my dog to go near it but once he got near it he was fine with it. also saw a review that someone said the water was getting warm… i've had this going for 3 days straight and the water is still cool, actually colder than it normally is in a regular bowl. not very noisy either. it also doesn't spill over with the tank on top, i saw some reviews about that too. make sure it's on a level surface and preferably on a mat.
---
By RABF on Jan 24, 2022
I would not recommend
We bought this back in April 2021 and I just chucked it in the trash Friday.. at first it worked really well about five months after having it I noticed water everywhere, well after trying and trying i figured out for what ever reason the filter wasn't letting water go into the other side so water would fill up on the right side and was coming out of the side of the top part were you put the water container of the water bowl.. so I got to we're I would leave a gap between the bottom of the filter and the bottom of water bowl, well what good is the filter if you can't filter all the water
---
By AliB on Jan 17, 2022
This is an incredible device
My dogs love it. I have 4 border collies and from the second I put it on the ground they pushed each other away to get water. Their old bowl just wasn't moving water and they love it! I'm buying a second one for the kitchen. This filters the mud from the puppy's lips so water presented is clean. When it makes noise it either has 1) low water level; 2) hair covering the pump vents, or 3) the filter is placed in the device wrong. I find it very quiet- is in my master bedroom so it it was noisy I'd know it. The one I have now is 2 years old and going strong!
---
By Rocketman on Mar 1, 2022
Not pleased with this
Initially, I was very happy with this purchase. The first time I had to clean the filters and bowl out, though, it stopped working completely. I had three people try to get it to work again and no one could. Into the trash...would not recommend.
---
By KimB on Apr 18, 2022
Do not buy
This bowl looks great BUT it mildews in just a couple of days. It takes a bleach bath to clean it. That's even adding extra charcoal to it.
---
By John on Jan 14, 2022
Disappointed
Good idea, nice size for multiple dogs. Poor quality. The material this is made out of is brittle. The plate that covers the filter broke while placing the water tank on the watered. Wish it would have made it longer than two weeks before breaking.
---