K&H Pet Products Cool Bed III Dog Pad
Temporarily Out of Stock
Get notified when this item is back in stock.
Compare Similar Items
| | | | | | |
| --- | --- | --- | --- | --- | --- |
| | | | | | |
| Customer Rating | | | | | |
| Price | | | | | |
| Material | Nylon, Synthetic Fabric | Plastic | Plastic | Nylon, Synthetic Fabric | Plastic |
| Breed Size | Extra Small Breeds | Small Breeds, Extra Small Breeds | Medium Breeds, Large Breeds | Medium Breeds, Large Breeds | Medium Breeds, Large Breeds |
| Features | Cooling | Cooling, Machine-washable | Cooling | Cooling | Cooling |
| Lifestage | Puppy, Adult | Adult | Adult | Adult | Adult |
| Bed Feature | Outdoor | — | — | — | — |
| Pattern | Solid | — | — | — | — |
| Bed Shape | Rectangular | Rectangular | Rectangular | Square | Rectangular |
---
About This Item
No electricity is required to operate the Cool bed III and these beds are attractively designed and allow a cool spot for dogs.
New nylon/vinyl exterior is tougher than ever for long-lasting use.
Simply add the recommended amount of water through the easy fill cap and adjust the comfort with the easy air valve. The unique Cool Core diverts the liquid better than ever throughout the bed for advanced cooling power.
Extremely affordable, the Cool Bed III is the choice for any dog owner looking to offer their pet a comfy, dry, cool place to relax and can be used indoors or outdoors.
Available in 3 sizes: Small, Medium and Large, so you can pick the perfect fit for your furry friend.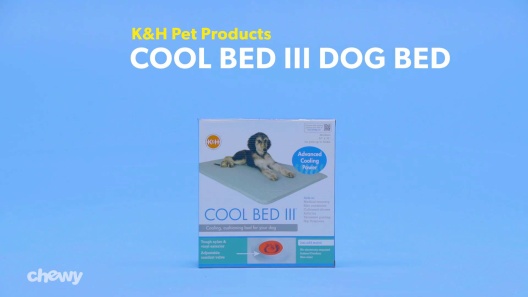 Learn More About K&H Pet Products From Our Team of Experts
---
---
About K&H Cooling Pet Products
K&H Cooling Solutions
Provide your furry friend with a comfortable place to sleep with a bed from the extensive K&H line. Their wide range of cooling products use a unique heat-wicking technology and water to help keep your pet cool without the use of electricity.
How it Works
Not only are K&H cooling products comfortable, but they are also convenient and easy to use. Simply fill the pad with normal tap water and the Coolin' Pet Pad Technology will help keep your pet as cool as a cucumber during those hot summer days.
Eco-Friendly Cooling Comfort
These vet-recommended K&H products are energy-efficient and easy to care for, too. Your pet will love the cooling comfort they provide, and you will love knowing they are safe, green and easy to clean!
Green And Energy Efficient
Made from green, bio-based foam and polyfill from recycled bottles, many K&H products use less energy than the average nightlight.
Machine Washable
All K&H beds are either machine washable or made with a machine washable cover for cleanliness and convenience.
Vet Recommended
Veterinarians and pet experts recommend both traditional and heated K&H pet beds for their reliability and comfort.
Safety
K&H prioritizes safety and works closely with MET Laboratory to ensure all their products are safe for your pets and home.
About K&H Pet Products
K&H has over 20 years of experience making products for pets with the goal of making their lives—and yours—better and easier. They know how much you care about your pets and are dedicated to designing innovative, quality solutions that enhance their comfort and well-being.
Shop K&H
---
Questions & Answers
18 Customer Questions
---
Do you put this in the freezer to cool?
Answer by • May 17, 2018
It is not necessary to place the bed in the freezer to cool. Keeping the Cool Bed III indoors overnight near air conditioning will super cool the bed for outdoor use the next morning.
---
Am I supposed to add grapefruit seed extract to the water? I see reviews mentioning grapefruit seed extract in regards to this product.
Answer by • May 11, 2021
Grapefruit seed extract is an all natural, non-toxic antibacterial. Add it to the water when filling and place a few drops inside the bed before storing to help prevent bacterial growth.
---
Mine did not come with a cover for it, do you sell just the cover for it?
Answer by • May 11, 2018
This product does not come with a cover, and there are no replacement parts available.
---
If a pet pees on the mat will it absorb into the mat?
Answer by • Jun 26, 2020
This cooling mat has a heavy vinyl backing, is soft and pliable, and also has a nylon coating. Water would not absorb into the mat.
---
---
---
By Bernese on Jul 12, 2022
Bernese Mountain Dog lives on it!
Our 7month old BMD pup barely waited for us to fill it with water. We use it camping and it works great under a shady tree or in the camper. It is the only bed she will use. Keeps the panting down and allows her to rest. Would be 5 stars but took one off because when emptying the water for storage, it is messy and a little annoying. Also watch chewers as the cap drew our pup in. Couple "leave its" and she is good but would not trust in a crate.
---
By Rocco on Sep 6, 2022
Good Cool Boy
I'm such a happy cool boy on this bed :-D I used to sleep on the floor instead of my bed because it got too hot. But now I can sleep on this, which is really soft on my old joints.
---
By Mickismom on May 5, 2022
Not happy with this cool Bed III
I had another cooler pad for abut 15 yrs and finally needed to replace it. They don't make them anymore, so I ordered this cool bed III. #1 - it comes folded in a box, how stupid! So it is all wrinkled and the wrinkles will not come out. #2 - it is more like a water bed for people. To thick. Says holds up to 2-3 gallons of water. So much sloshing around - so I added 2 more gallons in hopes to get it tight to get wrinkles out and make more stable. My Frenchie lived on the old one. She wont' go near this one cause the Medium is to small for a 22 pound frenchie and looks like a pillow not a crate pad. She is scared of it cause of the water bed sloshing effect. She is never scared of ANYTHING 99% of the time. The comfort valve - you open it - you loose the water. I thought it would just release air to make it more flat like a crate pad. If I keep adding water it just gets rounded up like a pillow. But with the wrinkles that will not come out - it can't be smooth and comfy to lay on. Removing all but a gallon of water those wrinkles where it was folded up still there and to me nothing like the picture and not smooth and comfy. I wonder with laying there for a month if those wrinkles would eventually smooth out? Even my Chihuauha's that are scared of everything would lay on the old Canine Cooler I had, but no one is going near this thing. I don't blame them. I started trying to find another one immediately after being so disappointed in this one and not having luck. I'm sick they don't make the old brand I had. I wanted to add a couple photos but they won't attach and they are under 5 mb. With the old one so old and rotten now, I need something for the pups to lay on outside on the porch if they want to cool off. Just so disappointed in this product. I'd re-design it removing a lot of vinyl and make it flatter and the pad inside absorb the water so it doesn't become a water bed and send in a box rolled up! DUH!
---
By Jacq on Jun 29, 2022
Air conditioner broke
This mat was great! It reminded me of my water bed. Nice and cool in the summer! Perfect for keeping my Dane cool until the a/c got repaired.
---
By cici on May 16, 2022
this cooling pad leaks..
I was so happy with the product until it started leaking after 1 summer. My dog is very gentle. Did not scratch or nibble on it. I had to buy another one from another vendor with stronger seams.
---
By Betsyross on Jun 21, 2022
Great product
What a amazing product. It's very durable and cools exceptionally well. My piggy loves it.
---
By Jewlz on Jan 13, 2022
Puppy chewed a hole
I found the small size on clearance at a pet store after I ordered this one. My pup loved it as the days were warmer and she likes being cool. The big one came and she liked to dig at it, but it was pretty sturdy. We put it in her crate and she chewed a hole in it that I didn't notice till I was moving it and it started draining out of the corner. Very disappointed. The small one is still in good shape.
---
By Cindy on Nov 9, 2021
Not the product it used to be
I first purchased one of these for a dog of mine and used it for 12 years. This one was a replacement for my previous one, which still was in good shape but looking pretty bad at this time. This bed came with very deep fold marks on it that did not ever straighten out, even after using for approximately a year. It just started leaking near the seam at the pressed area where the two pieces are sealed. It had no holes of any kind, it was seeping through the fabric itself not at the seam edge. Where it was leaking was lined up with the fold on the bottom side that had not leveled out. It is now obvious that this item must have been packed in it's box in a warehouse for years and was very old product, or probably not the same quality as the first one I owned. This is not worth purchasing as it will not last for any length of time.
---
By coolbed01 on Dec 29, 2021
my floofs love it!
My foster is a Great Pyrenees puppy and she loves it! We live in Texas and it's 80-90 80% of the year and high humidity. It definitely cools her off. I'd recommend to anyone with a fluffy dog who gets hot easily
---
By KMae on Oct 18, 2021
Love it because my dog loves it!
Just moved to florida from Maine and my bully mix breed struggles in the heat! Now, with the cool bed, he knows to get off the hot pavement or out of the sun in general and lays on the mat. Be totally understands that it will always be the better spot for him in this kind of heat! I put 3 gallons of water in the size medium mat! Set up was easy! Keep it in the ac inside at night and I put it outside for short periods when I sit on the patio.
---