K&H Pet Products EZ Mount Bubble Pod Cat Window Perch
---
About This Item
Securely attaches to any window in seconds with the proven suction cup mounting system.
Enclosed design features a side opening so that cats can easily enter and exit.
Includes a soft, warm, and cushy Amazin' Kitty Pad to make it ultra-comfortable for snoozing.
Gives cats an out-of-reach escape from dogs and children in the household.
Perfect for sunbathing and watching over the house; comes in two fun colors.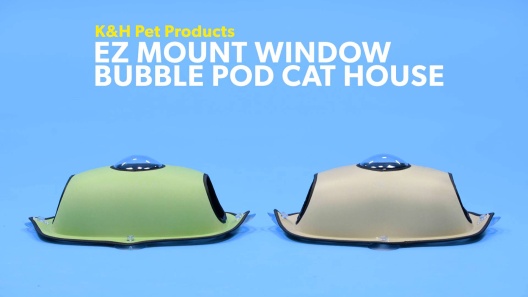 Learn More About K&H Pet Products From Our Team of Experts
---
---
About K&H Unheated General Cat Products
K&H Solutions for Your Cat
Take care of your cat with a wide assortment of premium K&H pet accessories. They offer a bed for every cat's unique needs, from windowsill beds, kitty sacks to loungers and more. Your feline will love having her very own cozy, personal space and you'll love the quality that K&H puts into their pet beds.
Green And Energy Efficient
Made from green, bio-based foam and polyfill from recycled bottles, many K&H products use less energy than the average nightlight.
Machine Washable
All K&H beds are either machine washable or made with a machine washable cover for cleanliness and convenience.
Vet Recommended
Veterinarians and pet experts recommend both traditional and heated K&H pet beds for their reliability and comfort.
Therapeutic Warmth
Every K&H bed and mat provides soothing warmth for muscles and joints—perfect for active or aging and arthritic pets.
Safety
K&H prioritizes safety and works closely with MET Laboratory to ensure all their products are safe for your pets and home.
About K&H Pet Products
K&H has over 20 years of experience making products for pets with the goal of making their lives—and yours—better and easier. They know how much you care about your pets and are dedicated to designing innovative, quality solutions that enhance their comfort and well-being.
Shop K&H
Compare Similar Items
| | | | | | |
| --- | --- | --- | --- | --- | --- |
| | | | | | |
| Customer Rating | | | | | |
| Price | | | | | |
| Cover Material | Faux Fur, Synthetic Fabric | Faux Fur, Nylon, Synthetic Fabric | — | Faux Fur, Synthetic Fabric | — |
| Furniture Features | Removable Bed | Removable Bed | Removable Bed | Removable Bed | Removable Bed |
| Furniture Frame Material | Plastic | Plastic | Plastic | Plastic | Plastic |
| Height Range | 30 inches & under | — | — | — | — |
| Tools Included | No | No | No | No | No Tools Required |
| Furniture Mount Type | Suction | Suction | Suction | Suction | Suction |
| Assembly Required | No | No | No | No | Yes |
---
Questions & Answers
9 Customer Questions
---
What holds it on the window? Suction cups?
Answer by • Oct 12, 2017
This Cat House securely attaches to any window in seconds with the proven suction cup mounting system.
---
What is the weight capacity?
Answer by • Jun 15, 2021
The Window Pod can hold up to 50 pounds.
---
How does the cat get in and out of the big "window bubble", pray tell?
Answer by • Sep 01, 2019
This pod features openings on each side, so that cats can easily enter and exit. The openings measure approximately 8 inches by 5 inches.
---
My place gets a lot of sun. I am wondering when the sun hits the window does that pod become a sauna? Does it get too hot for the cat?
Answer by • Feb 14, 2018
The Cat House will become warmer if sun is shining on it. Luckily, most cats enjoy basking in the heat of the sun. If they become too hot, they can easily remove themselves.
---
---
---
By Megs27d on Jul 10, 2022
Josey says YES!
This isn't every Kitty's cup of tea, but our Josey sleeps here non-stop. Her use of this bed makes it well worth the cost. It took a little while for her to warm up to it but now she spends most of her day here.
---
By Love on Jun 10, 2022
You'll be the best cat mom/dad ever!
My cats absolutely love it! I may have to purchase a second one for my other apartment window! Alittle hesitation with my 20lbs+ cats, but it's not going anywhere! Super heavy duty suction cups- super sturdy!
---
By Eliza on Mar 3, 2022
Quite sturdy
I didn't buy this thing, a friend gave me a used one for free. It's been two years and it still stick exactly where it was put, never fell off. At first none of my cats seem to be interested. Then a while later, my roommate's kitten started to enjoy it. Then fall came, and my 9Ib girl figured the good of it and started napping in this every afternoon. My 13 lb boy refused to try this thing for almost 2 years, and I also believe he will not fit in such a small space. But weeks ago, one day, he appeared inside this. And since then, he basically occupied this. When I think, oh wow he fits, i discovered that he does not only fit in this thing but is also able to turn himself inside it. Proof to cats are liquid. So I guess most cats will like this if they figure how to enjoy it, the question is how long they need to figure how to use. And if your cat is around 13lb or below, trust me they fit, if they are willing to fit inside.
---
By HenryRex on Jun 15, 2021
Cat Approved!
It took a bit for him to warm up to it, but now he loves it! Both cats like it, but this guy is crazy about it, especially on warm, sunny days.
---
By Bobbie on Dec 13, 2020
Cat Bubble
I purchased two of these, as I have 2 cats. Both cats love to be in the windows, so much so that they trash my miniblinds. So I purchased these to give them a safe place to watch the world. Hmm - no! The product was great, the cats wouldn't go near them. I had to put both of my cats in them and block the exit so they would stay in it. I left them up for 2 weeks to see if they would try them when I wasn't around - Nope. So I called Chewy and they immediately let me return them. I love Chewy. I have now ordered my cats new window perches, hoping an open perch will be the ticket for these two.
---
By Niki on Oct 14, 2020
Over 3 years and it still holds my hefty girls!
This pod is actually much more flexible than it appears. I've used these on sliding glass patio doors, on glass shower doors, on smooth tiles IN the shower (foster fail bottle babies were raised in the bathtub and love spa time), on car windows, and of course on regular old windows. A bit worse for wear—but still totally functional—my kitties have fought each other while standing on top of these and harassed one another within them. After more than 3 years and 3 moves, these pods are a bit scratched up and sun-damaged (on the black interior), but the yellowed suction cups can still support the weight of two 13-lb cats (one cat in the pod, and the other standing on top). The pods are actually pretty versatile for window size, too. I've squished the sides in to make it fit in smaller windows when necessary. I also like to leave the top suction cup unattached so they can turn around while standing inside the pod. The little bed pad inserts are objectively ugly, so I bought some cotton burping cloths for babies and I fold these pads inside them—like the cloths are a pillow case—so I can wash them once a week. I would absolutely buy these again. They hide behind my curtains pretty well and keep my cats out of my plants on the window sill. I have a 15 lb cat and a smaller blind cat that love to get sun in the pods, but the top suction cup needs to be left open.
---
By Sarah on Dec 25, 2020
Cat won't go in
It is sturdy and suctions well to the window. I cannot convince our cat to go inside it.
---
By mogwai on Jul 5, 2020
future kitty
She loves her new space pod. She was a bit hesitant getting into it but once she figured it out she's spends her mornings here.
---
By FaitheImmortalle on Feb 23, 2020
I wouldn't buy it
My cats find it too small and it is now a dust magnet. Won't buy again and wish I hadn't bought it.
---
By Momofthreecats on Dec 29, 2019
Bubble Pod
I have three cats and nobody will go in. They have the bed you lay in on the window by the same company and thought they would use this but its a not winner.
---