K&H Pet Products EZ Mount Cat Window Perch, Gray
Frequently Bought Together
---
About This Item
Offer your feline friend a comfortable and fun spot to sunbathe and view the outside world.
Built with industrial-strength suction cups to securely hold up your curious kitten.
Features a removable cover that's machine washable to add extra comfort to your cat's window.
Folds up against the window pane when you want to close the blinds.
Can be used with the K&H heated pads (sold separately) to create a home just for your precious pet.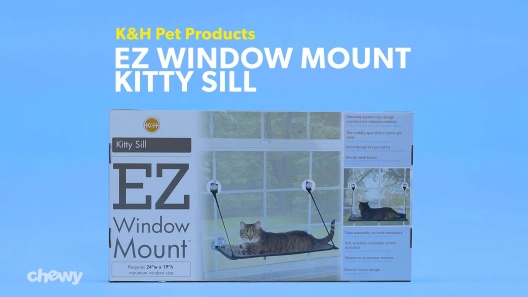 Learn More About K&H Pet Products From Our Team of Experts
---
---
About K&H Unheated General Cat Products
K&H Solutions for Your Cat
Take care of your cat with a wide assortment of premium K&H pet accessories. They offer a bed for every cat's unique needs, from windowsill beds, kitty sacks to loungers and more. Your feline will love having her very own cozy, personal space and you'll love the quality that K&H puts into their pet beds.
Green And Energy Efficient
Made from green, bio-based foam and polyfill from recycled bottles, many K&H products use less energy than the average nightlight.
Machine Washable
All K&H beds are either machine washable or made with a machine washable cover for cleanliness and convenience.
Vet Recommended
Veterinarians and pet experts recommend both traditional and heated K&H pet beds for their reliability and comfort.
Therapeutic Warmth
Every K&H bed and mat provides soothing warmth for muscles and joints—perfect for active or aging and arthritic pets.
Safety
K&H prioritizes safety and works closely with MET Laboratory to ensure all their products are safe for your pets and home.
About K&H Pet Products
K&H has over 20 years of experience making products for pets with the goal of making their lives—and yours—better and easier. They know how much you care about your pets and are dedicated to designing innovative, quality solutions that enhance their comfort and well-being.
Shop K&H
Compare Similar Items
| | | | | | |
| --- | --- | --- | --- | --- | --- |
| | | | | | |
| Customer Rating | | | | | |
| Price | | | | | |
| Cover Material | Faux Fleece, Synthetic Fabric | Faux Fleece, Synthetic Fabric | Faux Fur, Synthetic Fabric | Nylon, Synthetic Fabric | Felt, Sisal, Plant Material, Synthetic Fabric |
| Furniture Features | Removable Bed | Removable Bed | Removable Bed | — | Hanging Toys |
| Furniture Frame Material | Steel, Metal | Steel, Metal | Plastic | Plastic | Cardboard |
| Tools Included | No | No Tools Required | No | No | No |
| Furniture Mount Type | Suction | Suction | Suction | Suction | Free Standing |
| Assembly Required | No | Yes | No | No | Yes |
| Lifestage | Adult | Adult | Adult | Adult | Adult |
---
Questions & Answers
35 Customer Questions
---
My cat is on the heavy side and the sill has started to tilt after just two weeks. How can I remove the top suction cups to create tension in the straps, again?
Answer by • Jul 28, 2017
Turn the tension knob counter clockwise to loosen the cup mechanism. This should allow you to then pull at the edge of the suction cup to remove it. Re-position and firmly press the suction cup back in place, and turn the knob clockwise again to re-tighten it.
---
I can only get one of the suction cups for the top of the bed to stick to the window. I've cleaned the window and the suction cups and it still won't work. Any tips?
Answer by • Nov 09, 2018
Clean the surface with rubbing alcohol and dry thoroughly. Rinse the suction cup under warm water and make sure excess water is dried thoroughly. Lastly, press the suction cup firmly in place, making sure there are no air bubbles between the cup and the mounting surface.
---
Does the window mount kitty sill fold up for privacy at night
Answer by • Feb 07, 2018
You can fold the shelf up so you can still use the blinds, curtains or shades without trouble.
---
Will the suction cups stick to the metal frame around my window or will it only stick to glass? The glass is not wide enough.
Answer by • Mar 16, 2020
It is possible for the suction cups to stick to a metal surface.
---
---
---
By Mycatslovethis on Aug 29, 2022
Great Customer Service!
I purchased two cat perches, my cats love them! They use them all the time. We bought them in Nov 2021 and the suction cups just started failing, I followed the manufacture instructions to a T. Twice. Even called the manufacturer for parts ($39 for four suction cups plus shipping) but since my perch was still under their 1 year warranty Chewys honored it and sent me a replacement:) customer service "Lara" was pleasant, helpful and a delight to talk to I am very happy with my purchase even with the problem because Chewys came through for me and my cats!
---
By SimaCat on Aug 3, 2022
Best purchase of 2022
Our 1 year old cat loves this. We live in a basement apartment and it has 2 typical basement windows that are small. The best sunbathing/bird viewing option for our cat is our main door in the bulkhead that looks into the backyard. This bed is technically too big and the bottom suction cups don't sit on the glass the way we had to set it up to be able to still use the door. So the top suction cups are on the glass, and we secured the bottom ones to the door itself with heavy duty tape. Our cat is about 7lbs and it's very sturdy for her this way. She absolutely loves it and spends every morning napping up there. You can see from the pics that it may not be a good fit for large cats. Our girl is young and petite and she takes up the whole thing easily when she's laying on her side. 10/10 recommend.
---
By ZooMama on Sep 17, 2022
Awesome window ledge!
After tons of research, I bought this window ledge for my feral cat to enjoy - and I'm so happy I did. I followed the directions exactly (re the suction cups) and it works perfectly, able to hold her 8 pounds safely. She loves lounging on it and looking at the birds outside. It's been a couple of months since it's been up and we've had no problems with it at all. Highly recommend.
---
By michelecopter on Aug 29, 2022
didn't last
My kitties LOVED this so much that we got a second one for our large window. They each took a nap on it daily. After a few months one of the upper suction cups would fall every few weeks or so. Then is became quicker and quicker, until at least one would fall per day. We cleaned them and dried the suction cups each time and cleaned the window. We didn't feel safe leaving them up anymore. After a few weeks I tried again and within 30 minutes one of the cups fell. I think they may not be good long term. Too bad!
---
By Nathalie on Sep 7, 2022
Looks comfortable...
Getting the cups to stick to the cleaned window even after placing them in hot water as per the directions was a little bit of a process. After a few days one side keeps falling off, but I guess that doesn't matter because my cats want nothing to do with it. I tried catnip, treats, toys to no avail. I have the most uncatlike cats. Unfortunately I don't have the box anymore so I can't return it.
---
By Elis on Aug 17, 2022
Great product
It's been 4 months since I bought and installed this product, and has been on it place until today that one of the sucking cups detached from the window. I just follow the instructions for the instalation and works very well. Once in a while I tried to adjust and check the sucking cups, just to reassure they were in place. Although just one of my 2 cats use it, I can tell you that it holds a 13 lb chunky cat for a long nap and sun bath.
---
By Maddy on Sep 12, 2022
Great price great quality
I love this item. It sticks amazing me and my boyfriend will have a difficult time getting it off if we need to move it. It is soft and perfect for our kitten, if you have a giant Maine coin it might be too small. Otherwise Id say it would fit all medium sized cars up to most large cats no problem. Worth the price!
---
By Izzie652 on Aug 21, 2022
Cat loves it!
The hammock works great! Followed the instructions and those suckers aren't moving very strong and sturdy. What's nice is that Hermione now has her very own spot that Koda can't bully her out of bc he wants her spot. Koda can't figure out how to get up there so it's all Hermione's and she loves it. It's her own personal cat TV and oasis away from her brother :)
---
By GAnn on Aug 23, 2022
Faulty Cup
Like several other reviews have noted, I too unfortunately got a perch with a top section cup that doesn't work. It's just one cup that fails to adhere. It works well for a day or two, but now the cats don't want to get on it since they have taken a tumble. They loved it at first. The other 3 cups are good. My cats are 12 pounds and 8 pounds.
---
By Ashley on Aug 28, 2022
Cat likes but some design flaws
My cat loves to sit on it once I put her up there, but she is afraid to jump onto it because there's no solid support base in it. It also doesn't stay folded very well, 9/10 times I fold it up it falls down within five minutes. I chose this instead of some other perches because it is supposed to fold and so the fact it doesn't stay upright is a bit disappointing.
---