K&H Pet Products Heated Thermo-Poultry Waterer, Gray, 2.5-gallon
Frequently Bought Together
---
About This Item
Ingenious shape eliminates roosting and the dirty water that comes with it plus an easy-carry handle.
Economical 60-watt heater keeps water ice-free in cold weather and has been tested in sub-zero temperatures.
Easy-flow, BPA-free design fills the tray gently and eliminates the muddy mess from half the water spilling over during refill.
Removable water filter allows you to clean the tray in seconds by tapping to remove the debris. No draining needed!
Spill-proof tank cap means no more spilling out half the tank trying to assemble it into the base.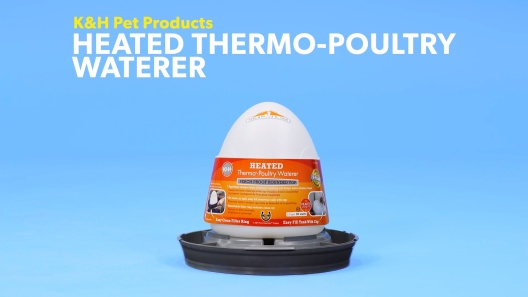 Learn More About K&H Pet Products From Our Team of Experts
---
---
About K&H Heated Small Pet & Farm Products
K&H Heated Solutions
K&H offers a variety of products designed to make your pet more comfortable. Their wide range heated products are all MET certified, making them a safe and comfortable solution for keeping your furry friend warm, indoors or out.
Safety
Safety for your pet is K&H's number one priority. They work closely with MET Laboratory to ensure their products are safe for your pet and home.
Soothing, Eco-Friendly Warmth
Green & Energy Efficient
Many K&H products cost less to run than a night light. They use foam from bio-based materials and poly fill made from recycled bottles.
Machine Washable
K&H beds are either machine washable or made with a machine washable cover, to make keeping your pet's bed fresh convenient and easy.
Vet Recommended
Veterinarians and pet experts use and recommend the traditional K&H bed line as well as their heated line of bed products.
Therapeutic Relief
K&H beds and mats provide warmth to relax the muscles of active pets, and to soothe the joints and muscles of aging and arthritic pets.
About K&H Pet Products
K&H has over 20 years of experience making products for pets with the goal of making their lives—and yours—better and easier. They know how much you care about your pets and are dedicated to designing innovative, quality solutions that enhance their comfort and well-being.
Shop K&H Pet Products
Compare Similar Items
| | | | | | |
| --- | --- | --- | --- | --- | --- |
| | | | | | |
| Customer Rating | | | | | |
| Price | | | | | |
| Bird Type | Chicken, Duck | Chicken | Chicken | Chicken | Chicken |
| Material | Plastic | Plastic | Plastic | Plastic | Plastic |
| Capacity (Max) | 2 1/2-gallon | 5 gallons | 3 gallons | 3-gal | 5 gallons |
| FarmAnimalType | Poultry | Poultry | Poultry | Poultry | Poultry |
| Bowl & Storage Feature | Heated | — | — | Heated | — |
---
Questions & Answers
22 Customer Questions
---
How do you keep chickens from chewing/pecking the cord?
Answer by • Jun 26, 2019
Generally, chickens would peck at anything. Some chickens might leave the cord alone, while others might peck at it. One option to hide the cord is running it through a PVC pipe.
---
Is this battery or electric?
Answer by • Jul 19, 2017
This product is electric.
---
Will the water in the tank freeze?
Answer by • Jan 08, 2018
The water will not freeze if used as directed.
---
Is there a convenient way to hang the waterer? I have found keeping the waterer above ground level keeps the birds from getting dirt in the water
Answer by • Oct 30, 2018
This waterer was designed to be used on a hard level surface. For safety purposes, we do not recommend hanging this product.
---
---
---
By Paul on Oct 28, 2022
Heated Chicken Waterer
Seems to be pretty good quality. I'll report back after freezing weather sets in.
---
By OhioLady on Feb 5, 2022
Works so well
I love that I can fill it and seal it, then carry it to the chickens. Our ones before this were so hard to carry without getting water everywhere, & on your pants, as you slip in the mud or snow on the way to the chickens. The little rubber seals on the metal ones never worked. The red and white ones you carry upside down & spill it down your front while trying to balance it, or right side up and it splashes out on your legs. Then you have to fight the cord to put the bottom on and flip it over. None of that with this. Only thing with this one is the little screen doesn't do much, but we never had anything like that on the old ones anyway.
---
By Waterer on Jan 22, 2022
Therm-Poult-Waterer
The H-T-W works as expected. I have it set up in the corner of two indoor flypens. This allows both flocks of pigeons to drink from it. It has kept their water unfrozen in -0 degree temps as I live in Wisconsin. I really like the water tank as it is easy to fill, carry and flip with little water spillage. The only negative is that the tray is too wide. This really allows too much liter and droppings to fall into it. A narrow-er tray would prevent it. Fowl could still drink from it- so there is no need for such a wide tray.
---
By CluckinNuts on Jan 23, 2022
Keeps water from freezing
This is a nice waterer for the chickens. It definitely works at keeping the water from freezing. When I opened this and went to set it up. The little plastic plug that keeps the water from flowing out when setting it onto the base, was ripped. So that's the only thing that was wrong with it. It's not a big deal to me. I can set it onto the base quick enough without it spilling everywhere.
---
By chickywater on Dec 23, 2021
Best one I have tried in years.
We haven't had a serious cold but so far it has worked great out in my run in the below freezing we have had (nothing below 20º as of yet, located in Central IL). I like that the water does not spill out all over when putting tank on base, and it says place on level ground but as long as its close enough it does leak over the sides. I did not give it 5 stars because I feel that the cover for the water tank is rather annoying to line up and close properly so it fits right with out stripping the groves. I have about 25 chickens and fill it ever other day.
---
By Sarah on Dec 10, 2021
Does the job
Quite expensive for what you get. The plug is very flimsy. The threads to screw the cap onto the tank are poorly formed plastic. the removable tray is a nice idea, but it still needs to be cleaned out. One hard tap on a below freezing day and I can see it cracking. Water out all day has not frozen so far, so in the end it is good for its intended purpose. I take it in the house in the evening and clean it for the next day. Has cut down on trips to the coop to check the waterers throughout the day.
---
By LHas on Mar 7, 2022
Pretty much garbage
Have had this waterer up and running less then a month and the water in the ring and tank are frozen solid. Great product....
---
By JenW on Jan 10, 2022
leaks on third refill
I'm super bummed. I've had this for 10 days and it leaks all the water out as of today. I read some similar reviews and I just want to warn shoppers. My freezing run is now full of ice from this waterer leaking out a gallon of water.
---
By Shira on Nov 17, 2021
You had one job
I got this in hopes that my ladies would have a constant water supply throughout the winter months. Unfortunately, this thing is made extremely poorly. The plug on the water reservoir doesn't pop out when the base is attached, so no water dispenses and if you manually unplug it and attach it to the base, no water will remain in the reservoir. The water also isn't warm, so the very purpose of it preventing freezing is not present. What a tremendous waste of time and money.
---
By Birds on Jan 28, 2022
Highly recommend this waterer.
This has to be hands down the best heated waterer out there. You lift the container, fill and replace, no moving the base and hoping the bottom doesn't fall out.
---