K&H Pet Products Lectro-Soft Outdoor Heated Pad
---
About This Item
Inner orthopedic foam is wrapped in water-resistant PVC that stands up to outdoor elements and dries quickly.
Great for dog houses, porches, garages, barns or in the home, can be used indoors or outdoors.
Thermostatically controlled to warm to your pet's normal body temperature.
Includes a fleece cover that removable and washable.
Features a 5.5-foot steel-wrapped cord and is MET listed for safety.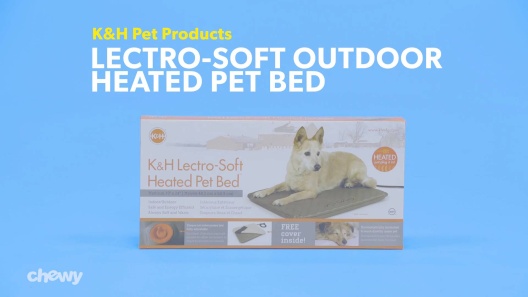 Learn More About K&H Pet Products From Our Team of Experts
---
---
About K&H Heated Dog Products
K&H Heated Solutions
K&H offers a variety of products designed to make your pet more comfortable. Their wide range heated products are all MET certified, making them a safe and comfortable solution for keeping your furry friend warm, indoors or out.
Safety
Safety for your pet is K&H's number one priority. They work closely with MET Laboratory to ensure their products are safe for your pet and home.
Soothing, Eco-Friendly Warmth
K&H products provide therapeutic warmth for your best friend, and they are energy-efficient and easy to care for, too. Your pet will love the muscle and joint relief they provide and you will love knowing they are green and easy to clean!
Green & Energy Efficient
Many K&H products cost less to run than a night light. They use foam from bio-based materials and poly fill made from recycled bottles.
Machine Washable
K&H beds are either machine washable or made with a machine washable cover, to make keeping your pet's bed fresh convenient and easy.
Vet Recommended
Veterinarians and pet experts use and recommend the traditional K&H bed line as well as their heated line of bed products.
Therapeutic Relief
K&H beds and mats provide warmth to relax the muscles of active pets, and to soothe the joints and muscles of aging and arthritic pets.
About K&H Pet Products
K&H has over 20 years of experience making products for pets with the goal of making their lives—and yours—better and easier. They know how much you care about your pets and are dedicated to designing innovative, quality solutions that enhance their comfort and well-being.
Shop K&H
Compare Similar Items
| | | | | | |
| --- | --- | --- | --- | --- | --- |
| | | | | | |
| Customer Rating | | | | | |
| Price | | | | | |
| Breed Size | Extra Small & Toy Breeds | Extra Small & Toy Breeds | Extra Small & Toy Breeds | Extra Small & Toy Breeds | Extra Small & Toy Breeds |
| Material | Fleece, Plastic | Fleece | Fleece | Plastic | Nylon |
| Features | Heated, Water-resistant, Machine-washable, Removable Cover | Heated, Machine-washable, Removable Cover | Heated, Machine-washable, Chew-resistant, Removable Cover | Heated, Machine-washable, Chew-resistant, Removable Cover | Cooling |
| Lifestage | Puppy, Adult | Adult | Adult, Puppy | Adult, Puppy | Puppy, Adult |
| Bed Feature | N/A | N/A | N/A | N/A | N/A |
| Bed Shape | Rectangular | Rectangular | Rectangular | Rectangular | Rectangular |
| Pattern | Solid | N/A | N/A | N/A | Solid |
---
Questions & Answers
45 Customer Questions
---
Can this heating pad remain plugged in for a week?
Answer by • Dec 21, 2018
You should always unplug the K&H Pet Products Lectro-Soft Outdoor Heated Pet Bed from the outlet when not in use.
---
Is this pad activated by the pet laying on it or is it warm as long as it is plugged in? I have a feral cat that has been sleeping under my shed. Cats are draw to heat and if the pad doesn't warm up until the animal is on it it may not be what the feral cat needs.
Answer by • Jan 07, 2019
K&H outdoor beds and pads are designed to warm to your pet's normal body temperature of 102°F when he/she lies on the bed or pad. When your pet is not on the bed or pad, the heat will dissipate into the air and the surface temperature will vary according to the ambient air temperature.
---
Can a blanket/pad be placed under the heated pad? Can the heated pad be placed inside a igloo type house?
Answer by • Nov 17, 2018
It's recommended to place the Lectro-Soft directly on a hard, flat surface in your home, garage, porch, kennel or pet house and should not be covered with blanket, or pad.
---
What is the actual size?
Answer by • Dec 26, 2017
The Small is 14 x 18 x 1.5 inches and the Medium is 24 x 19 x 1.5 inches.
---
---
---
By Monica on Apr 12, 2022
Disappointed in heat
The cover has a hole for the cord to go through but it appears to be on wrong side... Because i noticed the bottom (upside down) was much warmer than the top. The heat is barely noticeable... It just feels like something was there 30 minutes ago. I flipped it over, same thing. Heat too subtle for it to be any use in my opinion. I feel like there's no difference between this and self heating pads. My rabbits love to sit right next to the space heater. The metal around cord is very neat idea though. For my chewy rabbits.
---
By Kellymeow on Apr 21, 2022
Dependable constant warmth
I have several of these in different sizes inside my house and outside in a covered garage for the stray kitties and one loyal guard dog. I never worry about them being on all of the time because they are completely safe. I would say in my case that they have always been sheltered from weather, so not tested outside. But absolutely left on constantly and have never had an issue. They also last for years.
---
By DivineCatMom on Mar 23, 2022
Nice heating pad for cats
I got this heating pad for the cats in our outdoor colony. They have access to an unheated enclosed shed. This pad gives them some extra warmth. It doesn't get too hot, and it doesn't heat until pressure is applied. It comes with a removeable soft cover for washing. This pad would also be good for elderly/infirm indoor cats who need extra warmth (better than a human electric blanket or heating pad, which may get too warm). I really like K&H products. We have several of their products for our outdoor cats, and they have functioned with no problems for years now.
---
By feelie75 on Mar 10, 2022
Did not meet expectations
Unfortunately, I'm quite disappointed in this product. It seems there is much confusion online also, I believe multiple different variations of this product have been released under the same name causing some customer reviews to question other customer reviews. Like the auto-inflate. The directions clearly say to plug it in and it will just automatically inflate itself within 15-30 minutes (some reviews claim the instructions do not say that). Either way, it doesn't work. I waited over an hour. I finally just had to pucker up and inflate it with my own breath and close the seal. but then it was flat and deflated the very next morning. So 2 strikes so far. Also, it barely gets warm, like BARELY warm at all. I wouldn't even call it luke warm, my breath is warmer than this thing gets. You can get a much cheapter covered-in-cloth heating pad at local superstore with multiple heat settings that works much better (the lowest heat setting will not burn your cat, trust me). Also, it says this is "outdoor" but I'm not really sure what makes it outdoor. It needs to be covered and sheltered from the elements. Is it just because it has a metal coil around the cord? Oh yeah, that's the other thing, the cord is AMAZINGLY SHORT! You'd think they would realize that if you're using it OUTDOORS, that the chances of a nearby outlet are pretty slim. So that's disappointing. Again, the local heating pads came with MUCH longer cords. If you're cat or dog house is under a sheltered patio, I don't see any benefit with paying extra for this unit that only has 1 heat setting that's barely warm. Ok, that's my rant. Not recommended by me from my personal experiences with it. Hope others have better luck. Thanks! :)
---
By Karen on Apr 25, 2022
Warm 'n Toasty
I purchased this for an outdoor stray cat that has adopted me. I needed to keep him warm during the winter. I made him a nest in my husband's workshop n put the heating pad on top. The cat found it n uses it! It keeps him warm during the cold.
---
By Dobby on Feb 10, 2022
I would recommend this product
I purchased during a cold and snowy weekend that was headed our way. I have been working with a feral cat and couldn't stand the thought of her being in the cold. I set up a small greenhouse in my she shed and placed the pad on a couple of boards the covered the board so it wouldn't be hard then I laid the pad and cover over it and she loves the heat. When I went to check on how warm she did not want me to mess with it. She has been a very happy kitty loving the heat. I know e anywhere to find her when it's windy, cold or snowy. She has a new home when the weather is bad. Not too hot but comfortable for her body.
---
By HookersMom on Jan 28, 2022
Better than expected
I have a 2-story kitty hobo house on my deck for the neighborhood cats and wanted to heat both levels. I already had an older hard heat pad in the top level but this one conveniently bends in half so I can get it in/out the bottom door flap without disassembling the whole interior. I insulated the house and got a thermometer to make sure it stays working and now the house stays a solid 20F more than the outside temp with both pads. When directly on this pad, it will likely keep them thawed even down to 0F, maybe less with my set-up. It's nice quality!
---
By detwalker on Feb 14, 2022
great for stray kitties
To the small number of ppl who claimed their pad didnt work/ heatup... the pad only heats up when the pet lays on it, when it senses weight on it! Try reading the directions/info on box!!! I bought mine last winter. Its still working great! I leave mine plugged in all winter inside a cardboard box which is under a shelter, next to the wall outlet. There is currently a new stray who has been using it every night. I also have a K&H heated water bowl plugged in... love that too. works great!
---
By LindaB on Jan 26, 2022
It's the Best!
I've tried many different versions of an electric bed. I have used them indoors and outdoors (under cover, of course). This bed is the best I have ever used. It is warm, easy to clean, and inflates to a comfortable, soft pillow. The cover is easy to remove for cleaning, which is often not the case. Some heated mats can't be covered with anything. This one definitely checks all the boxes. At present, I have 21 cats, 19 of whom are outdoors. I ordered the 36" bed to put under my deck table, which I then turned into a tent. Four large cats pile up on it every night! I have three of these beds. I use one in the house for a geriatrics boy and a third for an ole lady in my barn. "We" love this bed!!
---
By MissJaneJetson on Jan 21, 2022
Perfect for Outside Cat!
My outside kitty is a long-time feral who decided to make my backyard his home. I've fixed up a good place for him to sleep, but I was worried because we get a couple of very cold nights each year. Since he's feral, he's nervous about any sort of change, but it was so cold that he almost didn't have a choice about going into his house after I placed the pad in it. He seems to love it! Once he went in his house, he didn't come out for a long time. The mat is covered with a thin pad for washing. The pad seems a little flimsy to me but time will tell. I tested the pad with a pillow per the instructions before I placed it in kitty's house. Worked so well. I've purchased other K&H products before and I've always been happy with my purchases. I'm thankful for this pad because I want my little guy to be warm!
---