---
About This Item
Durable neoprene cover and a silicone bladder makes for a long-lasting product.
Designed for indoor use and will only stay warm up to 8 hours in a climate-controlled indoor environment.
Non-toxic and simple to use, just 4-5 minutes in the microwave is all it takes.
Easy-to-clean, this item should be hand washed in the sink with soapy water and rinsed well, then hung to dry.
Being soft, squishy, warm, and comfy, the K&H Microwavable Pet Bed Warmer is the only one of its kind.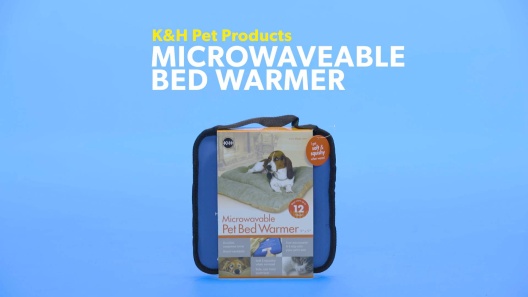 Learn More About K&H Pet Products From Our Team of Experts
---
---
About K&H Heated Dog Products
K&H Heated Solutions
K&H offers a variety of products designed to make your pet more comfortable. Their wide range heated products are all MET certified, making them a safe and comfortable solution for keeping your furry friend warm, indoors or out.
Safety
Safety for your pet is K&H's number one priority. They work closely with MET Laboratory to ensure their products are safe for your pet and home.
Soothing, Eco-Friendly Warmth
K&H products provide therapeutic warmth for your best friend, and they are energy-efficient and easy to care for, too. Your pet will love the muscle and joint relief they provide and you will love knowing they are green and easy to clean!
Green & Energy Efficient
Many K&H products cost less to run than a night light. They use foam from bio-based materials and poly fill made from recycled bottles.
Machine Washable
K&H beds are either machine washable or made with a machine washable cover, to make keeping your pet's bed fresh convenient and easy.
Vet Recommended
Veterinarians and pet experts use and recommend the traditional K&H bed line as well as their heated line of bed products.
Therapeutic Relief
K&H beds and mats provide warmth to relax the muscles of active pets, and to soothe the joints and muscles of aging and arthritic pets.
About K&H Pet Products
K&H has over 20 years of experience making products for pets with the goal of making their lives—and yours—better and easier. They know how much you care about your pets and are dedicated to designing innovative, quality solutions that enhance their comfort and well-being.
Shop K&H
Compare Similar Items
| | | | | | |
| --- | --- | --- | --- | --- | --- |
| | | | | | |
| Customer Rating | | | | | |
| Price | | | | | |
| Bed Feature | Heated | Heated | Removable Cover, Orthopedic | Machine-washable, Removable Cover | Orthopedic |
| Breed Size | Small Breeds, Medium Breeds, Large Breeds | Small Breeds, Medium Breeds, Large Breeds | Medium Breeds, Large Breeds | Giant Breeds | Small Breeds, Medium Breeds, Large Breeds |
| Fill And Frame Material | N/A | N/A | Orthopedic Foam | Polyfill | N/A |
| Cover Material | N/A | Nylon | Polyester | Polyester | N/A |
| Bed Type | N/A | N/A | Pillow | Bolster | Bolster |
| Pattern | Solid | Solid | Solid | Solid | Solid |
| Bed Shape | Square | Rectangular | Rectangular | Oval | Rectangular |
---
Questions & Answers
13 Customer Questions
---
Can this be used for our feral cats in their beds on the porch?
Answer by • Jan 04, 2018
The Microwavable Pet Bed Warmer is designed for indoor use and will stay warm up to 12 hours in a climate-controlled indoor environment.
---
CAN THIS BE USED ON TOP OF HAY OR WILL IT SET FIRE
Answer by • Jul 01, 2021
This indoor pet bed warmer should only be used inside of a pet's bed. It is not recommended for outside use or to be used with hay.
---
I have a microwave warmer, Now I have a puppy. If he chews or bites into warmer, will liquid inside hurt him? I love this warmer for my older dog, but puppy likes to chew.
Answer by • Dec 11, 2017
The non-toxic warmer is safe and stays warm for up to 12 hours inside a pet's bed.
---
Would I just place the pad on top of the bed for my bunny to sit on or would I use a cover, such as a blanket, over it?
Answer by • Jun 26, 2018
You heat this product for 4 - 5 minutes in your microwave, until warm and squishy. Then, insert inside a bed for up to 12 hours of warmth.
---
---
---
By Vinvin on Jan 31, 2022
Has plusses and minuses
As Vinvin's owner, I can report he turned out not to be interested in any type of heating pad at all, so he declines to offer an opinion on this specific one. However, I have claimed them for myself and slide them under my covers before I go to sleep so I get into a toasty bed. I have several hard discs I can compare this to. The two I bought a number of years ago were from a company that no longer seems to exist. They're pink, and they heat to perfect temperature in 3 minutes 45 seconds, and are still warm 8+ hours later! The hard disc from Arf Pets, which you can find on Chewy, lasts longer than this squishy one, but nowhere near as long as the older discs. This squishy one is comfortable for leaning against, which probably is more comfortable for a bunny, but I also would hesitate to let a bunny sit on this, as they're prone to chewing on anything and everything. For any animal that really likes to chew, I'd recommend the Arf Pets over this one. For a pet that doesn't chew, or to slide behind your own back after shoveling snow (lol), I'd recommend this.
---
By TINA on Jan 23, 2022
Microwavable bed warmer
I was not impressed with this item it takes much longer to heat up and it gets cool fast. I purchased 3 of them not worth the money. I tried using it outside for a stray kitty and did not last as it should. It may be better for an inside use rather than outside.
---
By BeBe on Dec 4, 2021
CHEERS TO K&H AND CHEWY.COM
Thanks to Chewy.com for providing a product I've been using for approx. 5 years. Thanks to K&H for making a product for consumers who are genuine, passionate animal lovers. The K&H Microwavable Warmers are perfect for my efforts to care for 2 outside kitties. With proper care, this product will last and they are safe - no elec. plug-ins required. I only re-order to have extras on-hand, not because they become defective or wear out. I rotate them which adds to their longevity. (4) wrapped warmers in a large igloo are perfect for my application. My personal thanks to both companies.
---
By Lefanu on Nov 12, 2021
Cold Weather Essential
There are 3 animals in our household and 4 K&H pet heaters of different types! This is my second microwaveable warmer; the first is still in use and has held up to a year of hard wear (being folded over and hardening that way). They're perfect for at night/ when you need to leave your pet unattended and don't want to burn the house down with a space heater. These pads are soft and squishy, unlike the hard plastic snugglesafe ones. I have 2 arthritic birds who use these as water beds on cold nights. Prolonged cold puts a strain on animals' health just the same as it does humans. These stay warm for maybe 6 hours, so there is a lot of microwaving that goes on. Be sure to put a towel or cloth between this and your pet.
---
By Beth on Nov 25, 2021
Love it! Totally recommend
I have a feral that sleeps in the greenhouse, I put towels under, the heat pad in the middle and one of the self warming mats on top, it keeps him warm for 10-12 hours, it is cold where I live and I have a nice warm kitty everytime I visit with him.
---
By musicman on Dec 27, 2021
not worth it
pad gets hot in microwave but does not stay hot for very long. lost most of its heat in less than an hour. Would not recommend.
---
By Coloradowinters on Nov 11, 2021
Ride Sally ride!
This heating pad does all it says it will. It now allows us to travel, shop, etc. while feeling comfortable with leaving our 12 lb. dog in our vehicle. I would recommend this product to anyone! Thanks Chewy and K & H.
---
By Review on Jan 2, 2022
It's just okay.
Wasn't impressed by this object. Doesn't get very warm and gets hard pretty fast
---
By Pipes on Nov 24, 2021
Fabulous and worth it
My 8 # chihuahua is in love! Keeps her warm! And when she's not using it, I am
---
By sarahk on Mar 4, 2021
well made, works great
I use this in an outdoor cat shelter, so it doesn't stay warm as long as it would if used as recommended (for indoor use), BUT it does hold warmth for about 3-4 hours even in temps in the single digits. I warm it for about 6 minutes, then wrap in a towel. Warming tip: when it is about halfway through heating in the microwave, I take it out and mush it around to break up remaining lumps and flip it over to the other side to finish heating. This seems to help get the whole thing melted evenly. I like it because it's soft, unlike some other microwavable heated discs. As it cools, it forms to the cat's body making a little cat body nest shape so he can kind of cuddle into it. I used it HEAVILY this past month when the temps were very low, warming it several times a day, every day. It has held up very well and I'm going to buy a second one.
---