K&H Pet Products Outdoor Heated Kitty House Extra-Wide Cat Shelter
Must enter code FALL2022 at checkout to redeem
Frequently Bought Together
---
About This Item
Vinyl backing and 600 denier nylon construction create a water-resistant shelter. Velcro roof for easy assembly (no tools required!).
Great for outdoor cats. Large, heated shelter (20 watts) that can be used by multiple cats at once and protects from rain, wind, and snow.
Excellent to be used use in barns, garages, porches or anywhere an outdoor cat needs additional warmth and protection. Can also be used indoors.
Features two exits with removable door flaps so your cats can't be trapped by predators.
Includes K&H Lectro-Soft heated bed that is MET safety listed.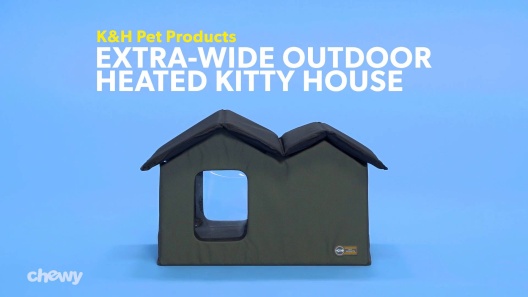 Learn More About K&H Pet Products From Our Team of Experts
---
---
About K&H Heated Cat Products
K&H Heated Solutions
K&H offers a variety of products designed to make your pet more comfortable. Their wide range heated products are all MET certified, making them a safe and comfortable solution for keeping your furry friend warm, indoors or out.
Safety
Safety for your pet is K&H's number one priority. They work closely with MET Laboratory to ensure their products are safe for your pet and home.
Soothing, Eco-Friendly Warmth
K&H products provide therapeutic warmth for your best friend, and they are energy-efficient and easy to care for, too. Your pet will love the muscle and joint relief they provide and you will love knowing they are green and easy to clean!
Green & Energy Efficient
Many K&H products cost less to run than a night light. They use foam from bio-based materials and poly fill made from recycled bottles.
Machine Washable
K&H beds are either machine washable or made with a machine washable cover, to make keeping your pet's bed fresh convenient and easy.
Vet Recommended
Veterinarians and pet experts use and recommend the traditional K&H bed line as well as their heated line of bed products.
Therapeutic Relief
K&H beds and mats provide warmth to relax the muscles of active pets, and to soothe the joints and muscles of aging and arthritic pets.
About K&H Pet Products
K&H has over 20 years of experience making products for pets with the goal of making their lives—and yours—better and easier. They know how much you care about your pets and are dedicated to designing innovative, quality solutions that enhance their comfort and well-being.
Shop K&H
Compare Similar Items
| | | | | | |
| --- | --- | --- | --- | --- | --- |
| | | | | | |
| Customer Rating | | | | | |
| Price | | | | | |
| Furniture Features | Outdoor, Heated, Removable Bed | Outdoor, Heated, Removable Bed | Outdoor, Removable Bed | Outdoor, Removable Bed | Outdoor, Heated, Removable Bed |
| Furniture Frame Material | Plastic | Plastic | Plastic | Plastic | Plastic |
| Tools Included | No Tools Required | No Tools Required | No Tools Required | No Tools Required | No Tools Required |
| Furniture Mount Type | Free Standing | Free Standing | Free Standing | Free Standing | Free Standing |
| Assembly Required | Yes | Yes | Yes | Yes | Yes |
| Pattern | Solid | Solid | Solid | — | Solid |
---
Questions & Answers
55 Customer Questions
---
We have purchased the heated cat house but the cat will not go in. Any suggestions?
Answer by • Sep 29, 2017
Cats can be super finicky when it comes to new items in their area, it may take time. You could always move treats or food closer each day to the kitty house.
---
Iis this house able to withstand windsand rain and snow
Answer by • Dec 16, 2017
K&H's heated beds and pads are water-resistant. They're designed to be used safely with pets, even when the pet is water-soaked. Please make sure to place the bed or pad in a relatively dry area such as a covered porch, garage, kennel or dog house. The bed or pad should not be placed where there is a potential for standing water from heavy rain and the product should not be immersed in water.
---
How many cats could fit in this house?
Answer by • Jul 27, 2017
There are 21 inches by 26 inches of sleeping space inside this heated house.
---
We have a patio shielded by arborvitae trees, on the weather side of our house, in Western New York. Is our patio too open for this house? An outlet isn't a problem for this heated shelter. Two beautiful strays have appeared in our neighborhood, I'm hoping the two can share this larger house.
Answer by • Aug 29, 2017
This house can be used in barns, garages, porches or anywhere an outdoor cat needs additional warmth and protection.
---
---
---
By RSM1 on Oct 1, 2022
Well made, sturdy enough for outdoors
We have had our shelter for 4 years and 7 months. LOVE IT! It sits close to our house away from the windy, rainy side of the house. Our cat loves it! It's his go to place when it is rainy or cold. The velcro is still strong and the zippered roof ends make it very sturdy! We have had no moisture problem with the shelter. The half heated/half not heated pad gives him an option he enjoys! When it's really cold, he lays with most of his body on the heated part but always finds a way to get his nose to the door! (SEE PICTURES) I highly recommend this shelter!! Chewy's customer service is THE BEST!
---
By Minnie on Sep 24, 2022
Perfect house
This is out third year putting the house out for the feral cats we adopted. After each winter I take it apart, wash it and then store it until the next winter. Our outdoor cats love it so much that we are getting another one soon to accommodate the other cats. Three cats (two adults and one Minnie one) are very comfortable in one house. I totally recommend this product but we did remove one of the doors otherwise the cats did not go in it. We placed that side up against the house to shelter from the wind.
---
By OcieOpie on Sep 23, 2022
Love these heated houses
I've had one of these for years for my outdoor only cat and he loves it. It keeps him plenty warm in the winter. I've had the current house for 5 years and, although faded, it still works wonderful. I'm buying a new one for another newly acquired outdoor only cat so they don't have to share. You would get 5 stars except you replaced the zippers on each side with velcro. Now it's harder to put together. Please bring back the zippers!
---
By Meli on Sep 28, 2022
Not worth the money
The little house is kinda cute, but cute won't keep cats warm. The heating pad barely heats up at all. We can only feel it if we press into it very hard. Cats don't weigh enough to press this hard, therefore never receiving any warmth. I definitely do not recommend this product if you're looking for something that is even remotely providing warmth to your animals.
---
By Paula on Sep 29, 2022
Nice House
I love this house, bought one in 2019, have extra strays this year and was looking for another. The price has increased by around $40.00, guess I'll keep looking. It does stand up to the elements and the strays always use it.
---
By Carol on Sep 16, 2022
K&H Pet Products Outdoor Heated Kitty House Extra-Wide Cat Shelter
This is the second heated house I bought - one house is indoors which I'll plug in when the weather gets cold, and the other is out in our Catio. The cats both inside and outside use it year round.
---
By DouDou on Sep 14, 2022
Kitty House
My outdoor kittys really like their new house. It was easy to piece together and in warmer weather I can remove the heating pad and store it for the season.
---
By RevChris on Feb 19, 2022
Purrfect Fit
We have an old Queen feral who holds the territory of our yard and several yards on either side of us. We have done the TNR with her and the 3 children she had with her at the time. That was years ago, and now she only has a son who has stayed with her (all the rest we're adopted and made house cats) but he's too skittish to bring into a warm place when it gets really bad. She's too old to deal with winter, and he can't do it alone. This house is just big enough for the 2 of them to curl up together and share their own body heat, out of the elements, with the added boost from the warming "floor" to keep the chill out of her old bones! She's even put on some weight! This house has saved her life, and quality of life! It is easy to put together, made of tough stuff, and looks great. The door flaps are able to come off via Velcro, but I found that turning it over, and putting it on upside-down lets it hang a bit higher and off the doorway proper, but it's still a bit of a wind/snow break. She likes sitting on the roof, which is plenty sturdy enough for her to do so. We kick her off at feeding time, because we lift the roof up to put their food bowl inside the house, so it doesn't freeze. Again, Velcro makes this easy.
---
By Mjhart51 on Feb 8, 2022
The partially heated floor is a bad idea
K&H makes the best products, but, the partially heated floor pad is a bad idea. It just makes the space that cat(s) can use 1/3 smaller for no good reason, at least if you live above the Mason-Dixon line. If the cat is too warm, it can get out, but, the well-designed heated pad is only the body temperature of another cat. That's healthy, smart design which uses 22-25 watts and is all the cat should get. The unheated section is in front of the door. If you want to see the face of your cutie looking out the door, you won't in this one because they are always tucked into the heated section with no door. Only the extra-wide house has the partially heated pad. I have had five K&H houses, 3 singles and 2 doubles. One double is an older model which has their older rigid plastic heated pad (comfortable with its wool cover) which heats the whole floor of the double. K&H should make a soft heated pad with covers the whole floor of the double. They are doing no favor to Northern kitties. Get the single or the Multi-Kitty A frame, which as large but has a full heated floor to read the description. Again I am a big fan of K&H products for anybody with outdoor pets or feral/barn cats.
---
By GrandMel on Feb 6, 2022
Kitty Haven
My two large cats (I call them polar bears) who prefer the outdoors, can now have a warm, safe place to sleep. One sleeps with his head at the front door and one at the back. Cats like to have an exit, and this warm, cozy home affords them peace of mind! We have it on our covered back porch where we can keep a look out, and we love it!
---