---
About This Item
Prevents drinking water from freezing even at sub-zero temperatures. Just plug it in and your pet's water will remain open all winter.
Thermostatically controlled and extremely low power consumption.
All electronics are safely sealed inside and the cord is steel wrapped to prevent abrasion and to deter chewing.
Steel wrapped chew resistant chord is 5.5-feet long allowing for lots of range when placing the bowl.
MET listed which means this product has been evaluated for safety by an approved independent lab in accordance with the national standard.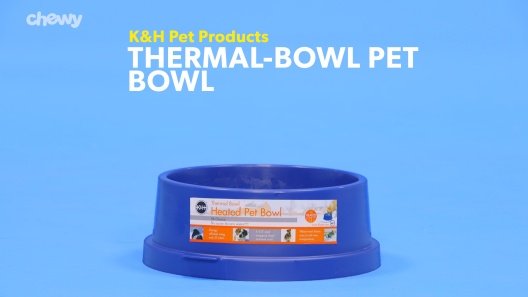 Learn More About K&H Pet Products From Our Team of Experts
---
---
About K&H Heated Dog Products
K&H Heated Solutions
K&H offers a variety of products designed to make your pet more comfortable. Their wide range heated products are all MET certified, making them a safe and comfortable solution for keeping your furry friend warm, indoors or out.
Safety
Safety for your pet is K&H's number one priority. They work closely with MET Laboratory to ensure their products are safe for your pet and home.
Soothing, Eco-Friendly Warmth
K&H products provide therapeutic warmth for your best friend, and they are energy-efficient and easy to care for, too. Your pet will love the muscle and joint relief they provide and you will love knowing they are green and easy to clean!
Green & Energy Efficient
Many K&H products cost less to run than a night light. They use foam from bio-based materials and poly fill made from recycled bottles.
Machine Washable
K&H beds are either machine washable or made with a machine washable cover, to make keeping your pet's bed fresh convenient and easy.
Vet Recommended
Veterinarians and pet experts use and recommend the traditional K&H bed line as well as their heated line of bed products.
Therapeutic Relief
K&H beds and mats provide warmth to relax the muscles of active pets, and to soothe the joints and muscles of aging and arthritic pets.
About K&H Pet Products
K&H has over 20 years of experience making products for pets with the goal of making their lives—and yours—better and easier. They know how much you care about your pets and are dedicated to designing innovative, quality solutions that enhance their comfort and well-being.
Shop K&H
Compare Similar Items
| | | | | | |
| --- | --- | --- | --- | --- | --- |
| | | | | | |
| Customer Rating | | | | | — |
| Price | | | | | |
| Bowl & Storage Feature | BPA-Free, Lead-Free, Heated | BPA-Free, Lead-Free, Heated | BPA-Free, Lead-Free, Heated | Non-Skid, BPA-Free, Lead-Free, Tip-Resistant | Non-Skid, Dishwasher-Safe, BPA-Free... |
| Breed Size | Giant Breeds | Medium Breeds | Giant Breeds | Giant Breeds | Medium Breeds, Large Breeds |
| Capacity (Max) | 96-oz | 32-oz | 192-oz | 96-oz | 3.52-cup; 28.16-oz |
| Material | Plastic | Plastic | Plastic | Plastic | Plastic, Stainless Steel |
| Assembly Required | No | No | No | No | No |
| Pattern | N/A | N/A | N/A | N/A | N/A |
| Compatibility | N/A | N/A | — | N/A | Battery Powered |
---
Questions & Answers
13 Customer Questions
---
Does the bowl heater have a thermostat or is the 25watt on continuously.
Answer by • Nov 09, 2020
The Thermal-Bowl is thermostatically controlled to keep the average water temperature just above freezing. It features internal thermostats and will turn on and off as necessary to keep the water from freezing over.
---
Why cant you use an extension cord.
Answer by • Nov 15, 2019
MET requires that all manufacturers put the extension cord statement "Do not use with extension cord" on every item that is MET listed by UL 499 standards. This is because they cannot test every extension cord on the market in conjunction with our products for safety. Also, MET suggests that an extension cord is not recommended as a permanent fixture and should only be a temporary solution when using any electrical product.Temporary use of a UL listed cord is fine, but consult your electrician for the proper cord for your application.
---
How long is the cord?
Answer by • Nov 09, 2020
The cord is 5.5 feet long.
---
We got this bowl today. Can you tell us what the watts are.
Answer by • Dec 19, 2018
This heated dog bowl uses only 25 watts.
---
---
---
By Peyton on May 5, 2022
Works well for cats and kittens
I bought two of these but have only used one, so far and it has been working well for the past two winters. My house faces southwest, which is where the dish is located. It's for the outdoor cats and kittens. The little ones will prop themselves up on the edge to drink and if it empties on a cold day, I will sometimes see a kitten curled up inside, waiting and keeping warm. It's connected with an extension cord but I keep an eye on it to make sure it stays plugged together (with a loop).
---
By Dan311 on Jan 23, 2022
Outside water source for birds and squirrels
We wanted to add a water source by the bird feeders. We had a heated bird bath about 15 years ago and it didn't work very well. I can't remember exactly what happened but we had it for only a year or two. I gave it to my brother and I think they had it out for a year and then threw it away. I thought I would look at heated bird baths again. None of them looked very appealing for where we live in Minnesota. We've had one of these heated water dishes in our garage for several years for the abandoned cats we look after and have never had a problem with it. So comparing the cost of a heated bird bath and one of these heated water dishes I thought we would try one as a water source for the birds. We have had it for a couple of weeks now with night time temperatures getting to -15 Fahrenheit for several nights in a row and it has not frozen. There is a little frost around the rim but other than that it has worked very well. I have not seen any birds get a drink yet but the squirrels drink from it every day. I have some round stones in it I thought the birds could perch on and am planning on replacing them with flat stones that may help the birds sit while drinking. I have it near some bushes as I've read that the birds are more likely to use it if there is shelter nearby they can fly to in case of danger.
---
By Samv on Feb 16, 2022
Works at 0 degrees
With temperatures dropping into the sinle digits here I. North western MD and not being able to keep water for the outside cats from freezing in a very short time. I purchased this unit. Since I've been using we have had some below zero nights and it has kept the water from freezing. Usually have to fill it several times a day.
---
By JessieV on Feb 4, 2022
Great Bowl for Keeping Water, and Even Wet Food, From Freezing
I wanted a bowl to keep canned food from freezing when I put it out for the animals at night. I put the food in one of those 8" aluminum take out type foil dishes and I set it in this bowl. It stayed unfrozen even in 10 degree weather. (Foil bowl was then washed and reused again and then this bowl stayed clean.) Water will also stay unfrozen.
---
By DSinTN on Feb 8, 2022
Lifesaver for feral cats
Before buying this bowl I was constantly having to check if the cat's water was frozen on our cold winter nights. This bowl has been a lifesaver and the feral cats love it. I noticed Cardinal birds and other animals like it is well. It was well worth the purchase.
---
By Clakity on Jan 4, 2022
Water for my kitties
Needed outdoor water bowl for the outside kitties we feed. Got one of those canteens - we live in Oshkosh NE and we had a -6 temp the other night -duh!!! What was I thinking? So I ordered one of these dishes. Glad I did! Chewy is fast so I got it in days. My husband likes the wire wrap around the cord. The dish holds a lot and it's working like a charm. Thank you.
---
By Thornezoo on Jan 24, 2022
Great product
This is a nice LARGE capacity heated water bowl. We feed a few feral cats and the freezing temps have made it impossible for them to drink from the bird bath like they usually do. This holds PLENTY of water for several days and does not freeze.
---
By Chili on Jan 10, 2022
Thermal Bowl
I purchased this heated bowl years ago and it was great. My outdoor feral cats were able to have clean unfrozen water throughout the winter. The only reason I'm purchasing another one is that I'm not able to find the bowl bought years ago, not because it doesn't work.
---
By scully on Dec 21, 2021
Great service
Every time I buy through Chewy.com I receive the product in record time. No hassles. You always have the products I am looking for with no back order necessary. Your range of products is remarkable. Even those products in high demand I never have to wait for. I have beyond satisfied with using your company and will continue to do so.
---
By Valorie02 on Jan 14, 2022
Worth every penny and then some!
This is absolutely a dream come true for every pet owner or keeper of strays. Not only does the water not freeze, it stays warm! It was -9°F and all of the outdoor animals had fresh water. Thank you for this fantastic water dish!
---