K&H Pet Products Thermal-Bowl Plastic Dog & Cat Bowl, 32-oz
---
About This Item
Prevents drinking water from freezing even at sub-zero temperatures. Just plug it in and your pet's water will remain open all winter.
Thermostatically controlled and extremely low power consumption.
All electronics are safely sealed inside and the cord is steel wrapped to prevent abrasion and to deter chewing.
Steel wrapped chew resistant chord is 5.5-feet long allowing for lots of range when placing the bowl.
MET listed which means this product has been evaluated for safety by an approved independent lab in accordance with the national standard.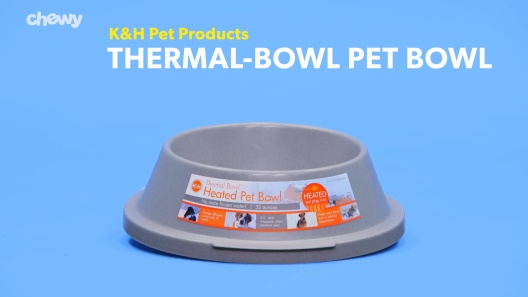 Learn More About K&H Pet Products From Our Team of Experts
---
---
About K&H Heated Dog Products
K&H Heated Solutions
K&H offers a variety of products designed to make your pet more comfortable. Their wide range heated products are all MET certified, making them a safe and comfortable solution for keeping your furry friend warm, indoors or out.
Safety
Safety for your pet is K&H's number one priority. They work closely with MET Laboratory to ensure their products are safe for your pet and home.
Soothing, Eco-Friendly Warmth
K&H products provide therapeutic warmth for your best friend, and they are energy-efficient and easy to care for, too. Your pet will love the muscle and joint relief they provide and you will love knowing they are green and easy to clean!
Green & Energy Efficient
Many K&H products cost less to run than a night light. They use foam from bio-based materials and poly fill made from recycled bottles.
Machine Washable
K&H beds are either machine washable or made with a machine washable cover, to make keeping your pet's bed fresh convenient and easy.
Vet Recommended
Veterinarians and pet experts use and recommend the traditional K&H bed line as well as their heated line of bed products.
Therapeutic Relief
K&H beds and mats provide warmth to relax the muscles of active pets, and to soothe the joints and muscles of aging and arthritic pets.
About K&H Pet Products
K&H has over 20 years of experience making products for pets with the goal of making their lives—and yours—better and easier. They know how much you care about your pets and are dedicated to designing innovative, quality solutions that enhance their comfort and well-being.
Shop K&H
Compare Similar Items
| | | | | | |
| --- | --- | --- | --- | --- | --- |
| | | | | | |
| Customer Rating | | | | | — |
| Price | | | | | |
| Bowl & Storage Feature | BPA-Free, Lead-Free, Heated | BPA-Free, Lead-Free, Heated | Dishwasher-Safe, BPA-Free, Lead-Free | BPA-Free, Non-Skid | Non-Skid, Dishwasher-Safe, BPA-Free... |
| Material | Plastic | Plastic | Plastic | Ceramic, Silicone, Plastic | Plastic, Stainless Steel, Metal |
| Breed Size | Medium Breeds | Giant Breeds | Medium Breeds | Medium Breeds, Large Breeds, Giant Breeds | Medium Breeds, Large Breeds |
| Capacity (Max) | 32-oz | 96-oz | 32-oz | 7 Cups/56 OZ | 3.52-cup; 28.16-oz |
| Assembly Required | No | No | No | No | No |
| Lifestage | Adult | Adult | Adult | Adult, Senior, Puppy | Adult |
| Pattern | — | — | — | Graphic | — |
---
Questions & Answers
9 Customer Questions
---
does it work to keep wet food from freezing?
Answer by • Jan 11, 2019
Customer's have reported using this heated bowl will keep canned food from freezing.
---
what if the bowl is empty and left on
Answer by • Dec 17, 2018
This bowl is completely safe to leave on continuously, even when empty.
---
Is this bowl safe on an uncovered patio when it's snowing?
Answer by • Nov 03, 2019
This pet bowl can be used outdoors, even in extreme cold temperatures.
---
Can water bowls be used with outdoor safty extension cord? Have no other way to use it as closest place to pug it in is about 20 feet away.
Answer by • Dec 07, 2019
It's not recommended to use an extension cord with this product. MET requires that all manufacturers put the extension cord statement "Do not use with extension cord" on every item that is MET listed by UL 499 standards. This is because they cannot test every extension cord on the market in conjunction with K&H products for safety. Also, MET suggests that an extension cord is not recommended as a permanent fixture and should only be a temporary solution when using any electrical product.
---
---
---
By lg924 on Jan 27, 2022
Recommend for out door pets
I bought this for my stray cats outside. Not only do they enjoy the water so does the local wildlife, raccoons, and possum. I don't mind sharing if it helps them make through the winter. I'm not a electrician so I don't know if this could be done but it would help if I could unplug the bowl from the power cord for it would make it easier to rinse out for it gets dirty and unplugging from the outlet and having to dig out the cord from the snow to clean it isn't easy. That's the only problem I have with this bowl.
---
My favourite bowl so far
It may be a bit small for some purposes, and also it's fairly wide so I suppose wee critters could find it hard to reach the water? But for our feral it's great. The wide base keeps it from getting knocked over or tossed around by ruffians like raccoons. My very favourite detail is that the underside is covered in a smooth plate. I have another that is deeper by iirc Farmers Labs, so less worry about water running out (though this shallower one is best for food), but it is shaped about the same on the underside as on the top, and whenever I bring it inside to sanitize it, in summer (we don't switch out the bowl in summer as cats hate change and a feral is especially nervous, plus, why buy an extra bowl), the hollows underneath are always full of spiders which gives me the willies. This flat bottom stays clean, no hidden creepy crawlies! The heat is adequate to keep food or water from freezing solid at least for a couple hours after you put it out, in even the harshest weather northern Minnesota can provide. Shelter it from the wind and there's almost no risk of freezing. The reason they can't make these things go hotter is that that would risk warming the food to the point where it could grow germs and give the animal food poisoning. Better a bit of ice than that! I use kibble with boiled water poured over it, or canned food heated in the microwave, and warm water in the water bowl, so the feral gets a bit of warmth if she shows up promptly, and if not, it will keep from freezing a bit longer. The downside to this product is that the wire coil protecting the cord isn't affixed to the bowl. There is not enough exposure to allow chewing, which is a big thing. But if only the wire were attached, the cord would be protected against wear at that vulnerable point. You know how your cel charger cord always fails at that point where it joins the solid part... cords naturally flex most at the end like that. And I'm always dragging these bowls around to wipe and rinse them and then shove them back into the shelter where the animal eats. The cord suffers from a LOT of flexing, primarily at the point where it meets the bowl. My previous purchase of this same bowl, I managed to use JB Weld epoxy (be sure to use something that won't give off toxic fumes once cured!) to stick the wire cord protector to the bowl. The latest one I tried but didn't do a good enough job and it recently came apart. So now every time I move the bowl I feel sorry for the cord. I hope it will last til spring when I can re-epoxy it. If you do something like that to prolong the cord's life, then I think you will find this a virtually flawless bowl!
---
By JConnor on Feb 13, 2022
Buy this bowl, if for cats!
Love this bowl and so do our outdoor stray cats, keeps water from freezing. Note: If you want this for a large dog, it probably is not recommend due to its smaller size, unless you want to refill this often. I think it would work well for a small to medium dog. Of course, perfect for cats.
---
By Sadie on Mar 7, 2022
Good purchase
The water bowl works as described. Water for stray did not freeze even in 4 degree f weather. Cord is short so I purchased an outdoor extension cord for better placement on deck.
---
By Schmabes on Jan 18, 2022
Sturdy bowl
I use this bowl for a cat that showed up at my door, but will not come in the house. I also provided him with a heated house for the Winter. He seems to like this bowl, because it keeps the water from freezing. Sadly, the raccoons like it too, so I have to clean it out every day. It's easy to clean, so it's all good.
---
By JayDeeeee on Jan 18, 2022
Smaller than it appears
unless that is a miniature Boston Terrier in the picture, the bowl is very small. i guess it is my fault not realizing how small 32 oz is. i just purchased a larger bowl. at 32 oz, it needs to be filled much more often. it is a great product if this is the size you are looking for....
---
By Hbhh on Dec 6, 2021
Hkjjjjjhhh
Very shallow bowl. Hard to fill up bc the wire is attached. Water last 1 day. Not something I can use for more than 1 day if I am going away. Also I spend over $150-250 per month on food. But no coupons and black Friday after my $250 order you give $30 gift cards. My expensive orders get me nothing. Very disappointing. Regular customers who spend thousands don't get anything. I'm trying to find other options to buy in store with cash. Atleast I get coupons for my purchases at other stores.
---
By CatCrazy on Nov 21, 2021
Good Heated Water Bowl
For winter, if you have cats or dogs that like to be outdoors or stray or feral cats that need to be outside, you need heated bowls for water and food. I have the thermal cat cafe made by same manufacturer, K and H and that manufacturer has great quality; I have bought many K and H products. I have tested this bowl on a few cold nights and water did not freeze. But, I am in MN and the test is below zero temperatures which we do not have yet. For all heated bowls, need to shelter them from wind when extremely cold for no freezing. Will test this bowl at -20 degrees for sure. The other K and H thermal cat cafe worked great in -30 degrees last winter when sheltered in feeding station so I am confident this bowl will work as well.
---
By CMW0822 on Nov 27, 2021
Heated outdoor pet water bowl
This 32 oz bowl is working great. Well made.. has sturdy 5 1/2' cord. Even when temps hit the low 20's here in Indiana last week, water did not freeze. I use it during the winter months in place of my bird bath that's out during the spring and summer. The birds love it as well as the chipmunks and squirrels. I sit the bowl on top of concrete blocks stacked about 2' high. I run a 25' outdoor extension cord to it. I may order another bowl that is larger..the 32 oz one needs filled twice a day ..its very popular!!
---
By Valorie02 on Jan 10, 2022
Worth every penny
I am so happy that I bought this. The animals don't stand a chance in our winters cold but it doesn't get cold enough to bother this little trouper! It's a good size bowl too, would work well for anything from cats to a Great Dane
---