K&H Pet Products Thermo-Chicken Heated Pad, Black
---
About This Item
Heated pad helps chicks to stay warm following birth and the early stages of life.
Ensures a healthy start to life by preventing chilling and pasting.
Also great for adult chickens to keep them warm during the frigid winter weather.
Internal thermostat regulates temperature, and the 12.5 x 18 inches size is perfect for most chicks and chickens.
Energy-efficient design uses only 40 watts and can be placed on the floor or wall mounted.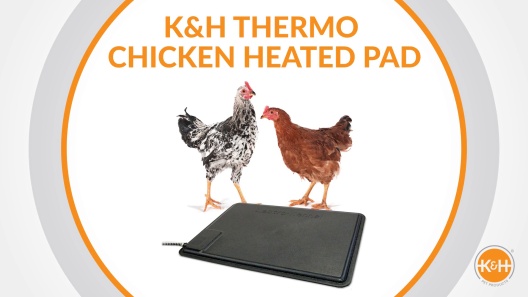 Learn More About K&H Pet Products From Our Team of Experts
---
---
About K&H Heated Small Pet & Farm Products
K&H Heated Solutions
K&H offers a variety of products designed to make your pet more comfortable. Their wide range heated products are all MET certified, making them a safe and comfortable solution for keeping your furry friend warm, indoors or out.
Safety
Safety for your pet is K&H's number one priority. They work closely with MET Laboratory to ensure their products are safe for your pet and home.
Soothing, Eco-Friendly Warmth
Green & Energy Efficient
Many K&H products cost less to run than a night light. They use foam from bio-based materials and poly fill made from recycled bottles.
Machine Washable
K&H beds are either machine washable or made with a machine washable cover, to make keeping your pet's bed fresh convenient and easy.
Vet Recommended
Veterinarians and pet experts use and recommend the traditional K&H bed line as well as their heated line of bed products.
Therapeutic Relief
K&H beds and mats provide warmth to relax the muscles of active pets, and to soothe the joints and muscles of aging and arthritic pets.
About K&H Pet Products
K&H has over 20 years of experience making products for pets with the goal of making their lives—and yours—better and easier. They know how much you care about your pets and are dedicated to designing innovative, quality solutions that enhance their comfort and well-being.
Shop K&H Pet Products
Compare Similar Items
| | | | | | |
| --- | --- | --- | --- | --- | --- |
| | | | | | |
| Customer Rating | | | | | |
| Price | | | | | |
| Bird Type | Chicken | Chicken | Chicken | Chicken | Chicken |
| Material | Plastic | Plastic | Aluminum, Metal | Plastic | Plastic |
| FarmAnimalType | Poultry | Poultry | Poultry | Poultry | Poultry |
| Bed Shape | — | — | — | — | Rectangular |
| Features | — | — | — | — | Heated |
---
Questions & Answers
28 Customer Questions
---
Can this unit be placed on the floor of a coop with bedding on top, allowing the heat to radiate up thru the bedding?
Answer by • Nov 11, 2017
We would never advise using the heated pad in conjunction with any type of electrical or heated products. Please keep the pad separate from areas that contain combustible materials.
---
Does the chicken have to actually lay on the pad to activate the heat?
Answer by • Jan 22, 2018
K&H heated pads aren't pressured sensitive. The pads will emit heat anytime they are plugged in so an animal can sense that heat and will be drawn to the pad for warmth and comfort. When your an animal is not on the pad, the heat will dissipate into the air and the surface temperature will vary according to the ambient air temperature.
---
Does this pad need a cover?
Answer by • Oct 25, 2017
This product doesn't require a cover.
---
What is the constant temperature this unit keeps?
Answer by • Nov 28, 2017
When the chicken lies on the pad, it will reach a maximum temperature of approximately 102 Fahrenheit. The built-in thermostat will automatically regulate the temperature.
---
---
---
By carmncj on Feb 7, 2022
Worth the price!
I was hesitant to purchase this after reading some of the reviews of it but figured I had better take a chance as my rooster is getting older and I've been worrying about him with all the single digit and below temperatures we've been having. I have a very small coop, about the size of a large dog house, and only 2 hens and a rooster so this little heating pad is perfect. It does not get really warm, but I think that is also a good thing as I don't want my chickens to become dependent on it for warmth either. I believe it is just enough for their little home, I have felt it on zero degree mornings and it is just slightly warm, which is perfect when the coop is closed up for the night. It is a hard plastic so no worries on having them peck at it. It was very simple to drill a couple holes in it and screw it onto the wall. I have the floor of the coop loaded with sawdust and hay on top for insulation so the wall seemed a better choice. I would definitely recommend this little heated pad!
---
By Patricia on Dec 29, 2021
GoldieLocks, just right
My coop is not real large, so wall mounting this "plastic heating pad" literally takes up no space. The warmth radiating off of it is "just right" to keep the girls comfortable without the worry of the intensity of a heating lamp focused-heat on the bedding. This is my first use of the product and since it is always on, I hope it will continue working for a long while.
---
By crystal on Mar 6, 2021
warmer than most other heating pads!
Love these things because they are warmer than most and clean up soo well! They seem to last longer have many cats to keep warm in out and in garage! 40 watt for me is the best! Received it sooo fast! My cats love the paper and the box it comes in!
---
By Stephanie on Mar 20, 2021
Not warm enough
It's not able to be added to an extension cable and doesn't get warm enough. So we wound up just getting another lamp. Don't waste the money.
---
By Gabby on Feb 7, 2021
Does not get warm.
I bought this as a second heater for my outdoor chicken's coop. It doesn't even get warm and chickens literally avoid. Please don't waste your money.
---
By Julis on Jan 18, 2020
to small for price
The pictures are misleading . I thought I would be as big as shown in the picture . Not what I was looking for . Also there are no mounts to hang it on the wall as shown in the picture .
---
By Maria on Nov 18, 2018
Too small for price
Durable. Easy to clean. Just the right amount of warmth. SMALL. SMALL. SMALL. Good for about 1-2 fully grown chickens.
---
By ruthiecrue2 on Jun 23, 2018
Great for quails
We have quail chicks. We attached this to a side wall of their nest box. It works great.
---
By Annie on Feb 22, 2018
Works pretty good for Mama rabbits
I bought this for my Mama Doe's and it works pretty good. I mounted it on the side of the cage and pushed the nesting box beside it to keep babies warm. I just wish it was a little warmer but overall I like it. I can close all sides of the rabbits hutch and it's about a 10-12 degree difference. I would recommend giving it a try. I did not place it inside with the rabbits, it's mounted on the side of the wire pen so not sure if would stand up to chewing.
---
By sandy on Jan 13, 2018
thermo-chicken heated pad
Excellent product. Miss Priss loves roosting on it and delivery was exceptionally fast. Thank you so much, I have a very happy pet chicken.
---