K&H Pet Products Thermo Chicken Perch, Black
Frequently Bought Together
---
About This Item
Thermal chicken perch that keeps your beaked buddies warm and happy.
Warms the entire body by heating the feet and aids in the retention of body heat.
Utilizes the circulation system of your feathered friends.
Features dual internal thermostats to regulate the perfect temperature, day and night.
Ergonomically designed especially for chickens that prefer non-rounded perches when roosting.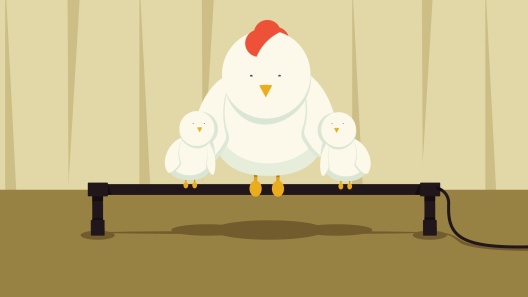 Learn More About K&H Pet Products From Our Team of Experts
---
---
About K&H Heated Small Pet & Farm Products
K&H Heated Solutions
K&H offers a variety of products designed to make your pet more comfortable. Their wide range heated products are all MET certified, making them a safe and comfortable solution for keeping your furry friend warm, indoors or out.
Safety
Safety for your pet is K&H's number one priority. They work closely with MET Laboratory to ensure their products are safe for your pet and home.
Soothing, Eco-Friendly Warmth
Green & Energy Efficient
Many K&H products cost less to run than a night light. They use foam from bio-based materials and poly fill made from recycled bottles.
Machine Washable
K&H beds are either machine washable or made with a machine washable cover, to make keeping your pet's bed fresh convenient and easy.
Vet Recommended
Veterinarians and pet experts use and recommend the traditional K&H bed line as well as their heated line of bed products.
Therapeutic Relief
K&H beds and mats provide warmth to relax the muscles of active pets, and to soothe the joints and muscles of aging and arthritic pets.
About K&H Pet Products
K&H has over 20 years of experience making products for pets with the goal of making their lives—and yours—better and easier. They know how much you care about your pets and are dedicated to designing innovative, quality solutions that enhance their comfort and well-being.
Shop K&H Pet Products
Compare Similar Items
| | | | | |
| --- | --- | --- | --- | --- |
| | | | | |
| Customer Rating | | | | |
| Price | | | | |
| Bird Type | Chicken | Parrot, African Grey, Amazon | Wild Bird | Cockatiel, Conure, Parakeet... |
| Material | Coated Metal, Metal | Stone | Stainless Steel, Metal | Plastic |
| FarmAnimalType | Poultry | N/A | N/A | N/A |
---
Questions & Answers
7 Customer Questions
---
How many birds can fit on the large bar
Answer by • Jan 22, 2020
The amount of chickens this perch holds depends on what size your chickens are. Each breed of chicken will vary from breed to breed as well as different life stages. For some breeds, the Large perch will accommodate 4-6 chickens, other breeds it will accommodate 3-4 chickens.
---
How do I know if the heated chicken perch is working. I had one that broke and I had no way of knowing...
Answer by • Sep 10, 2020
The Chicken Perch will not operate when ambient air temperatures are above 35 degrees. In extreme cold, your perch may feel cool to the touch. This is because extremely cold air will "wick" the heat off of the steel surface faster than it can accumulate. The internal air space will still have a temperature of 99 degrees or so. You can test this by wrapping a cloth around a portion of the perch in cold weather. After a few minutes, feel under the cloth to experience the warmth of the perch.
---
Is this product water-resistant? For example, if set up outside the coop, or covered area, will it be damaged by light rain or snowfall? Thank you!
Answer by • Apr 15, 2022
The K&H Chicken Perch is water resistant. We recommend placing the Thermo-Chicken Perch under shelter at all times.
---
What's the highest temperature and lowest? And can it be use for birds also? I have lots of birds cockatiel and parakeets in a large avery.. can i use it for them?
Answer by • Nov 07, 2019
The thermostat built into the cord turns the perch on ONLY when temperatures fall to the near freezing point or below. The perch will not operate when ambient air temperatures are above 35 degrees. In extreme cold the perch may feel cool to the touch, but the internal airspace of the perch will still be approximately 99 degrees. The shape and width of the Thermo-Chicken Perch are ergonomically designed specifically for chickens.
---
---
---
By Dave on Feb 3, 2022
Thermo perch
I'm very happy with the thermo perch I bought for my chickens. It is warm to the touch when the temperature is below freezing and provides some warmth to the chickens feet on very cold days.
---
By NEOhioKat on Nov 28, 2021
Absolutely works -- if you're a chicken!
I have four of these, all bought at different times, from Chewy and from another source. ALL of them work exactly as promised: when the temperature is below 35ºF, it comes on. I have to believe a lot of people either don't read how it works, or simply do not understand. YES THE BAR CAN FEEL COLD TO THE TOUCH EVEN WHEN IT IS ON -- especially if the ambient temperature is very cold. That does NOT MEAN IT IS NOT WORKING. As all of us learn in 6th grade science class, very cold air - especially if combined with any wind -- will wick the heat off of a steel surface faster than it can accumulate. If it were hot enough to still feel HOT in that state, it would also be hot enough to BURN YOUR CHICKENS' feet. However, the internal airspace of the perch is still a comfy 99ºF -- which will wick through into your chicken's feet when roosting. As explained in their directions, and in their ad --You can test this by wrapping a cloth around a portion of the perch in cold weather. After a few minutes, feel under the cloth to experience the warmth of the perch. This perch is fabulous, and a real comfort during snowy miserably cold winter days. The only things I would change is to add the ability to secure it easily higher up or extend the legs, and an on/off indicator so I could tell easily when it's powered on/off. Also, I wish the flat side of the perch faced up, as that is optimal for chicken's feet -- but really -- even with these small issues -- it's worth every penny.
---
By Jmurray on Dec 5, 2021
To skinny for chickens feet
If the the perch was wider I think it would be more comfortable for a chicken
---
By Danielle on Nov 18, 2020
It does not work
I purchased this product and tossed the packaging. I stored it until it got cold and then plugged it in. It does not work. No way. No how. It just is as cold as cold can be. There is no on/off switch I can find and no light to indicate if it is on or off. My chickens would get very cold feet indeed if they roosted on this all night. Sorry Chewy. It just never turned on.
---
By Alexia on May 26, 2021
Burnt my chickens feet
Horrible. Gave my chickens feet third degree burn.
---
By Katherine on Dec 21, 2020
Cold feet no good
This didn't turn on. It seems the "smart technology" needs some brain food. I want an on/off switch so I can decide when to warm the girls feet. So disappointing.
---
By Cheesyboi on May 28, 2020
Good for Chickens, better for coffee
Ok, so my chickens will use this on occasion. But more importantly, when I have had too much coffee and can't sleep I go out to the coop and cozy up with my chickens for a few hours. This keeps me warm in the cool winter nights until the caffeine gets out of my body. 15/16 it's a buy for sure.
---
By Sturdy on Jun 29, 2020
Needs removable cord
My chickens don't seem to care for it. Aside from that, it is sturdy and well-built. My only other complaint is the cable needs to be removable so I can keep using it even when I'm not using the heated part.
---
By npfischer on Feb 23, 2020
My Girls Love This
This heated perch is a must-have for the cold winters. This is the second one I've purchased so that ALL my girls get the chance to perch. It warms up just enough to keep their feet warm, which makes them more comfortable. They prefer perching higher off the ground, and I would have given this 5 stars if it had longer legs to raise it up a bit higher. Otherwise, a great purchase.
---