K&H Pet Products Ultimate Stock Tank Deicer
Temporarily Out of Stock
Get notified when this item is back in stock.
---
About This Item
Keeps water from turning into ice so that livestock and horses always have a fresh supply.
Thermostatically controlled so that it will turn on and off as needed per the weather.
Can be transformed from floating to submersible in seconds by unscrewing the float ring from the top.
Will maintain a temperature of just above freezing and won't damage liners or plastic tanks.
Includes the cage and cord clip to keep the power cord of your animal's reach.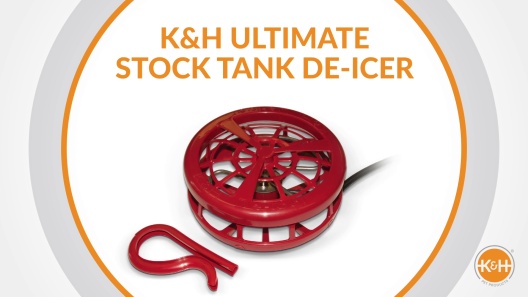 Learn More About K&H Pet Products From Our Team of Experts
---
---
About K&H Heated Small Pet & Farm Products
K&H Heated Solutions
K&H offers a variety of products designed to make your pet more comfortable. Their wide range heated products are all MET certified, making them a safe and comfortable solution for keeping your furry friend warm, indoors or out.
Safety
Safety for your pet is K&H's number one priority. They work closely with MET Laboratory to ensure their products are safe for your pet and home.
Soothing, Eco-Friendly Warmth
Green & Energy Efficient
Many K&H products cost less to run than a night light. They use foam from bio-based materials and poly fill made from recycled bottles.
Machine Washable
K&H beds are either machine washable or made with a machine washable cover, to make keeping your pet's bed fresh convenient and easy.
Vet Recommended
Veterinarians and pet experts use and recommend the traditional K&H bed line as well as their heated line of bed products.
Therapeutic Relief
K&H beds and mats provide warmth to relax the muscles of active pets, and to soothe the joints and muscles of aging and arthritic pets.
About K&H Pet Products
K&H has over 20 years of experience making products for pets with the goal of making their lives—and yours—better and easier. They know how much you care about your pets and are dedicated to designing innovative, quality solutions that enhance their comfort and well-being.
Shop K&H Pet Products
---
Questions & Answers
13 Customer Questions
---
How big of a tank will 1000 heat?
Answer by • Jul 25, 2017
Although it varies based on what zone you live in (according to the zone chart) the 1000 watts can heat up to 125 gallons.
---
Can I use this with a metal tank.
Answer by • Nov 29, 2017
The de-icer can be secured to the edge of a galvanized stock tank, bucket or container.
---
Can it be put on a rubber bowl and it says don't use an extension cord so what cord do you use to make it work then?
Answer by • Jan 09, 2018
This product is safe for all stock tanks. You must plug your Ultimate Stock Tank Deicer directly into a properly grounded electrical outlet.
---
I am in zone 6 and have a 100 gallon stock tank for horses. Which wattage should I choose? Also does this heater shut off when the outside temp gets above freezibg?
Answer by • Dec 26, 2019
Please click on the attached photo to determine the wattage you need. For a 100 gallon tank in zone 6, the 750 watt deicer is recommended. This is designed with internal thermostats that automatically monitor water temperature and turn the unit on and off to keep the average water temperature just above freezing. The unique technology ensures that your stock tank de-icer will only run as often as needed.
---
---
---
By Sissie on Feb 11, 2022
Great deicer
I ordered this the night before we were expecting a major snow storm for my small koi pond as I felt the heater that was there wasnt deicing the thick layer of ice that had frozen. I asked if it could be rushed as I feared my koi wouldn't survive with air for their gases to exit the pond. Well it arrived the next day by twelve thirty in the afternoon I ran outside and plugged it in the pond. Good news, within a few hours my pond was thawing and by the next day with eight inches of snow my pond was completely thawed and my koi were swimming around as if it were Spring. Can't thank Chewy enough for their promptness
---
By Peter on Feb 28, 2022
Don't expect it to last long
Purchased it last winter, as a replacement for my previous heater, which lasted 6 years. It worked fine, while it was working. But then I was surprised to find our tiny pond frozen, and most of our goldfish dead. It lasted half a winter last year, and now half a winter this year, and broke. Only get this if you are ok with it being a season solution. Do not rely on it for longer.
---
By Megan on Jan 19, 2022
Zapped my horses!!!
I've never used this brand of deicer before, and I never will again. It has zapped my horses several times. The first day it was set up all the horses acted like it was zapping them when they tried to drink. Unplugged it, waited a few days and plugged it back in. Worked fine. Tested it several times, horses were able to drink, all seemed well. Then, after refilling the bucket with water, my horses got zapped again. Now I have to go buy a whole new heated water tub, as my horses are now afraid of the tub this heater was in.
---
By TexasBull on Mar 7, 2022
Not this time!
I have bought this same de-icer for horse troughs for years, although from other sources. This one, however, did not make it through its second winter. Others have lasted 4 and 5 winters. Disappointing!
---
By MustangMama on Feb 20, 2022
Regions 4-5
This mighty little de-icer is great. South of Omaha, North of Kansas City where regions 4 & 5 align. It keeps my 100 gallon trough open in -5 temps. I'd suggest a 750+ watt for northern areas, but this 500 watt does great here.
---
By Shilo2021 on Jan 15, 2022
Great de icer for my goats trough
I bought the 250w for a smaller, probably 20g, water trough for my goats. I use it submerged and it's been wonderful. It's saved me so much time this winter. It offers the option to float or submerge. Highly recommended.
---
By CarrieBlacksnake on Jan 17, 2022
WOW! IT WORKS!
This de-icer is working great! I live in NNY where it gets cold (-26) some nights and I was tired of breaking the ice in the stock tank. I didn't do it yesterday at -22 outside!! The water is liquid!!!! Oh Yeh!
---
By Junk on Feb 27, 2022
Junk be good for a cat dish probably not stock tanks
Save your money this thing is junk just like I figured plastic and horses don't mix broke in 2 weeks now it's garbage
---
By THill on Feb 13, 2022
Stopped working after only 1 winter
So annoyed. Pulled them out to use again this winter and one didn't work at all. The other worked for a few months and is now dead
---
By Morgan on Feb 14, 2022
Deicer for stock tank
Excellent product, did the job well. Recommend highly
---