Kitty Caps Cat Nail Caps, Color Varies, 40 count
---
About This Item
Nail caps provide a safe alternative to declawing to stop all snags and scratches.
Covers the nail completely while allowing normal extension and retraction of claws.
Applied with included adhesive and will shed as your cat's nails grow; generally in 4 - 8 weeks.
Easy to apply and vinyl resin material is totally safe for cats. Choose from a variety of fun colors!
X-small fits cats under 5 lbs, small fits cats 6 - 8 lbs, medium fits cats 9 to 13 lbs, and large fits cats over 13 lbs.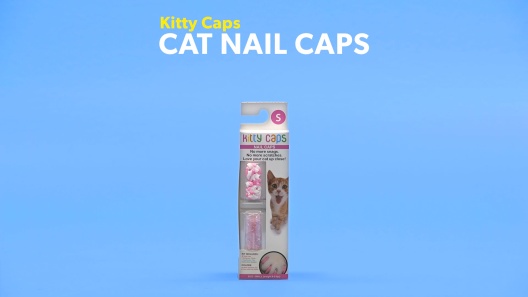 Learn More About Kitty Caps From Our Team of Experts
---
Compare Similar Items
| | | | | | |
| --- | --- | --- | --- | --- | --- |
| | | | | | |
| Customer Rating | | | | | |
| Price | | | | | |
| Autoship | — | — | | | |
| Lifestage | Adult, Kitten | Adult | Kitten | Adult | Adult, Kitten |
| Material | — | — | Vinyl / PVC, Plastic | Plastic | Vinyl / PVC, Plastic |
| Grooming Tool Type | — | — | — | — | Nail Clippers |
---
Questions & Answers
13 Customer Questions
---
Do their claws not come out anymore? Would they still be able to get a mouse or defend themselves if they accidentally got out of the house??
Answer by • Nov 28, 2018
These cover the nail completely while allowing normal extension and retraction of claws then will shed as your cat's nails grow; generally in 4 - 8 weeks.
---
How do I know what size to get?
Answer by • Apr 27, 2020
The X-Small fits cats up to 5 pounds, the Small fits cats 6 - 8 pounds, the Medium fits cats 9 - 13 pounds, and the Large fits cats 13 pounds and above.
---
Do you put them on the front AND the back? Or just the front?
Answer by • Aug 11, 2018
These nail caps are designed for both the front and back paws.
---
is the glue strong enough to stop my cat from biting them off?
Answer by • Nov 15, 2019
While the glue on these nails is durable, a determined cat may be able to remove these caps. These nail caps are completely safe, painless, non-toxic for cats, and they can pass on through the digestive system. The first few applications of nail caps may draw a cat's attention, causing some to bite or pick at the nail caps. This is perfectly normal, and almost all cats will leave them alone after a few weeks or a few applications.
---
---
---
By Am13 on Jul 22, 2022
Glue completely dried up.
I went to open up the packed, prepped my cat who is not the most patient when it comes to messing with his paws. And all three tubes of glue were dried up. I'm going to try this brand again (from my local retailer) but it might not be worth your time.
---
By Lily on May 27, 2022
These nail caps are great!
I love these so much. They save my furniture and other items however, one of my cats chews them off. It's not an easy thing to do either but, she hates them so much and will spend hours chewing them to get them off. My other cat doesn't mess with them at all and they stay on until they naturally shed off. The way I put them on, and I've been doing this since they were kittens. I'll trim the nails first and then let them run around. When I'm ready to apply the nails I fill two at a time with glue and carefully set them on the lid of this plastic container I use, pick up my cat and appt both, throw treats on the floor for her to find and eat and repeat process. Also, I fill with glue until I see it reading the top. Try not to let it overflow or it becomes a mess.
---
By LeeAmazon on Aug 21, 2022
Our Cat Chewed Them Off The 1st Night
Terrible product. They came right off and we followed the reviews to the T. Our cat then spent the rest of the night chewing the rest of them off.
---
By GizmosMommy on May 24, 2022
Works perfectly
I buy large size to fit my 20lb Maine Coon. They stay on well. He doesnt like them going on, so I wrap him like a burrito and pull out a paw to work on. Once they are in place i swear to you he couldn't care less about them. Meanwhile they save my walls, furniture, and skin from his "big boy playfulness". I recommend these but suggest you dont be afraid to use the glue they send with the caps. They saved my coonie from having to be rehomed and to me thats priceless.
---
By Heather on Mar 14, 2022
They are ok
They seem to come off very easy. My cats had them on about 3 or 4 days and they started coming off. They do save my furniture so I will be buying them again. So they have their good and bad qualities. You just have to decide if they are good for yourself
---
By DeeD on Feb 14, 2022
Complicated
Please read instructions...before u buy. Says when applying tips it takes 5 minutes for each one to dry to your cats nail...says fill adhesive half way up then u apply . can not measure that and you Can not even see through the tips...A lot of work and most of them fall off.. u will spent a lot of time picking them up from everywhere...
---
By L4uren on Feb 8, 2022
Hopefully no more scratches
Since moving to our new apartment my cat gets spooked so early and has scratched my eyelid, my left forearm and now my left chest at night. I cut her nails once a week and refuse to declaw her. I tried these and am so far satisfied, but it is less than 1 hour into it.
---
By doglessheartbroken on Dec 15, 2021
A God Send
My cat is terribly destructive. She is a rescue and I did not want to surrender or rehome her. These gel nails have saved both my furniture and this cat's place in my home. This simple fake nail manicure is worth its weight in gold. My cat has black nails. I ordered the hot pink and purple set, to go with her hot pink collar and next time to match her County tag. I received the aqua and black instead. (color varies). I used the aqua, but donated the black ones to my vet for a cat with white nails. I will have to order more and sooner because of not getting the colors that I ordered, but it was worth it.
---
By Thai88 on Jan 23, 2022
I wanted to like these
They went on just fine and I didn't even mind that I got pink and purple for my male kitten. The problem is that he had 5 off within 24 hours and the rest off within 48 hours. The glue just isn't strong enough
---
By Th40 on Feb 2, 2022
Wouldn't buy this
Won't stick they fall off not worth the money followed instructions an found them all over the house vacuum picked most of them up
---