Koller Products Tropical 360 View Aquarium Starter Kit
Temporarily Out of Stock
Get notified when this item is back in stock.
Compare Similar Items
| | | | | | |
| --- | --- | --- | --- | --- | --- |
| | | | | | |
| Customer Rating | | | | | |
| Price | | | | | |
| Fish Type | Tropical Freshwater, Betta, Cichlid, Goldfish | Betta, Tropical Freshwater | Tropical Freshwater, Betta | Tropical Freshwater, Betta, Goldfish | Betta, Tropical Freshwater |
| Capacity (Max) | 3-gallon | 3-gallon | 5 gallon | 7.5-gallon | 3-gal |
| Material | Plastic | Plastic | Plastic | Glass | Glass |
| Aquarium Type | Freshwater | Freshwater | Freshwater | Freshwater | Freshwater |
---
About This Item
This kit has everything you need to start a freshwater aquarium in your home.
It's energy-efficient with LED lighting that comes in 7 fun illuminating colors, including amber aqua, blue, green, purple, red, and white.
Clean and purify the tank with the Koller 5 internal power filter.
Plastic is conveniently impact-resistant with panoramic viewing.
Seamless design makes this a safer environment for your fish.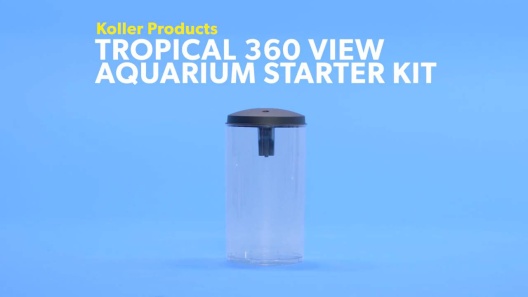 Learn More About Koller Products From Our Team of Experts
---
---
Questions & Answers
52 Customer Questions
---
Mo e came without the bracket to hang the filter can I get a replacemet?
Answer by Manufacturer • Oct 05, 2021
Please contact us at 800.545.1344 and we'll take care of you right away.
---
Can I change the speed on the filtration system if it is too powerful for my betta fish?
Answer by Syders • Apr 20, 2022
You could get a pump with the ability to slow it down.
---
Does the light rotate through the colors, or can it be set to stay on just one?
Answer by • Mar 12, 2021
The lights have the option to cycle through the colors or just stay on one color.
---
Does the lid stay down snug so a cat cant get in?
Answer by • Apr 26, 2018
This tank includes a full cover hood, which LED lights are attached to, weighing it down, causing a secure closure.
---
---
217 Customer Reviews
---
Filter by reviews that mention
---
By Katie on Nov 1, 2022
Bad filter
Seemed great for a few months then the filter started making noises and stopped working. I'm pretty sure they are supposed to last longer than 3 months.
---
By Mikaela on Oct 23, 2022
Very disappointed
The light dies within two days of replacing it with brand new batteries. You will spend more money replacing the batteries than what the tank is worth.
---
By tsjc20 on Aug 21, 2022
Cheap Filter...
I would give this a five star if the filter was not so cheaply made! I feel like the filter will be easy to break, but I keep praying it won't be. The filter just hangs, other than the filter I love this aquarium.
---
By Dyingtank on Aug 18, 2022
The light doesn't even work the amount of the timer
I'm trying to figure out how to return this. My light stays on 5 minutes.. the tank is cute I just need a new light.. chewy seems to make it difficult to just work that out
---
By sesheta on Aug 20, 2022
lighting system
I too had a problem with the light panel. I contacted Koller directly, and they sent me a new one at no charge, including the shipping fees.
---
By Fishtank on Jul 30, 2022
Pump won't last
The tank itself is fine, but the pump didn't last but maybe a week and it's struggling to stay on. Have to find a replacement.
---
By Maggie on Jun 16, 2022
Light issues
I've had this fish tank for about 2 months now and The light either doesn't stay on or will turn on randomly.
---
By Willy on Mar 4, 2022
cool lil tank
I have had this 6 gal tank a few weeks now and I really like it. I have it in a corner of my kitchen and I have it heavily planted . It looks really beautiful and any fish I have put in it swim all over and seem happy. At first I had a Betta in there and it is a perfect Betta tank bcz the filter flow is not strong. Alas, my Betta was bullying the pleco he was cohabitating with so I had to move him to another tank. One thing I hate about the shape of this tank is that it is impossible to net a pleco or any fast fish bcz the shape distorts your view when you look from the top down. Also bcz the edges are round my fish net can't be set against the glass without a gap so the fish escapes. That is why I had to take the Betta out, since he is slow and easy to catch and leave the pleco. I have since added endlers and cherry shrimp and it is a great tank for them. My other complaint bcz of the skinny shape is how can I vacuum the gravel???? Is there some sort of special nano gravel vacuum available somewhere that a person could use?
---
By boots on Mar 22, 2022
nice little tank
ive had this tank for around 5 years now. the light just broke. that is my only complaint about it. i wish i was able to buy a replacement light for it. other than that it is a perfect size and has been very easy to take care of and keep clean.
---
By 3ndndhdh on Mar 21, 2022
good tank for fish
Great tank for fish h h. Golden retriever is no longer a good condition and a new one in a tank with a tank top and a tank top with a tank top and a tank top top and a tank top and a top top and
---