KONG Bamboo Feeder Ball Dog Toy
Frequently Bought Together
---
About This Item
Toy dispenses treats through holes on the side for unpredictable play.
Feeder ball provides canine mental and physical stimulation.
Features an easy-to-open top.
Made from natural bamboo to allow for quiet play.
Slow feeding helps pups maintain their figures.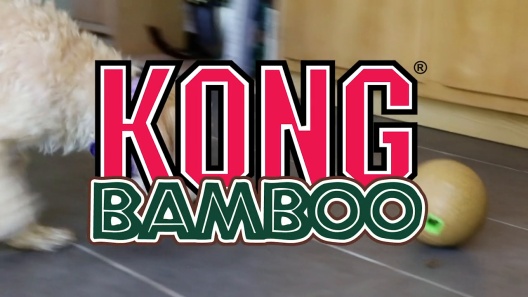 Learn More About KONG From Our Team of Experts
---
---
Questions & Answers
1 Customer Questions
---
how much kibble.does it hold?
Answer by • Jul 29, 2021
The entire ball can hold a little more than 2 cups.
---
---
By Audrey on Aug 24, 2022
Get the Bob-A-Lot instead, this is a thumbs down for me
I tried this thinking since it's bamboo it would be a quieter toy than the treat ball we already had- but the holes on this are so large and not adjustable that even my large breed kibble falls out of the three holes almost immediately. So as a treat dispenser it lasts less than a minute. As a food dispenser same less than a minute it dispensed an entire cup. I loaded it with milkbones too large for the holes and after one minute the dogs rolled it and it unscrewed itself and opened completely. Save your money and buy the adjustable hole Bob-a lot instead- comes in large and small sizes.
---
By AppalachianValleyKennel on Apr 4, 2022
Great for beginners
I am a breeder and we recommend to all our clinics that they always make their dog work for its food. I love and recommend things like this that will make them work for it when you don't have time for a training session. I hate that this product has gotten poor reviews because the owners have allowed the dog to chew it up. This is NOT a chew toy and your dog should never be allow to chew on it. Your dog needs to be taught how to roll it to release the food, and this is a good beginner one that releases the food easily. Your dog should be supervised when using it and it should be put out of dogs reach when not in use. When your dog gets good at it, you can get something more difficult like the wobbler, which I also love.
---
By ReggieRay on Feb 5, 2022
Expected Tougher
Kong toys aren't very tough besides the original kong...My dog is a boxer/ beagle and not a heavy chewer, but he ran through this quickly. Quickly figured out how to unscrew it and the I personally was expecting the outer coating to be tough and durable, but alas it was not. He did have fun though and for me that's all that matters...I just gotta keep finding new challenges for him
---
By nora on May 6, 2022
it was great for one whole day
my yellow lab destroyed it within 24 hrs. he easily opened it and chewed off all the bamboo from the ball.
---
By DogMom on May 24, 2022
Worth the money
My dog really enjoys this toy. He has several different treat toys. This is his favorite.
---
By rosethegoldenr on Jan 4, 2022
4.5 Stars to this Feeder!
We love this Kong feeder. Easy to open and close, and clean. Durable and rolls well for our put to engage in. One caveat is that the holes are placed at the bottom of the halves when you open it, meaning you have to angle one of the sides and only pour so much food (or treats) into the ball so that it doesn't fall out. On the whole, we're extremely happy with this and it's tons better than previous brands we've tried!
---
By Kell on Jan 11, 2022
Good for large sized kibble
Holes are large enough to dispense my dogs large breed kibble. But the food comes out quickly and she's done in two or three mins. The casing around it also peels off very easily. My dog destroyed the first one we gave her. Now we keep a closer eye on her with it.
---
By Calvinsmom on Jan 10, 2022
Slowing the roll
Works perfect as a slow feeder for my pup. He gets his morning meal in a slow feed bowl and his evening meal fits in this. I put electrical tape over 1 of the 3 holes to slow him down a little more. Food comes out easily, but it's perfect for a meal
---
By Cluv09 on Dec 4, 2021
Easy and fun
This is easy to fill and fun to watch. The holes are pretty big so the small kibble we currently use for puppy makes it way easy but that'sok. Anything to keep him entertained for the typical puppy 5 min is ok with me.
---
By Packof4 on Jan 13, 2022
Destroyed in minutes
Definitely not durable for large pitbull/mastiff breeds. If you have a soft mouth dog it should work fine
---