KONG Classic Dog Toy
By KONG
---
About This Item
Made in the USA from globally sourced materials.
Perfect for stuffing with KONG Stuff'N Easy Treat Paste and Snacks for longer-lasting play.
Relied upon by veterinarians, trainers, and dog enthusiasts for over 40 years.
Provides play, helps reduce boredom, and relieves separation anxiety.
Unpredictable bounce for virtually unlimited games of fetch, even while you're away.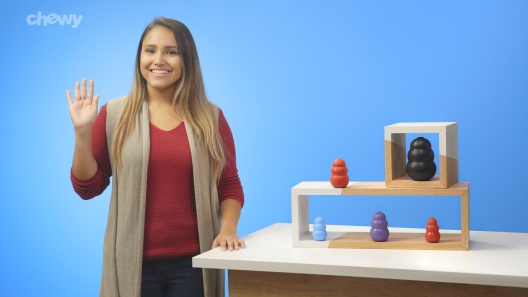 Learn More About KONG From Our Team of Experts
---
---
KONG toys
KONG toys have been enriching dogs for over 40-years, strengthening the bond between dog and pet parent along the way. The KONG Classic uses the KONG All-Natural rubber formula and is ideal for average chewing dogs.
Dogs Need to Play
A dog's physical and mental development are influenced by a healthy, instinctual need to play. Built for durability, KONG dog toys encourage play and offer enrichment, meeting this natural need to play.
KONG Solutions
KONG encourages dogs to focus energy on healthy engagement, helping prevent unwanted behavior by providing a mentally stimulating, physical challenge that keeps dogs occupied and mentally challenged.
KONG Stuffing
Did you know that anything that is safe for a dog to eat is safe to stuff into a KONG? Here's how:
STUFF: Stuff loosely for beginners or tighter for more advanced users (w/KONG Snacks or your dog's favorite kibble).
ENTICE: Use a tasty appetizer such as KONG Easy Treat or peanut butter.
ENRICH: A stuffed KONG offers mental and physical enrichment.
EXTEND: Want to extend playtime? Freeze for a longer-lasting challenge.
Choose the KONG That Is Right for Your Dog
Looking for more enrichment? Select a KONG Classic shape that is right for your dog.
KONG SENIOR
Light Chewers
Designed for Aging Teeth and gums
Soft Rubber
Purple
KONG PUPPY
Beginning to Light Chewers
Designed for Puppy Teeth and gums
Softest Rubber
Blue & Pink
KONG CLASSIC
Average Chewers
Designed for most adult dogs
Durable Rubber
Red
KONG EXTREME
Power Chewers
Designed for extreme chewers
Most Durable Rubber
Black
Made in the USA. Globally Sourced Materials.
About KONG
KONG dog toys encourage play, satisfying instinctual needs and strengthening the bond between dog and pet parent. Built for durability, KONG Dog Toys offer mental and physical stimulation, all while meeting a dog's need to play. All KONG Rubber Toys are proudly made in the USA with Globally Sourced Materials.
Shop KONG
Compare Similar Items
| | | | | | |
| --- | --- | --- | --- | --- | --- |
| | | | | | |
| Customer Rating | | | | | |
| Price | | | | | |
| Top Ingredients | N/A | — | — | — | — |
| Toy Feature | Training | Training | Training, Tough Chewer | Training | Tough Chewer |
| Breed Size | Large Breeds | Extra Small & Toy Breeds, Small Breeds | Large Breeds | Large Breeds | Small Breeds |
| Material | N/A | N/A | N/A | N/A | Rubber |
| Toy Type | Chew Toys | Treat Dispensers, Chew Toys | Chew Toys | Chew Toys | Chew Toys |
| Chew Style | Tough | Tough | Extreme | Moderate | Tough |
| Food Flavor | N/A | — | — | — | — |
---
Questions & Answers
32 Customer Questions
---
What size is the opening of the big end on a medium sized Kong?
Answer by • Sep 19, 2018
The opening of the Small Kong is 0.72 inch.The opening of the Medium Kong is 1 inch. The opening of the Large Kong is 1 inch. The opening of the X-Large Kong is 1.31 inches. The opening of the XX-Large Kong is 1.56 inches.
---
What country are these made in?
Answer by • Dec 18, 2017
This product is made in the United States.
---
are these dishwasher safe??
Answer by • Oct 09, 2017
It's recommended to hand wash the toy in warm soapy water. For stubborn messes, KONG rubber toys are top-rack dishwasher safe.
---
What is the capacity for food for the large, XL, and XXL?
Answer by • May 03, 2020
The manufacturer measures the capacity of KONG toys by cups. The Medium KONG fits approximately 0.25-0.5 cups. The Large KONG fits approximately 0.5 cups. The X-Large KONG fits approximately 1 cup. The XX-Large KONG fits 1.5-2 cups.
---
---
---
By YsabelWatts on May 13, 2022
perfect toy for any dog!
This is the old classic rubber Kong dog toy. I have the regular size and the small size for my boxer and for my Boston terrier. Its shape causes it to bounce in random directions. My dog absolutely loves this toy. I've put everything in that thing. I have broken up some single ingredient treats and stuffed them in Kong. We refer to my dogs as having ADHD, or a very SHORT attention span, but not with this toy they absolutely love it!! . I put treats as well as peanut butter bananas or yogurt then put them in the freezer. The freezing slows down their ability to clean out the inside quickly so the game lasts a little longer. The rubber is hard enough so they cannot chew through it yet soft on their teeth and gums. The hole is large enough to easily fill the inside as well as wash out the inside after use. Definitely buy multiples so that there are some in the freezer ready to go on those hot days or on those days that you just need a little time to get something done while your dog is occupied. All in all I completely recommend these toys for all dogs of any shape and size.
---
By PetOwner on May 18, 2022
His obsession
My German Shepherd has this Kong in his mouth every time he goes outside. It's his retrieving go to. It lasts a pretty long time but he will chew on it to make it flex. Eventually it will crack and I replace it. It's very versatile because you can play fetch, put biscuits or kibble in it or even peanut butter. I put a rope through the little hole and knot it so I can throw it without slobber all over my hand. The weirdest thing is he won't play with the black version, only the red one. Good investment for dog owners.
---
still one of the best classic toys around
I have used the giant kongs for my mastiffs and the large for my husky. They are pretty hard to destroy. They can last for years if not out in the weather all the time. The giant ones have a few teeth marks in them but that's it and my mastiffs can chew up just about anything quickly. I always fill them when I'm going out of the house for a few hours. The smooth ones seem to stay cleaner than the ridged one and they are able to get out most of the treat.
---
By Jean on Apr 16, 2022
Did not work out as expected
I have a very food motivated older large dog. Poor Sparky also has separation anxiety. I thought that this Kong that I could stuff (slightly) with a mixture of peanut butter and banana then freeze would be perfect. I came home to find only some of the mixture licked out. Clearly was not the BIG HIT I expected it to be.
---
By Cass on May 19, 2022
Great Enrichment
I love these Kongs and so do my dogs. It's good quality rubber. They both love when I fill them with peanut butter or cheese. They chew on the toy for hours even if they've eaten all the food in there.
---
By Kong on Apr 26, 2022
Classic kong
I thought this was for strong chewers, but my pup was able to chew this in half pretty quickly. I thought I was replacing an old one I had, but this was smaller and not as durable. So, this was not good for my pup, but maybe OK for others.
---
By Sophie on Apr 22, 2022
The Kong is the best toy
Sophie managed to lose her Kong. I searched everywhere. Fortunately Chewy was able to send a replacement quickly. I now have a happy, peanut butter loving Doberman who loves to see me leave for work so she can have her Kong with peanut butter treat.
---
By West on Apr 14, 2022
Pick another toy, this brand is living on it's history, not the current product
I've had 'Kong's for several years across several dogs, the recent purchase lasted less than 20 minutes before my German Shepard had hunks coming off of it. The current material is not what the traditional or classic Kong's were. Find another toy.
---
By Molly on Apr 30, 2022
Bitey cat loves it
My partner's cat has an unfortunate biting habit, and she loves this toy! We fill it with churu treats for her to play with. So far it's unclear if it'll actually curb her biting, but the toy is a hit.
---
By Lori on Apr 4, 2022
This is a classic
I have had one of these since 2006. My first dog loved it. Now my second dog is enjoying hers. I have put peanut butter in it and they can spend lots of time licking. I have put biscuits in them and other edible items. My dog gets really excited when she sees me getting it out.
---