Frequently Bought Together
---
About This Item
Made in the USA from globally sourced materials.
Perfect for stuffing with KONG Stuff'N Easy Treat Paste and Snacks for longer-lasting play.
Relied upon by veterinarians, trainers, and dog enthusiasts for over 40 years.
Provides play, helps reduce boredom, and relieves separation anxiety.
Unpredictable bounce for virtually unlimited games of fetch, even while you're away.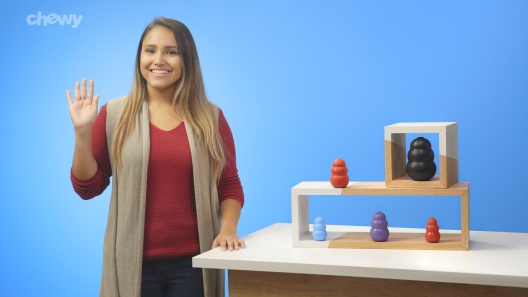 Learn More About KONG From Our Team of Experts
Make this toy extra fun with [Stuff'N Treats.][]
---
---
KONG toys
KONG toys have been enriching dogs for over 40-years, strengthening the bond between dog and pet parent along the way. The KONG Classic uses the KONG All-Natural rubber formula and is ideal for average chewing dogs.
Dogs Need to Play
A dog's physical and mental development are influenced by a healthy, instinctual need to play. Built for durability, KONG dog toys encourage play and offer enrichment, meeting this natural need to play.
KONG Solutions
KONG encourages dogs to focus energy on healthy engagement, helping prevent unwanted behavior by providing a mentally stimulating, physical challenge that keeps dogs occupied and mentally challenged.
KONG Stuffing
Did you know that anything that is safe for a dog to eat is safe to stuff into a KONG? Here's how:
STUFF: Stuff loosely for beginners or tighter for more advanced users (w/KONG Snacks or your dog's favorite kibble).
ENTICE: Use a tasty appetizer such as KONG Easy Treat or peanut butter.
ENRICH: A stuffed KONG offers mental and physical enrichment.
EXTEND: Want to extend playtime? Freeze for a longer-lasting challenge.
Choose the KONG That Is Right for Your Dog
Looking for more enrichment? Select a KONG Classic shape that is right for your dog.
KONG SENIOR
Light Chewers
Designed for Aging Teeth and gums
Soft Rubber
Purple
KONG PUPPY
Beginning to Light Chewers
Designed for Puppy Teeth and gums
Softest Rubber
Blue & Pink
KONG CLASSIC
Average Chewers
Designed for most adult dogs
Durable Rubber
Red
KONG EXTREME
Power Chewers
Designed for extreme chewers
Most Durable Rubber
Black
Made in the USA. Globally Sourced Materials.
About KONG
KONG dog toys encourage play, satisfying instinctual needs and strengthening the bond between dog and pet parent. Built for durability, KONG Dog Toys offer mental and physical stimulation, all while meeting a dog's need to play. All KONG Rubber Toys are proudly made in the USA with Globally Sourced Materials.
Shop KONG
Compare Similar Items
| | | | | | |
| --- | --- | --- | --- | --- | --- |
| | | | | | |
| Customer Rating | | | | | |
| Price | | | | | |
| Toy Feature | Training | Training | Training, Tough Chewer | Training, Tough Chewer | Training |
| Breed Size | Giant Breeds | Giant Breeds | Giant Breeds | Large Breeds | Large Breeds |
| Toy Type | Chew Toys | Treat Dispensers, Chew Toys | Chew Toys | Treat Dispensers, Chew Toys | Chew Toys, Treat Dispensers |
| Lifestage | Adult | Adult | Adult | Adult | Adult |
| Chew Style | Tough | Tough | Extreme | Extreme | Moderate |
---
Questions & Answers
32 Customer Questions
---
What size is the opening of the big end on a medium sized Kong?
Answer by • Sep 19, 2018
The opening of the Small Kong is 0.72 inch.The opening of the Medium Kong is 1 inch. The opening of the Large Kong is 1 inch. The opening of the X-Large Kong is 1.31 inches. The opening of the XX-Large Kong is 1.56 inches.
---
What country are these made in?
Answer by • Dec 18, 2017
This product is made in the United States.
---
are these dishwasher safe??
Answer by • Oct 09, 2017
It's recommended to hand wash the toy in warm soapy water. For stubborn messes, KONG rubber toys are top-rack dishwasher safe.
---
What is the capacity for food for the large, XL, and XXL?
Answer by • May 03, 2020
The manufacturer measures the capacity of KONG toys by cups. The Medium KONG fits approximately 0.25-0.5 cups. The Large KONG fits approximately 0.5 cups. The X-Large KONG fits approximately 1 cup. The XX-Large KONG fits 1.5-2 cups.
---
---
---
By Maddie on Aug 15, 2022
Not for chewers
Thought I'd try this again for my dog since she is a year old. She is a chewer, the problem with this toy is that there is an opening for treats and that is where she is able to chew the rubber. This toy would be perfect if there were no openings and rounded on top and bottom. Something to think about :) If your dog isn't an agressive chewer than this is the toy for them.
---
By Jessica on Jul 29, 2022
Dogs Love Them
My dogs love the kongs. We've had them for 10+ years (even an original) and they last. My dog is a tough chewer with a purpose and this withstands it. They love peanut butter on the inside as a special treat occasionally. I've sized up my dog as he got older. He had a large as a puppy and now an x large and it's perfect. I was afraid it would be too big but it's not! He's a 70lb golden.
---
By Weeniemom on Jul 23, 2022
Tough Enough
This was advertised for "seniors".Since my 3 dachshunds are 13 years old and do not have all their teeth this Kong seemed to be the Perfect strength for them to enjoy. I bought the peanut butter KONG Stuff N Easy treat to go in the Kong. This combination was just what I needed to calm them when our afternoon Thunderstorms come in. They will work on their Kongs for a good hour or more.
---
By RhodieDaddy on Jul 31, 2022
Great Product
We got a bunch of Kong toys for our puppy. Does a great job of distracting our puppy when she is getting a little too wild. We love the idea that this product is made in the USA and will be supporting this company whenever we are looking for products for our puppy.
---
By Nana on Jul 26, 2022
Lives On and On
My yellow lab Blondie destroys all her toys, carrying them around when they've been reduces to pieces of rubber and rag remains of stuffed animals. Not This One! She can chew it and carry it and roll it around. It's indestructible!
---
By YsabelWatts on May 13, 2022
perfect toy for any dog!
This is the old classic rubber Kong dog toy. I have the regular size and the small size for my boxer and for my Boston terrier. Its shape causes it to bounce in random directions. My dog absolutely loves this toy. I've put everything in that thing. I have broken up some single ingredient treats and stuffed them in Kong. We refer to my dogs as having ADHD, or a very SHORT attention span, but not with this toy they absolutely love it!! . I put treats as well as peanut butter bananas or yogurt then put them in the freezer. The freezing slows down their ability to clean out the inside quickly so the game lasts a little longer. The rubber is hard enough so they cannot chew through it yet soft on their teeth and gums. The hole is large enough to easily fill the inside as well as wash out the inside after use. Definitely buy multiples so that there are some in the freezer ready to go on those hot days or on those days that you just need a little time to get something done while your dog is occupied. All in all I completely recommend these toys for all dogs of any shape and size.
---
By pk85 on Jun 26, 2022
Not impressed
Based on my dogs weight (11# and 12# beagles) I bought 2 small ones (for up to 20#). Since I ordered online I didn't realize how tiny they would be. They didn't last 20 minutes before they both chewed the tops off. I'll try the super chewer ones in a larger size.
---
By Jenn on Jun 6, 2022
Buy this kong
I have an 11 month old Doberman I was looking for something to keep her busy and chewing. I bought Purina Pro Plan canned food and stuffed the kong, and then froze it oh, oh my goodness boy does she love it! I actually bought two so I would make sure and have one Frozen at all times. I heard this online from Joel Beckman he is a fantastic dog trainer. I love chewy because they are quick and johnny-on-the-spot always!
---
By Chris1 on Jul 13, 2022
Always a great choice!
I thought this wouldn't be big enough for my 55lb girl but it definitely is a good size. Toys, especially this type, are new for her and after she figured out how to get the good stuff out, she's golden!
---
By PetOwner on May 18, 2022
His obsession
My German Shepherd has this Kong in his mouth every time he goes outside. It's his retrieving go to. It lasts a pretty long time but he will chew on it to make it flex. Eventually it will crack and I replace it. It's very versatile because you can play fetch, put biscuits or kibble in it or even peanut butter. I put a rope through the little hole and knot it so I can throw it without slobber all over my hand. The weirdest thing is he won't play with the black version, only the red one. Good investment for dog owners.
---