KONG Cloud Collar for Dogs & Cats
---
About This Item
Premium, protective collar is designed to help dogs and cats heal from surgeries, injuries and rashes.
Comfortable to wear while recovering from surgery, injuries and rashes, without interfering with peripheral vision or the ability to eat or drink.
Strong "hook and loop" strap allows for a wide range of collar adjustments, so you can ensure a snug fit.
Scratch- and bite-resistant to expedite the healing process, plus the machine-washable fabric makes your pet's recovery easier on you.
Will not mark or scratch your belongings, so you can feel good about using this around the house.
Available in five sizes—from XS to XL—to ensure every-size dog can have the support they need to heal.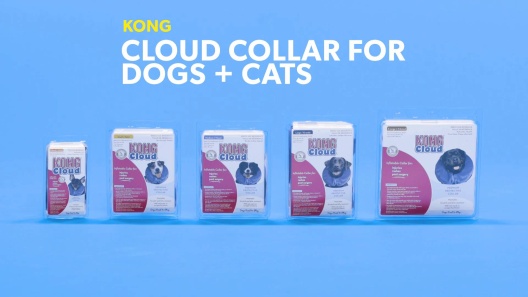 Learn More About KONG From Our Team of Experts
---
Compare Similar Items
| | | | |
| --- | --- | --- | --- |
| | | | |
| Customer Rating | | | |
| Price | | | |
| Breed Size | Medium Breeds | Small Breeds | Large Breeds |
| Health Feature | First Aid | First Aid | First Aid |
| Lifestage | Adult | Adult | Adult |
| Material | — | — | Plastic |
---
Questions & Answers
44 Customer Questions
---
My dog just had his tail amputated will he still be able to reach his numb with this?
---
Will this stop my dog from licking his stomach?
Answer by • Nov 30, 2017
Depending on the length of your dog, and how far away their stomach is to their mouth, this collar would prevent them from reaching their wounds.
---
can they scratch their eyes?
Answer by • Jun 09, 2018
With the KONG Cloud Collar on, your pet should not be able to scratch their eyes or face.
---
My German Shepard cut is back foot and had to get stitches...do you think this would work so he cant chew badges off?
Answer by • Jan 18, 2019
This inflatable collar is designed to restrict a dogs ability to reach their body with their mouth. With the correct size, your dog may be unable to chew or lick their legs. It's important to monitor all pets, as some may be able to maneuver around the protective collar to reach the areas they shouldn't. 
---
---
---
By Beau on Dec 1, 2022
Soft cloud e collar
This didn't even last more than 4 hours and it was eaten and destroyed by the Major Chewer Award recipient Beau the Golden retreiver 11 months old. He had been neutered and he ate the clear plastic cone of shame in less than a day with alterations made, ie. Extra velcro, tie the ends with laces, masking tape to hold it together. There is no doubt he will chew and eat everything. Trust me, nothing works. Once his brain 🧠 snaps, he's in another world of his own. He recovered well from nueter. Still has hormones still flowing and complete chaos. Lord help 🙏 me in my life, patience, breathe, and cope with this intense stress and anxiety. Please be respectful with comments, we are/have done everything right by a highly credible trainer with 30 years experience raising, showing, training goldies. Ty again.
---
By Krugan on Nov 11, 2022
Most comfortable option for post surgical barriers
I ordered this post surgical barrier option after discussing multiple options with my foster pup's shelter vet. He is a 75 lbs high energy super chewer pitbull, but this collar worked the best for him post his umbilical hernia repair surgery. He could eat, drink easily even while wearing it and see around without his peripheral vision being obstructed. I started conditioning him to use it with positive reinforcement for not chewing it off 15 days before the surgery, so that I wouldn't have to introduce something new while he'd be in pain.
---
By Donna on Nov 15, 2022
Nice Quality. Runs Small
This is a very nice inflatable cone. Great quality. Shipped fast. I have a 14-pound Shih Tzu, a neck circumference is 11.5". I read reviews and based on the sizing chart and reviews, I went with a small. Definitely should have gone with my gut and bought a size medium! The small is too small and he won't be able to use it. I bought it in advance, since he is having a serious surgery today, and really needed it. He will have to wear a cone for the next 14 days. Now, he has to wear the huge plastic cone from the vet. Disappointed.
---
By Mary on Oct 24, 2022
The cat hated it but it got the job done
Our 7 m.o. kitten recently got spayed and promptly destroyed the body sock covering the vet gave her when she got home. We ordered this in XS as an alternative and it worked well. It prevented her from ripping out her stitches and held up to her repeatedly scratching and biting it. She was able to run around and play without much issue. No problem eating out of a bowl or sleeping comfortably while wearing it. She was obviously miserable having it on but she only had to wear it for a week and a half.
---
By Marty on Oct 30, 2022
Problem Solved
When our puppy had to be neutered I was not in favor of a hard collar as he is somewhat rambunctious and I could visualize him running into all the furniture and freaking out. This collar was awesome and he didn't mind it a bit and was even comfortable in his crate with it on. Would highly recommend.
---
By TessMom on Sep 24, 2022
Great collar!
Wanted an inflatable "cone of shame" for my dog after surgery for greater comfort. Ordered the Kong collar in a size large based upon her neck size (14.5 inches). When it arrived, I worried that it might be too large, since I'd sized up to the 15-20" size as recommended. I called customer service, and had a great conversation with Jim, who went on line and looked at various You Tube videos and told me he thought I had nothing to worry about. And if it didn't fit, they'd send a replacement. And it's great! Still have to watch her a bit when her stitches itch, but much better than the hard plastic cones.
---
By YellowLabMom on Sep 27, 2022
Durable! No more cones
Amazing! This inflatable collar has made it through 2 very hyper lab spay surgery recoveries in houses with other labs as well. still has not been punctured. my lab seems very comfortable wearing this and she sleeps comfortably in it as if its a travel pillow. she just had a rash on her belly and I had to bring it back out. she actually got excited to wear it again. she was never able to reach her belly and she is a long dog.
---
By abcd on Nov 14, 2022
not worth the money
the only reason to buy this is if your dog has a belly incision. Our dogs are hunters and often need a cone to keep them from licking their feet and stitches on their legs. our dogs can still get to their feet with this other neck.
---
By timmy06 on Nov 7, 2022
Maggie likes it
The vet put on a cone collar but maggie is going blind she was afraid to walk around with the cone on so we ordered a Kong collar she likes it she can't touch the eye that she had worked on and it acts like a pillow for sleeping
---
By Lily on Nov 9, 2022
Kong Cloud Collar
Excellent quality and effectively prevented access to the surgical area. Exceeded expectations for tolerating the collar. While often cutting corners around the house, it never hurt him nor damaged the woodwork/walls.
---