KONG Cloud Collar for Dogs & Cats
---
About This Item
Premium, protective collar is designed to help dogs and cats heal from surgeries, injuries and rashes.
Comfortable to wear while recovering from surgery, injuries and rashes, without interfering with peripheral vision or the ability to eat or drink.
Strong "hook and loop" strap allows for a wide range of collar adjustments, so you can ensure a snug fit.
Scratch- and bite-resistant to expedite the healing process, plus the machine-washable fabric makes your pet's recovery easier on you.
Will not mark or scratch your belongings, so you can feel good about using this around the house.
Available in five sizes—from XS to XL—to ensure every-size dog can have the support they need to heal.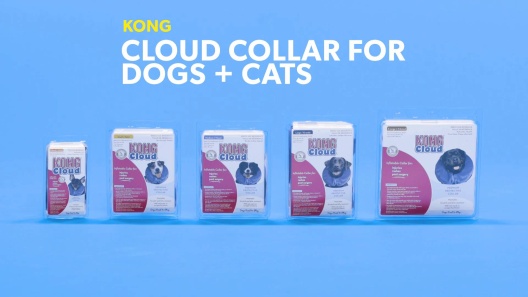 Learn More About KONG From Our Team of Experts
---
Compare Similar Items
| | | | | | |
| --- | --- | --- | --- | --- | --- |
| | | | | | |
| Customer Rating | | | | | |
| Price | | | | | |
| Autoship | — | — | — | — | — |
| Breed Size | Large Breeds | Large Breeds | Large Breeds | Giant Breeds | Medium Breeds, Large Breeds |
| Health Feature | First Aid | First Aid | First Aid | First Aid | First Aid |
| Material | N/A | Plastic | Canvas | N/A | N/A |
| Lifestage | Adult | Adult | Adult | Adult | Adult |
---
Questions & Answers
42 Customer Questions
---
My dog just had his tail amputated will he still be able to reach his numb with this?
---
Will this stop my dog from licking his stomach?
Answer by • Nov 30, 2017
Depending on the length of your dog, and how far away their stomach is to their mouth, this collar would prevent them from reaching their wounds.
---
can they scratch their eyes?
Answer by • Jun 09, 2018
With the KONG Cloud Collar on, your pet should not be able to scratch their eyes or face.
---
My German Shepard cut is back foot and had to get stitches...do you think this would work so he cant chew badges off?
Answer by • Jan 18, 2019
This inflatable collar is designed to restrict a dogs ability to reach their body with their mouth. With the correct size, your dog may be unable to chew or lick their legs. It's important to monitor all pets, as some may be able to maneuver around the protective collar to reach the areas they shouldn't. 
---
---
---
By Pete on Apr 29, 2022
Makes a good pillow, but
First, this is a great substitute for the standard Cone of Shame, and the cost is quite comparable to the one the vet would send you home with. Myy pup didn't mind wearing it at all. Of course, she was still pretty loopy from anesthesia. She decided it made a good pillow and just went ker plop. She did manage to scrape it off once on a trial run. This attaches via loops to her standard collar, and after I tightened that up just a bit, the doughnut stayed on just fine. My only problem is that my standard poodle is too long and lean, and still managed to reach her spay incision with the collar on. She's a young standard poodle, just for reference. To the surgical recovery suit we go.
---
By Paige on Apr 16, 2022
Kinder than a cone!
My dog had stitches in her ears and front leg and needed to wear a cone. In a traditional cone she has a hard time navigating the house and can't fit in her crate where she likes to sleep. This collar keeps her from licking her leg or scratching her ears – as long as the velcro is at the back of her neck and not under her chin. Since that part is more flexible, if it's under her chin she can lick her leg. When inflated enough it stays put, so I just make sure it's on the "right" way and it works great! It is more comfortable than a cone but she doesn't love that she can't rest her head normally, and she does snore a lot more than normal when wearing it. This could be because it's a size too large. she's not a big dog but has a pretty thick neck so I got the large. Regardless, it is better than the usual cone!
---
By Lagatha on May 21, 2022
Great alternative to the lampshade!
Our lab had ACL surgery and in order to prevent her going after staples she was wearing the cone. Even soft one was difficult for her to be comfortable. Since she always likes a pillow this serves purpose of keeping her away from wound but she's not minding wearing because now she's always got her headrest with her!
---
By Lilith on May 16, 2022
Way better then the cone.
I have a small dog & a corgi, they are happier with the ring then the cone. When they wear the cone, they would often trip up, bang walls & get disoriented. It made them so anxious & mad at me (I'm sure). Velcro makes it more comfortable if they have to wear the ring. My dogs are less anxious when they wear it. They are still mad at me.
---
By annie on May 17, 2022
tried other types first, this is by far the best "cone"
tried a few different types before this one. This Kong cloud collar seems to be more comfortable and more practical than anything else we tried (vet's one and a "costume" time lion plushie type) highly recommend!!! Wish we would have bought this one first. it fit correctly, and helped not run into walls/corners etc.
---
By Barley on Apr 15, 2022
Really effective and comfortable, easy to use
I bought this for my 50 lb Corgi-Lab mix when he was scheduled for TPLO surgery. I knew he would hate the plastic "cone of shame" so I thought I'd try this. Delighted to find out that it's super easy to put on and remove (requires a spare collar), easy to adjust with a velcro strap, and it's VERY comfortable for the dog. He loves having small pillows to rest on anyway, and this is just like having a soft pillow around his neck. He has not been able to reach the incision site at all (yay!) and the collar's inflation can be adjusted to make it more or less rigid. Best money I've spent in a long time.
---
By KongCollar on Apr 12, 2022
Best Collar for healing
My 75 pound australian Cattle mix dog just had ACL surgery . I did not want her in an uncomfortable cone for 10 days I purchased the Kong Cloud Collar. It was beyond wonderful. Dog was in it 24/7 for 10 days and was very comfortable with it. I had to blow it up slightly every couple of days for maximum firmness. Also had to make sure the velcro opening was at the top of her head not in the bottom as pictured this way she was unable to unhook it with her good paw. It made healing from a difficult surgery so much better than the standard cone collars. Would def recommend this to anyone whose dog needs to be in a collar after surgery.
---
By scooby on Apr 20, 2022
GREAT PRODUCT
I bought this at the recommendation from my dog's surgery center as he was scheduled to remove a large cyst that had grown on his chest area. This collar is the absolute best-well worth the investment. I just take the cover off and wash it putting it back on my pet - no dryer needed. My shar pei, scooby sleeps so well in this collar-allowing him to heal from surgery. HIGHLY RECOMMEND THIS COLLAR
---
By WOLF on Apr 6, 2022
Kong cloud was the answer
Our lab had major knee surgery and we were having issues keeping him from licking the surgical site using a standard e collar (cone of shame). We have been using the Cloud collar in conjunction with the e collar and it has worked great. The Cloud is light and very comfortable for our boy. He acts like it isn't even on. However he does look a bit like a triceratops. I would recommend this product.
---
By ClintonR on May 8, 2022
Didn't work for us
My Labrador was able to pull it off easily. I was not able to use this product. The first night post surgery he pulled it off himself in his crate. I would only recommend it as an alternative to an e-collar only if the pet can be supervised to ensure it isn't removed.
---